Spencer and Gordon have been home two and a half weeks. They are six weeks old today (their projected "birthday" is next Friday). We're making it. One day at a time.
This morning around 8AM I scooped up the boys and cradled one in each arm to feed them. I positioned them on the glorious kitty pillow, tucked in the necessary blankets to support their heads and noticed how curved my posture is becoming. All this feeding and pumping. I tried to sit up a little taller and look out the window. I squinted at the sunlight filtering through the maple trees then clamped my eyes shut in effort to push one seriously pulsing sleep-deprivation headache out of my noggin. No success.
I hauled my eyelids open again and watched the world stir outside. In the course of 10-15 minutes, I watched biker after runner after walker cruise along the thoroughfare known as Morning Star Drive. Our street is a busy place for the exercise-minded.
"Feel the Burn" I told them silently with encouragement and a pang of jealousy. I looked at them longingly, albeit sharply aware of my zero energy and inability to crawl out of bed pre-dawn for a morning run. Then it occurred to me. Hey! I'm feeling the burn too! Sort of.
My eyeballs feel like they've been gouged out, thrown on the grill for several minutes, then shoved back in place. I can see. My contacts are in. But they are on fire! The rest of me is feeling a bit of burn too. Real down-to-the-bone fatigue. But I'm not "burned" out. Not yet.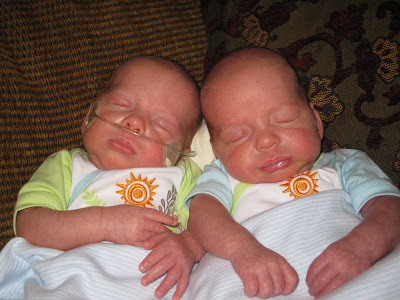 And here's what I have to show for my pseudo-adenosine-triphosphate burn. Two handsome, healthy and chunky boys. Don't you love those double chins? Spencer blew the pediatric office away with his "14 ounces in one week" weight gain. (Thanks Dave and Shir for the darling Swiss onesies mailed from Geneva!)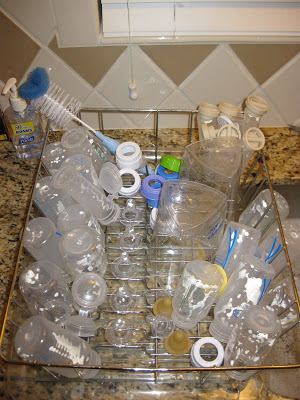 We're washing hands and bottles like crazy. Our dish-drying rack typically looks like this. The number of bottles
has
lessened slightly as I am now breast feeding during the day, bottle feeding through the night. Thanks to my Mother-in-law Renae, my Mom, (and Doug on weekends), we are getting through the nights. My two mothers have been taking turns sleeping in our guest bedroom and getting up with me for nighttime feeds. Bless them! They earned sainthood last round with Ali and Sami. Now, I think they ought to be translated!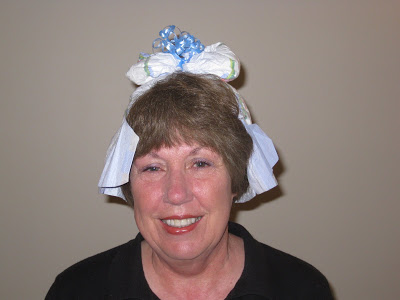 The lack of sleep, however, is showing itself in odd ways. This is Renae, wearing a hat she concocted out of – yes – your eyes do not deceive you – diapers! Ali and Sami's Size 4 Cruisers to be precise.
Fashionable. Creative. The blue curly bow in celebration of the boys arrival. And don't you love the bonnet-like gathering in the back with adjustable velcro tabs?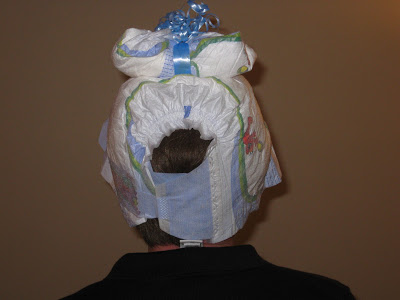 Actually, Renae made this
before
our midnight rendezvous in the living room. She made it while the boys were in the NICU and wore it into the NICU (to Doug's chagrin) after winning first prize at the ladies "wear an original hat" night for Relief Society.
Of course she won first prize! Hands down! Wouldn't she have had your vote? Very clever. (Pictures posted with her permission. Love you Renae!)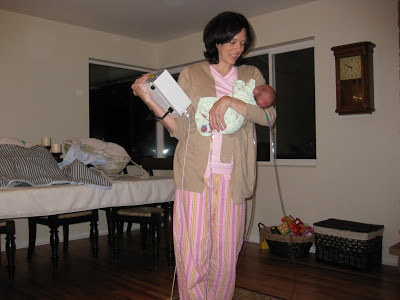 Spencer is still on oxygen. Just a scant flow. We're going to try a room air trial this weekend to see how he does. I'm ready to ditch that big lug of an oximeter. It's tail is too short (although we do have a 50′ extension for the oxygen tubing). And I've pulled that darn box off the table two times now! Or walked away forgetting to bring it with me, yanking poor Spencer's little foot where the sensor is attached. "Oxi" (oximeter) goes everywhere with us. I'm looking forward to sending him home. Soon.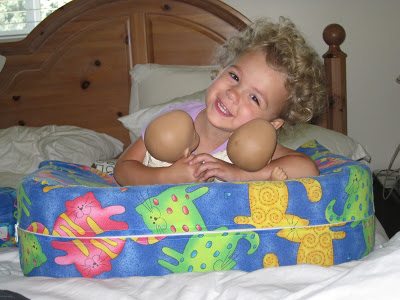 Here is Ali. Encircled by the infamous kitty pillow. She's been paying close attention to how I nurse the babies. One afternoon I found her on our bed, kitty pillow in place with the "seatbelt" hooked in back. She had two baby dolls resting on the pillow. "You feed the babies like this Mommy?" she asked. I chortled. "Yep! Just like that." Then I said, "Don't move while I get the camera!" She stayed put and was more than happy to pose for pictures.
Take a good look. What do you think of that kitty pillow? Is it as bad as I made it out to be? Worse? Or tolerable? The girls think it has kitties and "candy" on it (bright colored circles that look like life-savers). What's not to love?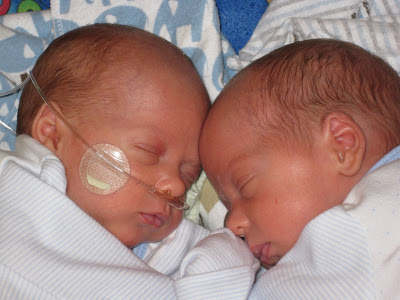 Spencer and Gordon after a feeding. Darling boys.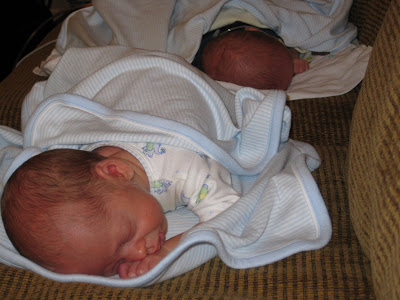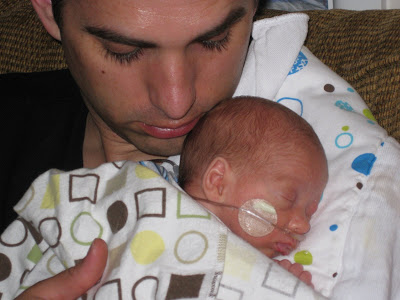 A few mornings ago Doug's alarm clock went off at 5AM. I had just returned to bed.
"Why is your alarm going off?" I whispered loudly.
"I'm going to get up and exercise."
"You are?" I asked.
No response. So I went back to sleep. I'm pretty sure Doug didn't get out of bed until it was time for a shower. He must have been "feeling the burn" too.
"To have children is a double living, the earthly fountain of youth, a continual fresh delight, and also a weariness beyond description."
– Josephine W. Johnson