Ever felt like you're on the outside looking in? Me too. Yet this time in converse. I am on the inside looking out. Having spent most hours in July (I should count them up) sitting on my bed feeding the babies, I have watched…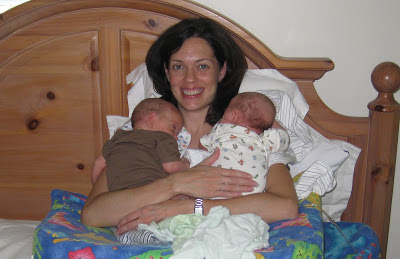 Neighbors drive by (I know who speeds and who strolls), the AC man pull up to the curb, friends come up the sidewalk bringing dinner, the mailman come and go, the girls play in the pool outside, and shadows sprawl slowly across the front lawn as the sun ducks below the western tree line. Sometimes I think – what a humdrum way to spend your summer – mostly indoors. Summer has been a haze of hospital journeys, milk milk milk, diapers, and snatches of sleep. Already the talk has turned to school starting again.
I laugh at myself as I linger in the driveway, savoring every step outside the front door to load my girls into vehicles for play dates, to feel the sun on my skin or drive the car for a quick errand. Every evening after the boys are in bed and the blue light of evening still hangs in the air, I step outside to feel the warm summer breeze that cascades out of the eastern canyons and swirls around our home. We live in a unique spot. The wind smells of pine and in the evenings I drink it up. I do love it here.
So the days of confinement continue. Humdrum? Maybe. But in reality, they are content. Precious. The boys at last weight check were 7 lbs 3 oz (Spencer), 7 lbs 6 oz (Gordon). They finally handle like newborn babies. Sturdy with surprisingly strong arms and necks. They have healthy appetites and I wonder if it's a premonition of their teenage years. Both boys love to be held, touched, and talked to.
Eliza has bravely chosen to stick out her swimming lessons and is even enjoying them. (For a fearless four-year old, we were surprised at the fight she put up about "going under" the water. Goggles helped. Thank you Kara for manning the Mommy post on this one. I owe you!!)
So here is a look at what's been going on Inside.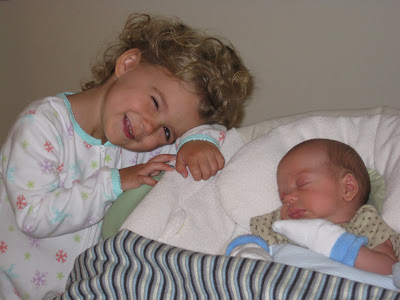 Lots of tender talk and kisses on foreheads. These boys are loved loved loved by their big sisters. (Ali with Gordy).
Amanda and Melanie are fraternal, just like Ali and Sami. I think the four of them look uncannily similar. Amanda and Mel – if you two weren't sixteen with a social life, horses to ride, and soccer to play, I'd keep you here all the time! We love you!
So what's been going on OUTSIDE?
It's almost August. But don't mistake my inside/out perspective as pining for greener pastures. I'm content right here. With my kitty pillow. Ruminating, appreciating, watching. I know what I am doing is significant. It is where I need to be. And that is enough.