Share your own "Brain Dead" moment and win a copy of Debra Woods' book. Read on!
The past two weeks I have averaged a measly 3.5 (maybe 4) hours of sleep per night. I'm an 8 hour kind of girl. I need sleep to function (at least to function well). So here I am. Still going. But my brain is a-fuzz. Mush. Lacking in clarity and foggy on details. I'm stumbling through problem solving dilemmas like who should pick up who at what time and where, or more simple tasks like what clothes to put on. And my mouth (which manifests said brain status) is getting things all screwed up.
I thought it was bad before I had the boys. Once someone asked me when they were due and I responded (without thinking), "Julune." I wasn't trying to be clever. That was honestly what came out of my mouth – straight form an impeded parietal lobe. The babies were due in July but we suspected they would come in June. So "Julune" was the perfect answer. Geesh!
Now I say things like, "Okay. Put your feet on. I mean your shoes."
"No. Santa isn't coming in the summer. Christmas comes after Halloween and Thanksgiving and there are usually flowsnakes on the ground." Flowsnakes?
Speaking of averages, here's a confession. I'm managing two showers a week. (I know! Don't get too close!) Even grosser than this are the nights I bend over the sink to brush my teeth and realize I've used Listerine in the AM but haven't brushed my teeth in ummm…24 hours!? Yikes!
And this is my existence. For now. Personal hygiene, insularity and all, I really am enjoying these days with my boys. I just have to laugh.
Necrosis of the brain manifest itself last week in the following episodes.
Episode 1
Can't remember the day. Maybe Monday? I took Eliza on an errand with me. Starved for an outing but aware that time was of the essence, I picked an easy stop. The grocery store.
All outings must take place between feedings. Nursing two babies in public at the same time really isn't an option. (If modesty is the least bit important to you.) And with Spencer still on oxygen – getting out just isn't happening. Housebound. That should be the name of our reality TV show.
So by the time I shower, we've got to make our shopping snappy.
We're in and out pretty fast with Eliza toting a "treat" in her own plastic grocery bag as a reward. She sits in the passenger seat next to me me and opens her box of animal crackers. We stare at the cars whooshing by the busy street in front of us and munch away.
As Eliza is finishing up I figure we're ready to head home. I put the car in drive and venture out into traffic. As we're whizzing down the three-laned hill Eliza says to me, "Mom? Why am I not in my seatbelt?"
What??? Holy! Oh my! There she is kneeling in the passenger seat, free for ejection right through the windshield at any moment! I pull over as quickly as I can, roll my eyes, breathe a sigh of relief that I didn't kill my own daughter and we laugh. "Ma-um. That was pretty funny huh?" Sure. So long as I didn't fall asleep at the wheel! What was I thinking? Well, I wasn't!
Good thing four-year olds have a mind to tell you when you're doing something wrong! Eliza clamored into her car seat and I buckled her in. Not a big deal to all you parents who drove around with your kids in your lap for years. But for us youngins – the fear of God is put in you about proper car seat installation (let alone – wearing!)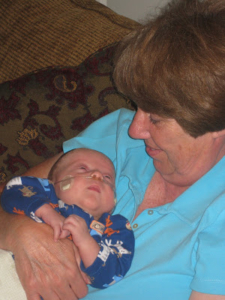 Episode 2
Finally. A shower. I take a long one. Renae is watching the boys. The girls are at a neighbor's house. I can relax a bit. While toweling off, I notice soap suds in my hair. Yep… forgot to rinse out the shampoo. Conditioner? Didn't even pick up the bottle. Back into the shower I go!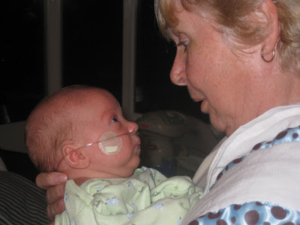 Episode 3
It's 4AM. My Mom and I are up for a feeding. I've warmed the bottles. The boys are hungry. We skulk into the dark living room trying not to wake them more than needed. We use
Dr. Brown's
bottles. If you're not familiar with these, they're a pain to wash but seem to help the babies gulp less air when eating. The necessary piece for this "claim to baby-contentment" is a wheel shaped thingy that snaps onto a stick of plastic you insert into the bottle before putting on the nipple. I'm not sure about the physics of the whole process but without it, the bottle leaks.
Now remember, it's dark. I finish feeding Spencer. My Mom is still struggling through Gordon's feeding. He keeps choking and sputtering on the bottle. Finally she says, "This bottle keeps leaking!"
Hmmm… I wonder. "Try unscrewing it and putting the lid back on. Sometimes that helps." Nope. Gordon is now wide awake. And he won't finish his bottle. I give Spencer to my Mom so I can work with Gordon. I pick him up.
"He's soaking wet! And so is the burp cloth!" I look at the bottle. No plastic stick with wheel-shaped thingy. Dumb. Dumb. Dumb. I make a new bottle, worried Gordon's clothes got more milk than his tummy. He won't take it. He is up until 6:00 AM – not necessarily ornery, just wide awake, occasionally fussy, and as a result, so am I.
These are just a few of the "episodes" I can remember. The sad reality is that there are probably many more, I just haven't been aware of them (or people were kind enough not to inform me!)
A friend from Virginia asked in an email if I was walking out of the house with mis-matched shoes because I was so tired.
Shoes? That would be a major triumph. I'm living in bare feet or flip-flops right now. Sometimes socks. And a few days ago Eliza pointed out I had a pink one on my left foot, a blue one on my right. They were the only ones I could find.
So I want to know. What's your best "Brain Dead" story? When has sleep-deprivation got the best of you?
If you can beat my author friend,
Debra Woods
, she will send you a copy of her book. (Thanks Debra!!) The following is an anedcote from her book,
It's Okay to Take a Nap
(fabulous book for Moms!).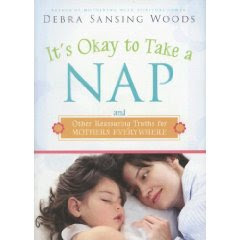 One particular night filled with nighttime feedings, I half-woke in a panic. I frantically searched through my purse for something I had lost. I woke my husband and said, "Barry, I've lost something. Will you help me find it?" He took my purse and began searching through the keys, checkbook, and stray papers. "What is it you lost?" he asked. "What am I looking for?" "The baby. I think the baby is in there." "Oh brother," he groaned and went back to sleep (26-27).
Wow. Pretty bad. Let's hear it. Cough up your shameless confessions Mommies (and Daddies).
Post your anecdote as a comment (just a paragraph or two) and Debra will choose the winner.
And for your entertainment, here's proof that I am lucid. Some of the time.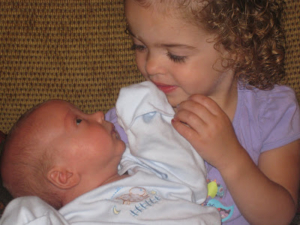 I love this picture of Sami with Gordon.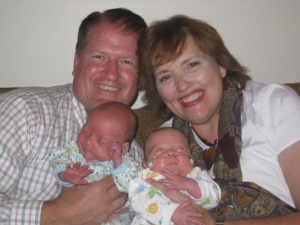 The Proctors came to visit! You would never know it, but Scot and Maurine were going on less sleep than me! 1 hour 45 minutes before they had to make their early morning plane out of Dulles. (Wish I could look that good on such little sleep!) Thanks for coming to see the boys when you really should have gone to bed! We love you so much!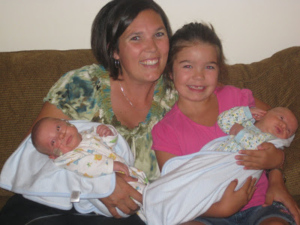 This is Trina with her daughter London, holding Spencer and Gordon. Trina and I were missionary companions in Nauvoo. I adore her and wish we saw more of her. Thanks for dinner and your fun visit Trina. You're amazing!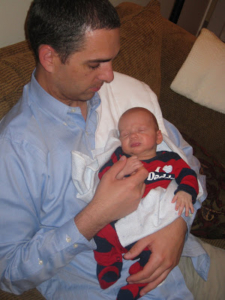 Doug with Gordy. The boys are waking up and smiling just a bit. They sure love their Daddy.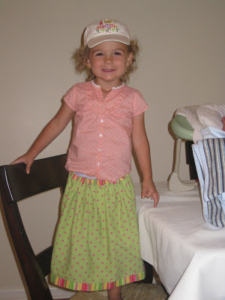 Ali in the popular polka-dot skirt Aunt Deb made. Eliza used to wear it. Ali has now adopted it. And occasionally Sami can put it on when Ali isn't dominating it. Ali wears this skirt every day.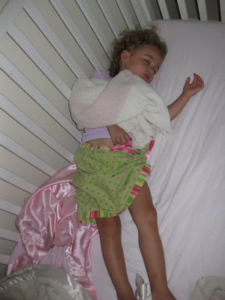 Her crib is right next to the clothes hamper. So every night for the last week I have gone into the girls' room after they are asleep and discovered that Ali has scavenged the skirt out of the dirty clothes pile, taken off her pajamas, and put the skirt on again. Look closely and you can see oreo ice cream pie on it! She doesn't care. It's all about her favorite skirt. Thankfully, it visited the washing machine today and should be clean for another week's wear.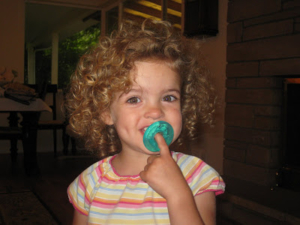 Sami loves to bring the boys their binkies. Most of the time we end up putting them in the sink to be washed because they've been sucked on or drawn across the floor like crayons.