It was Christmas Eve. The girls were in the back seat of our car chattering about new pajamas and the "jingling" of sleigh bells. My Mom sat beside me as I drove us home from Grandma's.
Doug had stayed home with the boys. 24 hours of schlepping tired babies around to family gatherings was enough. They needed the blessed routine. (And so did we.) It would be a happier scenario for everyone. But I choked up leaving Doug and the boys at home. It was sad to part ways on such a special evening. We won't do that again.
As we traveled along the benches of Salt Lake, I watched familiar city lights twinkling against the mountainous sky. My senses tingled with anticipation for my girls and I wondered over the magic of Christmas as a child. It had been years since going to Grandma's for Christmas Eve. So many years. Away.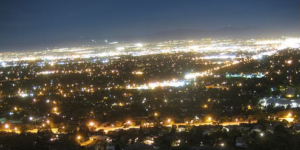 We didn't say much. Comfortable in the quiet. And then my Mom spoke.
"I realized tonight that a huge part of the Christmas magic is being at Grandma's. It's her. Her house. Her tree."
"I know!" I agreed. "I've been gone for so long. I forgot how magical it is! There are so many memories for me there."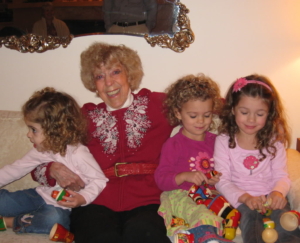 Grandma is 94 (95 in February). We still gather in her home every Christmas Eve. She loves the celebration, the children, the busy sounds of our comings and goings. The merry making. She bakes her traditional shortbread. We eat honeyed ham, salad and potatoes for dinner. We sing carols, ring bells, and laugh while speeding through
"Deck us all with Boston Charlie"
(
Simon and Schuster
, 1963).
Then Uncle Richard reads from Luke 2, we hold hands, and kneel for family prayer.
From the moment we walk through her door and peel back our heavy coats, I feel it. The magic. Her home sparkles with it. Everywhere.
The tree glows with shards of rainbow and my children rush to its limbs to inspect, explore, imagine.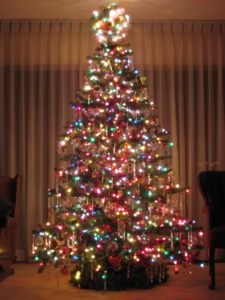 Large flames lick the corners of the fireplace. We used to stand on the hearth and warm our behinds as long as we could stand it before racing to the couch to sit down and giggle at the burn of hot pants on our skin.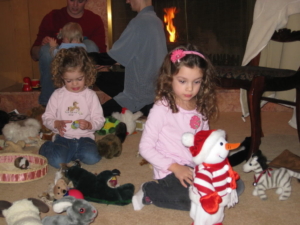 Grandma pulls out the basket of Steiff toys (from Germany – 60 years old now). Only to be played with during the week of Christmas. At home in the same pink-ribboned basket I've always known.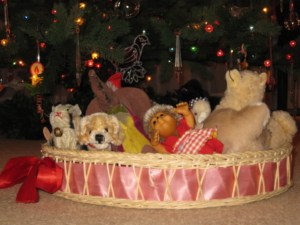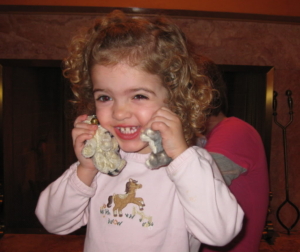 Sami falls in love with the kittens.
Grandma's tree is the most beautiful I've seen. Her lights are always wound, in and out. No branch undone.
My Dad learned the art from her. I learned it from him. And the star (now wired, glued and repaired several times), came from Kirby's Christmas window, fifty years ago. It was Christmas Eve when she asked if she could buy it. They said yes. And she brought it home.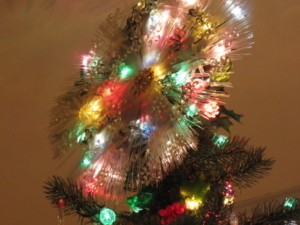 Throughout the night my girls peer into the tree. Looking for the hummingbird's nest, watched over by a small elf with red cap. It's a real hummingbird's nest found when Grandma was a girl. She fills it with tiny eggs. Candy. And if you find them they are yours. My daughters discover the stash and drop them into their mouths. One at a time. Just as I used to do. And smile.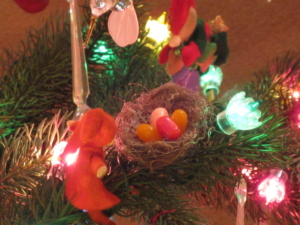 Each ornament is carefully hung. Dangling the memory of a loved one or place. They come alive for the children. Little worlds on every bough.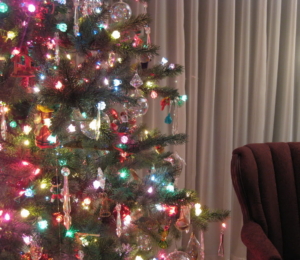 Grandma's ornaments are treasures. Un-boxed stories that rise in the winter light, flickering through the years. Some date back to the 1930's. Each one represents someone she loves.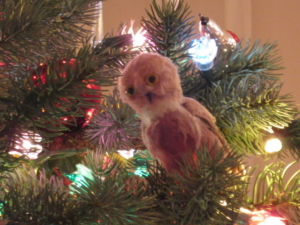 "The Wise Old Owl." Her husband. My Dad's Dad. My Grandfather who passed away before I was born. She and Dick were the truest of sweethearts.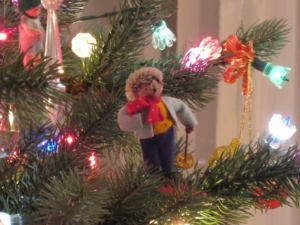 "The Skiier." My Dad. They tell me he was quite a hot dogger on the slopes. Back in the day.
I insult him when I ask if he is a porcupine. "A hedgehog" he proudly quips back.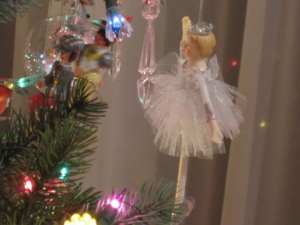 "The Ballerina." Me. Grandma always came to my recitals. She made me feel so important.
Her ornaments twist and turn, flashing faces of the world. Grandma served on the General Young Women's Board for the LDS Church. She and Grandpa sang with the Mormon Tabernacle Choir most of their marriage. They traveled everywhere, sent postcards to my Dad, and found tokens for their tree in the most unlikely places.
At some point during the night, my girls notice the parade of candy animals. Trimmed with the old family sleigh bells. It's the candy that interests them. "Can we have one?" Eliza asks me. "I don't think so." I say quietly.
I remember the rustling of coats as my Dad whispered to us of sleep and Santa coming. We'd bundle up by the door while Grandma gave us each a candy animal. Sometimes we ate them. Most years I couldn't bear it. So pretty. So perfect. Once I left a camel on my dresser for more than 24 months. I had to chip it off. Now they are expensive and hard to find, so they don't journey home with little ones.
But she lets Eliza have one. A horse. Eliza is elated.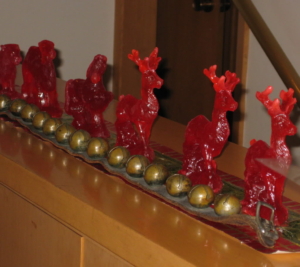 For some reason I'd never paid much notice to the bells. But tonight the worn leather and tarnished brass catch my eye. I ask. Grandma tells me.
They were her Grandfather's bells. Grandpa Clark. Her Mother, Annie Kimball (born 1876), taught school, before she was married, 20-30 miles southwest of the Kimball home. My Dad describes his Grandma as "an absolute jewel." He has the sweetest memories of her. My parents gave me her middle name – Anne. My Dad remembers this face.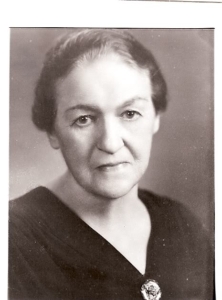 When she taught school she lived away most of the year. But just before Christmas, her father hitched up the sleigh and set off to bring her home. The moment she heard the soft clinging of sleigh bells, she knew he was coming.
While Grandma tells the story I see horses steaming, kicking snow and huffing against the cold. I hear the sound of those bells. I watch a father pull his grown daughter up next to him and cover her with blankets. Within the day, Annie would be home. With her six siblings. For Christmas.
This is the old
Clark
home on 11th East. Annie wears a white shirt with black necktie. Baby Mary is on her lap. Her father, Lorenzo, is sitting left of the column, white beard, black bowler hat.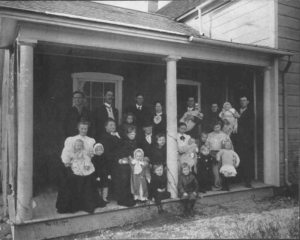 Those bells can tell stories. Over 100 years old.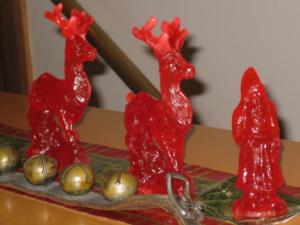 So Grandma does all of this, the decorating, the preparing, the celebrating, with great help from Roger and Leslie. Because she is a woman of tradition. A woman of meaning, happiness, and yes… magic.
It is Grandma who makes the magic. At least for me. She weaves it without knowing. Quietly, in the whisper of a story, the music of her voice. She breathes it in. Cups the glittery stuff in her palms and pours it out – in double handfuls.
Always fully present, fully aware, Grandma is full of light. I can't think of anyone I admire more than my Grandmother. (With Gordon below.)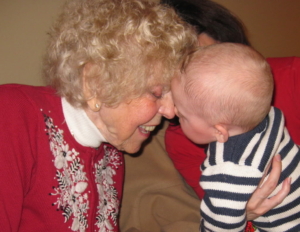 I basked in a sense of circular joy this Christmas Eve as I watched my girls marvel, wide-eyed at Grandma's tree, play with her toys and pull apart the Russian nesting dolls. Flesh of my flesh, doing the same things I did. Sitting by my Grandmother, warmed by all the swirling magic, while I knelt by them, just as my Mother did, and loved.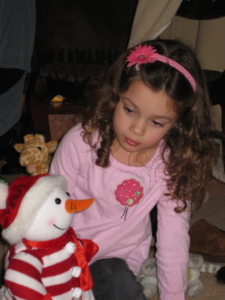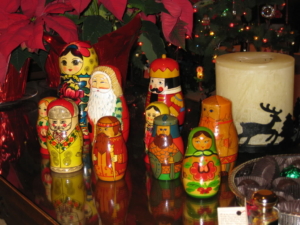 It is hard to describe. This Christmas magic we talk about. It's different for all of us. Sometimes it's the whisp of a memory floating by. Just enough to warm the tips of our fingers. Other times it falls on our shoulders, heavy, like a warm blanket, smothering us with the fiery innocence of all we have ever loved.
It was this way for me. Christmas Eve.
The rising of Christmases past coupled with Christmases to come. Generations touching. Ancient ones brushing past my shoulder, floating in the air, soft against my skin.
It was all there. All love. A glint in my daughters' eyes.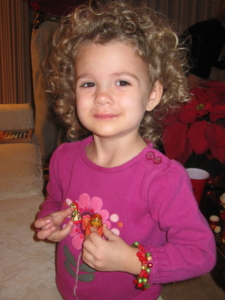 "Christmas – that magic blanket that wraps itself about us, that something so intangible that it is like a fragrance. It may weave a spell of nostalgia. Christmas may be a day of feasting, but always it will be a day of remembrance – a day in which we think of everything we have ever loved." – Augusta E. Rundel