Oxiclean has been working overtime at our house. Summertime sent some filthy toddler clothes into our washing machine. Chocolate ice cream drips, popsicle juice, and watermelon slurps to name a few. Ah yes…and the cheeto refuse wiped subconsciously onto every available flap of fabric. I'm telling you – some of this stuff does NOT come out!
But here's the pattern I've noticed.
One twin is messier than the other. One thinks her shirt is a napkin and uses it as such frequently.
Can you guess who?
Sami's shirt is on the left. Ali's on the right.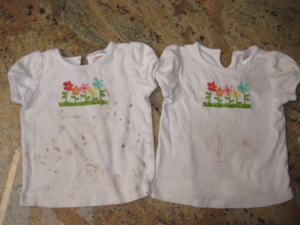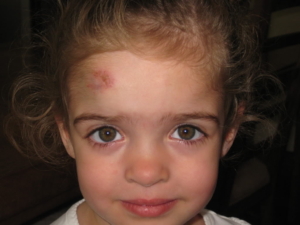 Sweet Sam. If someone's drink is going to spill, it will be hers. If someone is going to face plant on the gravel during our walk, it will be Sam. If a flat road is going to jump up and bite one of my kids on the shins, it will be Sam. She's doomed, I'm afraid.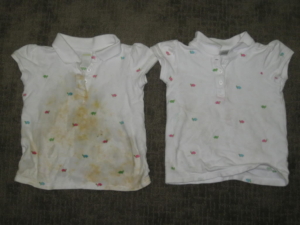 And her food seems to follow suit. It wants to be on her clothes, wants to fall off her plate onto the floor, wants to moosh into her cotton shirt so deep I can never get it out.
But look at those great big eyes. I LOVE that face. And the big bruise on her forehead? It's from falling headfirst out of Doug's car. I know…OUCH!
So if you're a twin parent, have you noticed a pattern when sorting laundry? Is one dirtier than the other?
I wish I'd taken a few more pictures. The July 24th-ketchup-cheeto-watermelon-ice cream-brownie-collage on the front of Sam's shirt was a masterpiece. The shirt never recovered. But boy did we have a good time!