It is still snowing. Nine inches of it. Fresh and untouched, piling softly and steadily outside. The world is brilliantly white and all day I've been awed by the gentle wonder of this storm.
We put the girls down early tonight and I've been sitting by the fire, reading from a favorite book about Advent. (Believe me, this is the first time I've sat by a fire and read anything since the boys were born. It feels luxurious.)
Today is the first day of Advent.
Mormons (in general) aren't very aware of the liturgical calendar. (That doesn't mean we don't celebrate the Christian holidays. We definitely do!) But since reading this collection of essays a few years ago, I determined to better understand and remember Advent. I think it's a sublime and wonderful way to celebrate December.
Advent, which literally means "arrival," marks something momentous. It marks Christ's coming into our midst. Not just as a baby, but in the daily, even hourly, thrum of our lives. It's about waiting, expecting, and watching for his light.
I read this tonight from the Introduction.
Though Advent has been observed for centuries as a time to contemplate Christ's birth, most people today acknowledge it only with a blank look. For the vast majority of us, December flies by in a flurry of activities, and what is called "the holiday season" turns out to be the most stressful time of the year… Mother Teresa once noted that we are often so dulled by superficial distractions that we are incapable of hearing any voice within, let alone listening to it. Consequently, the feeling we know as Christmas cheer lacks any real connection to the vital spirit that radiated from the manger.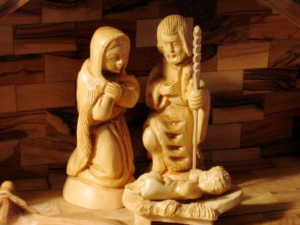 The pace of my life this last year has been of such intensity that I understand not "hearing any voice within." I've tried. And maybe that voice has been more present than I realize. But some days I can barely hear myself think.
This Christmas, however, things seem more manageable. I'm trying to let go of a few "have tos" and spend more time on the substantive and meaningful.
The love that descended to Bethlehem is not the easy sympathy of an avuncular God, but a burning fire whose light chases away every shadow, floods every corner, and turns midnight into noon. The imagery of nativity scenes is not sufficient to explain the Christmas message. Yes, God came into a feeding trough of an animal. But it was not only as a baby that he lay there. This child was the same man who was crucified on Golgotha and who rose again. Within the manger lies the cross – the hope of redemption and resurrection.
Light floods the darkened corners of my soul when I read about Him. And that's the purpose of this collection, to rediscover Advent as a season of inward preparation. (Something I've been
thinking about
lately.)
Become like a child and believe, they say.
Mary did. The Shepherds did. And so did the Christian writers of this book who span over five centuries of watching for and embracing Christ's light.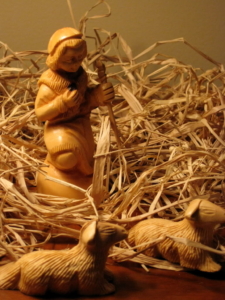 This book is too good to keep to myself. I had to share.
Watch for the Light
is a collection of daily readings about Advent and Christmas. I'm sure you'll recognize some of these names. C.S. Lewis, T. S. Eliot, Martin Luther, Madeleine L'Engle, John Donne, Annie Dillard, William Willimon.
Let me know if you pick it up.