Can I chalk these up to twin-life? Or am I just incompetent? I'm not sure anymore. You do the math.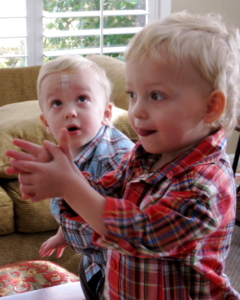 Confession #1 – A month or so ago, I got the boys up per our regular routine and fed them breakfast. After letting them play for a bit, I picked up Gordon to get him ready for the day. "Yikes! You feel wet" I said, as I carried him into the bedroom to change his diaper.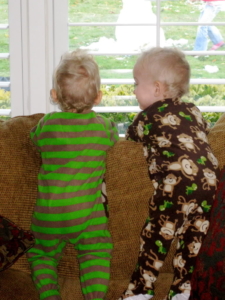 Suspecting a diaper tab had come undone or gone askew, I unzipped his pajamas to find… nothing. And I mean nothing. Peering down the leg of his footie pj's, I searched for the missing diaper. Surely it was hiding in there somewhere! Nope. I poked my nose down the other leg. Nothing.
Absolutely no diaper to be found.
I was befuddled to say the least. The only explanation?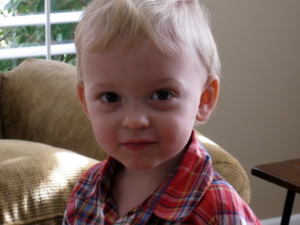 I completely forgot to put a diaper on this little guy and he went diaperless the entire NIGHT!
Oh yes, the sheets were wet too.
Looking back, I remember putting a diaper on Spencer – I took care of him first. But in the hustle and distraction of bedtime, I must have subconsciously checked the second diaper off my list. I mean, I did it once, right? So my brain computed both tasks as "done."
The saddest commentary is that I zipped him up! Ankle to chin (complete with the snap at the top) and didn't even notice. There he was, free and easy, as I zipped those fleecy footies over his naked little body. And that was how he slept. All night long.
Slap forehead. Shake noggin. Sigh.
I think I need my own job chart for the end of the day.
Feed five kids dinner. Check.
Bathe five kids. Check.
Get out pajamas. Check.
Diaper Spencer. Check.
Diaper Gordon. Oops!
Confession # 2 – I sent this cute girl to school on a non-school day. Yep, I did.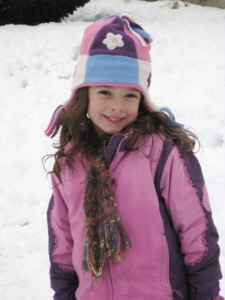 Kindergartners had the day off but the older kids went to school, and somewhere I missed the memo (again) that Eliza didn't have school. It wasn't on my calendar. So when the big girls came to pick her up, I sent her out the door. (She told me she didn't have school that day but did I believe her? No.)
A half hour later I got a call from the front office. "Is this Eliza's mom? Yes. Eliza is here all ready for school, but the Kindergartners don't have school today."
"Oh Really? REALLY? Geesh. I'm so sorry! I'll be right there."
Schlep four toddlers into the car, zoom over to school, and rescue traumatized child who stood at the side doors of the school waiting for classmates who never arrived and a teacher who never came to get her. Thank goodness one of the first grade teachers saw her and took pity on her.
Slap forehead. Shake noggin. Sigh.
Confession # 3 – Spent Saturday afternoon in the ER with Spencer. Laceration to the forehead. Now, I know it is likely this would have happened whether I was in the room or not, but the fact is, I wasn't. And our only eyewitness was Gordon… who wasn't much help.
I had stepped outside to take a picture of the snowmen Doug and the girls were making when I heard one of the boys crying. "That doesn't sound good" I said, and hurried inside to find Spencer struggling up the stairs with blood all over his face and hands – so much blood I couldn't determine the source until we got him cleaned up.
My Dad happened to be on shift that afternoon, so Doug held down the fort while I took Spence to see his Poppa Bob. Spencer was remarkably calm and good-natured. As he watched my Dad whisk around the ER, white coat flashing, doling out instructions to the nurses, he kept saying… "Poppa? (With a question mark.) And then …Poppa. (As a matter of fact.) And then …Poppa? (Again with a question mark.) Grandpa was certainly out of his element. At least the element in which Spencer knew him.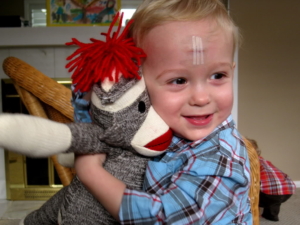 My Dad determined Spencer didn't need stitches. So he had one of the PAs dermabond the layers of skin together and cover them with steri-strips. Spencer did a fair amount of crying and squirming while they cleaned the wound – I had to hold him down. But when it was over, Grandpa (who wisely choose not to play the bad guy) came in with a hug and a kiss, and a cookie for his grandson.
I owe the ER staff a huge thank you (and Dad too) for taking such good care of this little bubba.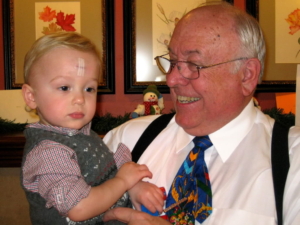 Despite our awesome CSI skills, we haven't cracked the case yet. We can't figure out how or where Spencer hit his head. I'd like to think if we were there we could have prevented it. I would have wanted to. But the truth is, we'll never be able to spare our children every hurt. Even so, it is tough to watch.
Confessions # 4 – 10.
Might as well confess a few other things while I'm at it.
4 – My kids stay in their pajamas all day if we have nowhere to go – and I don't do their hair.
5 – I've been using paper plates for every meal. It's so much easier. I know it's extra refuse the earth doesn't need, but I am recycling!
6 – I've been known to eat chicken nuggets and mac and cheese with my kids. Fairly often. I choke it down because more nights than not I'm just too tired to muster a real meal.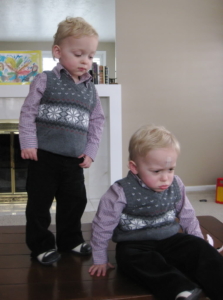 7 – I've been mixing up the boys – especially when they're wearing the same clothes and I can't see their faces. I have to make sure I get a good frontal view. (This picture makes me laugh. They weren't very happy with each other. Can you tell?) Today I walked around the house calling for Spencer, when he was toddling right next to me. You'd think the head wound would be a give-away. Especially for Mom. I know. Go ahead. Shake noggin.
8 – I dislike (strongly dislike!) cleaning two highchairs and trays. It's my least favorite part of clean-up. Oh! And picking up food from our carpeted kitchen floor. Plech!
9 – I am a determined but tired laundress. Laundry day is Monday and I can only remember one week in all of my laundry tenure that I've had everything washed and folded by Friday.
10 – I've trained my boys to give me kisses before I get them out of their cribs. Call it forced affection if you want but they do it and it's very sweet. I'm gonna keep it up as long as I can.
So Twin parents – let's hear your confessions.
Do twins amp up the state of confusion for you? Can we claim twin-brain or something of the sort? Please… confess all.