The sky is black, snow hanging in the corners of an immense shroud about to lay down cover. The valley waits. Any moment it will fall. I can hear thunder now – the signal of winter on the move again.
Yes, look. Here it comes.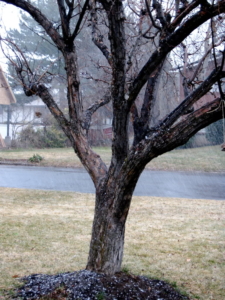 Just an hour ago we spent sixty glorious minutes outside sunning our faces, kicking off shoes, pulling out the tricycles, cars, and bikes. The boys ran, scooped melting snow into dustpans, and Eliza and Sami climbed the crabapple tree in their bare feet.
You wouldn't believe it after last week's arctic wind that blew over the mountains. Single digits kept me from running in the mornings and I had this thought. "Will we survive?"
Winter here sometimes feels endless, suffocating.
The boys bang on the door to go outside. They make a run for it every time I crack hinges to get mail, pick up packages or answer the bell. All of us are ready for warm temps and blue skies.
Snow is flying now, thick and fast. It is in the air.
But so is love.
A few weeks ago, I was hanging onto the day with my fingertips, my patience worn down to the nubbins. The girls had been indisputably disobedient and as a last ditch effort I pulled all privileges and issued a long time out. When Eliza resurfaced (privileges still withheld) she took out crayons and began to color. This is what she made.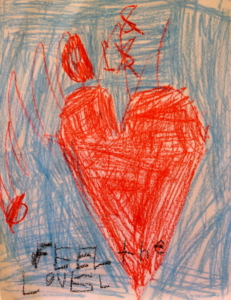 It was a solicitation for empathy, mercy, and love.
I keep it posted in our kitchen. I see it every day – every moment I need to be reminded of why we mother, why we have children, and what it is they need most.
Eliza's been making valentines for everyone in the family. With Ali and Sami's birthday just around the corner, this one was left on the doorstep. Four candles on a purple cake. From their big sister.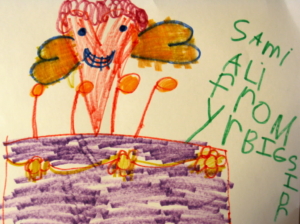 And this one for the boys. One candle each.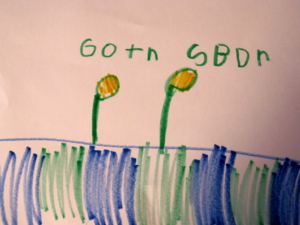 Love comes so easily for children. Why not for us? We work at it, and all they do is let what's in them come out.
January and February have been busier for me than December. I feel under pressure, worn down, dependent – like I can't get on top of life by myself. And it's showing.
Last week, as I was saying goodnight to Eliza she said, "Mom? Catch the kiss I just blew you. So you won't be grumpy." I was trying to temper my hurry, my discontent, my anxiousness to get all the kids in bed so I could have some "me" time – think straight, sit down. But it hadn't worked. She's observant. And even at five, she knew where I was. Or wasn't.
I returned to her bed, clouds clearing as I made the walk. My heart opened to her, I let her in. I loved her, and all the discontent slipped away. I climbed under her covers and told stories. Stories about me when I was her age – when I was a child.
Children have a wisdom about them. They seem to know what we need. They bring us back to ourselves.
When I went to bed that night, I found this on my bed stand.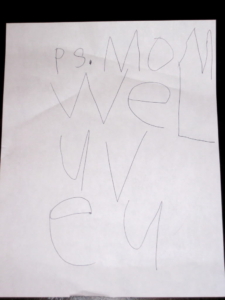 Feel the love. That's how to survive.
Or rather… how to live.