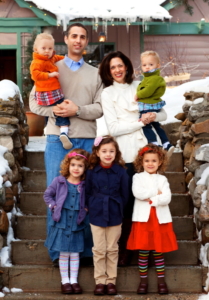 One word frees us of all the weight and pain of life;
that word is Love. – Sophocles
After Ali and Sami were born I sent Valentine cards in lieu of Christmas cards. The tradition stuck. It was one less thing I had to do in December (and yes, one more thing I have to do in February) but something I wasn't willing to give up.
I love the process of sending cards – the gratitude I feel as I read each name – each person (many of you) who have made us who we are, changed us for the better. You are very much a part of us.
I decided this year, however, that trying to take a family picture in the winter is ridiculous. This was our only good shot out of two separate photo shoots. Next year we will try for a family portrait in the summer or fall, when it's not thirty degrees outside with a chance of fog and two minutes of frame time until the kids melt-down because their hands are so "freezing" cold.
But thanks to
Michelle
(and our friend Dave) we had something to send out.
Doug did the mail merger, I typed names, we licked and sealed, and the girls stamped red hearts onto the envelopes. The thought of something colorful arriving in your mailbox made us happy. So, despite the cost of postage, this is the closest we get to going electronic. At least for now.
Happy Heart Day friends!
Valentine Wishes to you. From us.