Our boys will be two in June and the girls turned four in February – so we're just coming into those years when birthdays begin to matter.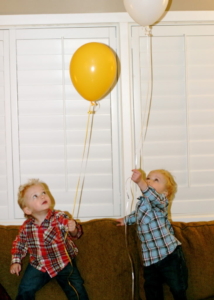 When I was growing up, celebrations were a pretty big deal. I still like to make a big deal. I love planning a party, tying balloons, making cakes (although this year it was REALLY nice to have Doug pick up a Backer's cake for Ali and Sami). Mostly, I just love making that special someone(s) feel important.
What I'd like to know from you (twin parents) is how you handle the double birthday?
And the rest of you, if you have some fun birthday ideas, please chime in.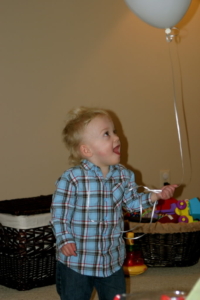 Up until our
"fancy"
luncheon this year, we've celebrated simply, like Tricia. Let me introduce you to
Tricia.
She is an astute and gifted mother of five, with twin girls who just turned three. Around the time of Ali and Sami's birthday I noticed
this
post about her girls, Kate and Caroline. Sweet picture, huh?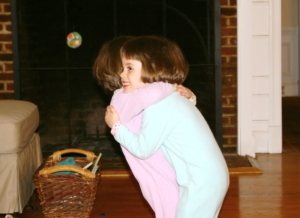 And I love this one. Tricia, will you tell us the story that goes with it?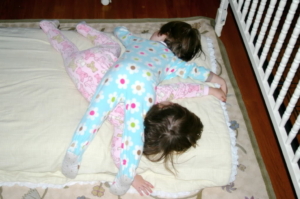 What she wrote about her girls won me over and I've been checking in on her since. She writes,
"I like to talk about how these girls turned my life upside down. But the truth is, they turned it right side up." They celebrated with play dough.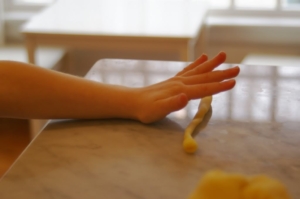 "They have rolled me, and stretched me, and shaped me. Bit by bit. Piece by piece. Into a different creature than I was before."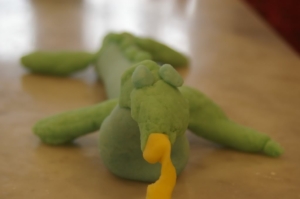 Oh, how I relate! Whether you're a parent of one, two or ten (multiples or not), you understand Tricia's metaphor.
So I am wondering. How have celebrations at your house evolved over the years? Have your twins ever wanted to do something different from each other? Do you have off-year/on-years for parties? Have your twins asked for "separate" anything? What have you done to make them feel special on their big day?
This year I wrapped presents in different paper for each twin. Sometimes we've lit two sets of candles on the same cake. But so far, the girls have been genuinely happy sharing the same birthday and everything in it.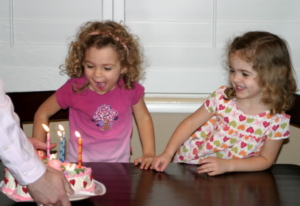 The boys (so it appears) will be content this year with a couple helium balloons.
And maybe a box of Kleenex…
or a bookshelf to tear apart.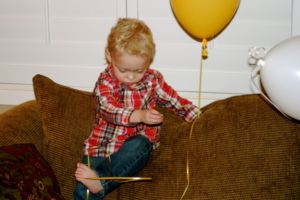 Ultimately, I know each set of twins (and each twin) are different.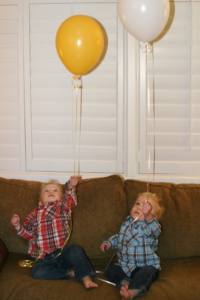 But I want to hear your ideas. Tell me what you know.