Southern Utah is our favorite getaway. Especially when it's the end of May and still snowing in those steep backyard mountains. (Pretty sure Mother Nature never got my memo.)
Flying to a sunny destination with five car seats in tow wasn't possible. Can you see us? A pair of uptight parents carrying two car seats each, pushing a double stroller with a booster seat wedged underneath, and trying to take off shoes for every one of our five kids at security? Nightmare. So we chose a place we could get to easily and hunkered down.
We stayed in St. George an entire week and then some. It was splendid. So relaxing. And warm. By Thursday evening we were having so much fun we postponed our packing an extra day and played until we absolutely had to leave.
More about our "adventures" in a later post.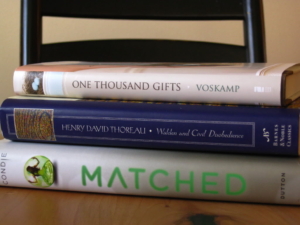 For now, let's chat about books. Because during those treasured superfluous minutes when no one needed me…
I read.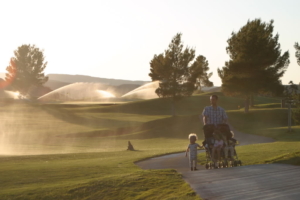 One night while walking the golf course (a favorite evening outing), I happened upon this perfect reading chair. Rocking listless on the western side of a gorgeous new home.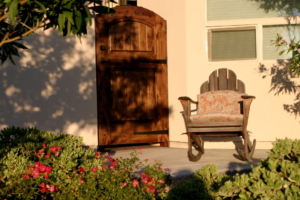 The house had a large, serene patio that overlooked the course, perfectly manicured gardens, and this little bell hanging over the doorstep. I wanted to ring it just to ask if they were taking out of town guests. I peeked in all the floor-to-ceiling windows (it looked like no one was home – can you imagine if they were?) and the kitchen was amazing.
How would you like to see this from your kitchen sink?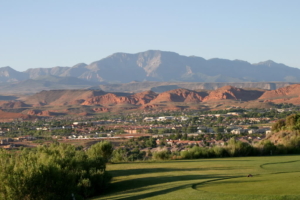 Or this?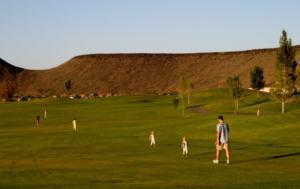 (As soon as we rounded the corner, the kids were off.)
But it was that little side patio that beckoned me most. Wouldn't you like to sit here and watch the sun set over the desert? With a favorite book in your lap?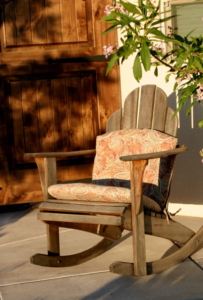 I dream…
Okay. Down to business.
First let me tell you how
Walden
is going.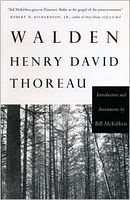 Honestly? Mr. Thoreau had me in a huff after the first few pages. I could hardly choke him down. He was so pretentious and self-important – yakking away as if he knew every hard-earned secret to life. What he had to say was so… so… arrogant, I put him down. Seriously. My jaw was on the floor sometimes. In the first ten pages he manages to offend every shopkeeper, business owner, and homemaker. Just like that. So I turned to a separate essay of his, (thank you Anne-Marie for the recommendation) hoping for a better experience. I read Walking. But it began with the same tenor. Boastful, superior, all-knowing. I was writing notes in the margin like, "Who does he think he is?" and "Yeah. If you spend your whole life as a bachelor maybe." And on and on…
But then I waded into sentences of halting, transcendent prose – as if they slipped out of someone else's mouth.
Who is this guy? I wondered.
Thankfully, a much smarter friend enlightened me. "He's doing it on purpose" she said. "He's a brute and he knows it! He wants to aggravate you, stir you, shake the foundation of what you know." And I could see exactly what she was saying. That's how he works. It's his way of taking what you believe – that paradigm in which you are most comfortable – and pulling it right out from under you. If you can endure the ridiculous shake-down, he backs off, his approach softens, and his philosophizing pulls you in. Suddenly, a more humble Thoreau moves forward and what he has to say makes sense. His points are truthful, witty, and worth pondering.
So I decided… I have to finish. I'm plowing through Walden. Slowly. But I'm processing things differently. Like how we view all the stuff we "need" – or think we "need." He's got me questioning some of my assumptions.
Have you read much of Thoreau? If so, I want to know your thoughts.
Just before we left town I finished listening to
The Help
. Audio version.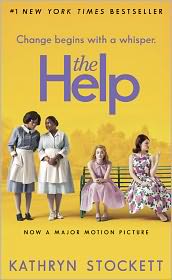 The characters, with their southern accents, were magnificent. I listened while peeling wallpaper and folding laundry. It was a wonderful diversion. This is the movie tie-in cover.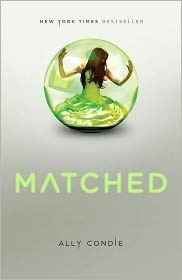 An excellent YA novel. It's the first of a will-be trilogy and I liked it better than Hunger Games. Same kind of story but less violent, more thoughtful. Definitely a fun read.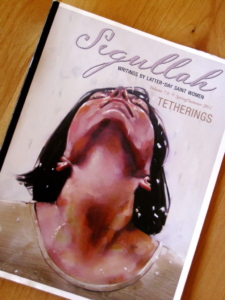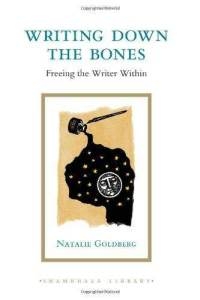 A gift from my friend Brodi whose YA novel,
Everneath
, debuts in January 2012 with HarperCollins. Don't miss it! (And if this is your genre, you really ought to check out
her blog
. I guarantee you'll laugh.)
Writing Down the Bones
was one of the first bible-books on writing. Natalie Goldberg is practical and so insightful. I love this quote from her:
"I don't think everyone wants to create the great American novel, but we all have a dream of telling our stories – of realizing what we think, feel, and see before we die. Writing is a path to meet ourselves and become intimate… Writing is a uniquely human activity. It might even be built into our DNA. It should be put forward in the Declaration of Independence. 'Life, Liberty, and the pursuit of happiness – and writing'" (4).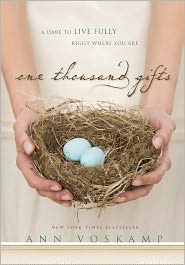 Sigh… What can I say? I adore Ann. If you haven't found
her blog
, you should. I can't think of anyone anywhere (who loves words and God), who wouldn't devour her book. Her prose is water for the parched soul, her knowledge of the hardness and joy of life resonates deep-down, and I am completely enamored with her provincial life. One of you said it best: I don't want this one to end.
Also on the nightstand for summer: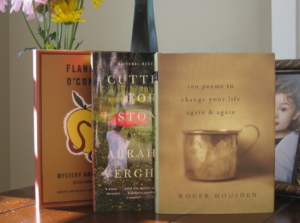 What are you reading this summer?