We're having a vision problem at our house. Just a little phenomenon that will resolve itself soon. But for now, it is cracking me up!
Read carefully. It can get confusing.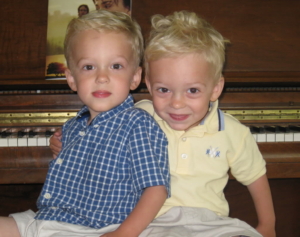 When I hold Spencer up to the mirror and ask "Who's that?" he says, "Gordy-Gordy."
Hmmmm….
If I hold Gordon up to the mirror and ask, "Who's that?" he says, "Gordy-Gordy."
Goooood…
But if I point to Spencer and ask Gordon, "Who's that?" He says, "Gordy-Gordy."
Mmmm… yeah. Not quite.
Basically, the boys think their reflection is their twin. And they seem to know only one twin's name. Gordon's. Probably because "Gordy" is the easier name to say.
For several months now, they've been calling each other "Gordy-Gordy." Spencer coined the nickname. It's "Here Gordy-Gordy" when they share snacks. (Imagine sharing a snack with yourself. Just a little odd.) Or when they find something that belongs to the other they yell, "Gordy-Gordy! Shoes! Gordy-Gordy!" Even if the shoes belong to Spencer.
When I say their individual names, they respond. They know their names, but when it comes to verbalizing who's who, they're stuck on "Gordy-Gordy." I've only heard them say "Spencer" once. And it was Gordon who said it. Spencer has yet to say his own name.
This video was the first time I put them in front of mirror together. It's our "hair salon" mirror. (More salon pics below.)
The reaction was pretty funny. They were dancing and making all sorts of faces at themselves as they banged the mirror. So I ran to get the camera.
You're about to see the only time I've heard Gordon say "Spencer." Listen carefully and you'll hear Spencer call himself "Gordy-Gordy" as he almost falls off the table.
Here's Le Salon Arvy downstairs.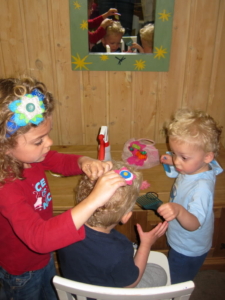 The girls love this. The boys tolerate it. But for a few minutes they're genuinely entertained.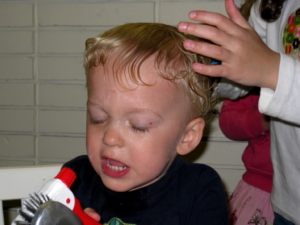 Spencer fought hard for control over the spray bottle. When he got it, he turned the barrel on himself and squeezed. Whoosh!
Funny enough, the boys aren't the only ones suffering from double vision.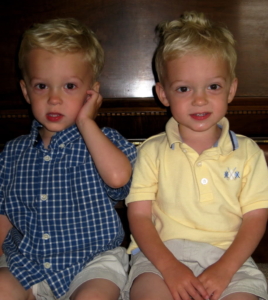 Their little 2 year-old cousin walked past them the other day at Grandma's house and said. "Hi Gordon. Hi Gordon." I laughed out loud.
Poor Spencer. I hope he doesn't have an identity crisis some day.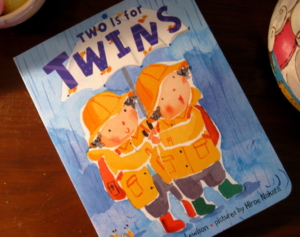 It's cleverly non-gendered. Could be boy twins or girl twins. You decide. (I promise it's not weird. It's well-done.) And all four of my twins have loved reading it.
So do you have same-gender twins? And did (or do) they "see double?"