Saturday afternoon I wiped crumbs from the table, swabbed faces, unbuckled the boys from their boosters, and looked up briefly as Ali and Sami scampered off to the couches around the corner. Gordon and Spencer followed. While rinsing cups, I noticed an unusually wonderful sound.
Quiet.
In place of the crash, bang, vroom I usually hear from the train table, I heard only the slight brush of paper against cotton. It was the sound of pages turning.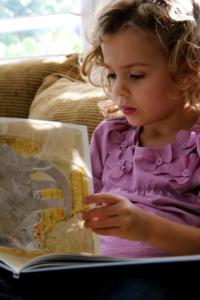 I leaned my head out the kitchen door to scan the living room. And there they were, all five of them, nestling into the couches, perusing a favorite book. Sunlight was pouring in the south window, tingling down their necks, warming their backs and whiting their toes.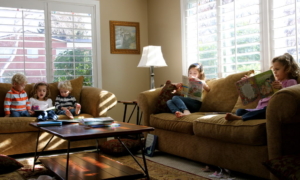 Most afternoons start out gentle like this.
 The morning chores are done and everything about us grows softer – my voice, their voices, the yellow light filling up the living room. Naps are only an hour away, so we have nowhere to run off to – just stacks of books to sift through, disappear into.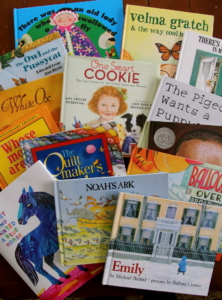 I kneel on the carpet, camera in hand, watching. They are oblivious to their stalking mother. I creep past their feet as Sami tells the boys the story of the Three Billy Goats Gruff.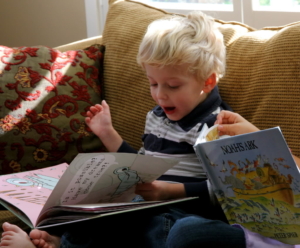 Spencer lasts for several minutes, but then he's off to find his Pigeon books. He chooses The Pigeon Wants a Puppy, and I stifle a laugh as he reenacts the moment when Pigeon realizes his much-wanted puppy is a whole lot bigger than he is! Aaaaah!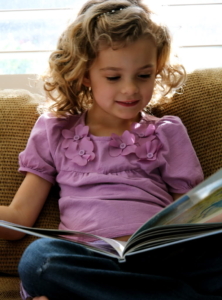 Ali smiles as she leafs through her favorite book, Noah's Ark. She finishes only to start again, entranced by the intricate details of Peter Spier's art.
 Me? I am entranced by her. By the golden light filtering through her curls. The camera keeps clicking but none of my children notice me.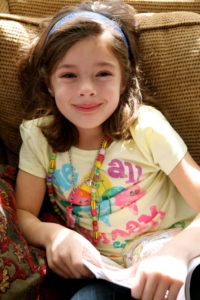 Except this girl, who pauses long enough to look up and flash me a smile. I love that it is Saturday, and she is home with us.
Too often I feel pulled more ways than I have limbs. In this busy house of five little people who still can't bathe themselves, cut their own food, or pick up after themselves with consistency, there are so many temporal needs to be met. I worry sometimes that they don't get enough. Enough of my praise, my eye-contact, my touch. Too many nights, after kissing foreheads and twisting lamp switches, I worry over what went unsaid, undone, unnoticed.
But this hour, the reading hour, is one part of the day that fills us, holds us all together in the same rapt story. Their small bodies fit like puzzle pieces against mine, and somehow we manage to squeeze everyone onto the same couch – legs akimbo, arms draped across shoulders, small heads leaning onto small shoulders.
It is sweet. And at least here, they have my touch. They have my praise, not just of them, but of other people and things that matter. We share a look of wonder, I see that spark of discovery in their eyes, and together, we float away into the exciting pages of a good book.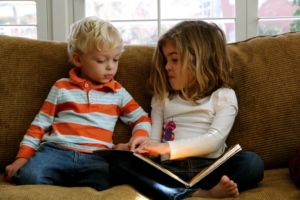 Here's our list of favorite Children's Books from 2011. In no particular order. Some are new releases from 2011, others are as old as the knickerbockers I wore in first grade. But if they made our list, it's because they've been read over and over, we never tire of them, they teach a valuable lesson, or they're just plain fun.
Hitch up your britches. It's a hefty list.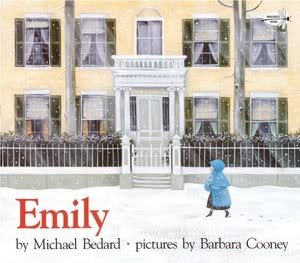 Emily – by Michael Bedard
. This is the beautiful story of a young girl who lives across the street from Emily Dickinson. Set in Amherst, Massachusetts (Dickinson's hometown), Emily is known to most as the Myth – a haunting figure who wears white and lives in The Yellow House. Through an intimate exchange between Emily and the girl across the street, we read Emily's poetry and learn about her life. My daughters love hunting for Emily in each of the pictures, and I love reading Bedard's poetic lines. While touring the Yellow House, Bedard said he stood beneath Emily's window, and "she lowered this story to him." I think Emily would be pleased with it. It cleverly introduces small ears to one of America's greatest poetesses.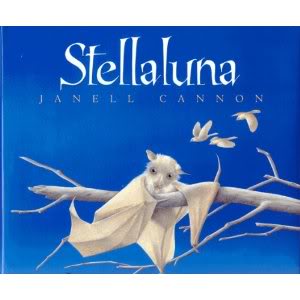 I also used this one in Eliza's class, written by Dr. King's sister:
Here are a few more recommendations for young readers that we are enjoying at our house.
The Little House on the Prairie Series
The Ramona Series
Pippi Longstocking
The Magic Treehouse Books
Eliza has been enjoying all of these. At night she reads a few pages outloud, then I finish the chapter.