Confession: I'm a planner. I like to make lists. I like to feel productive. And it's important to me that I follow through when I make a promise. With a hectic family life, the only way I can keep a promise or tackle a project, is to have a plan. And no surprise, I'm one of those people who gets a buzz from checking things off my list. Planning is how I roll. Partly out of personality, and largely out of circumstance. Everyone is happier around here with a plan.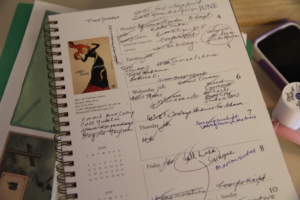 This frightful thing is my daily planner. Messy I know, but it works for me.
The problem, however, with planners, is that we get frustrated when things don't go as planned. From non-sleeping babies, to rolls that don't rise, to the outing at the zoo that turned into a ten minute whir past the elephants because two babies were having a melt-down. But if motherhood has taught me anything, it is flexibility. Even the best of plans cannot be rigid.
I've learned to overhaul or abandon plans when they're not working. I've learned it's okay to return to the plan later, when timing is better. I've also learned it's okay to relinquish the original plan for something more opportunistic.
In
his new book
(which is already a best-seller), Harvard business professor, Clayton Christensen, describes the need for balancing calculation with serendipity. He's talking about career paths, but I think it applies well to parenting.
"We have intentions for our careers [or families]. Against those intentions, opportunities and threats emerge that we haven't anticipated… Among those are almost always better options than were contained in our original plans."
The challenge is to know when and how to take advantage of those opportunities. To let go of the plan for an experience, a moment, an open door, or a teaching opportunity that may not come around again. And of course, we have to remember that people (even little people) matter more than plans.
So as the last few days of school fell off the calendar, I started to feel conflicted. What was I going to do with all five, all day, all summer long? I needed a plan. Or… did I? Maybe we just needed to chill. I might be a planner, but I don't like to jam-pack the schedule, run the to-do list off the page. I crave quiet time myself, and a smattering of open days with nothing on the calendar so we can walk a slow pace, let the day unfold.
Then I found
these ideas
at Power of Moms. A wonderful balance of having a plan (something our family can look forward to) with enough margin for down-time, friends and summer slowness. With a bit of tweaking, we've implemented these ideas, and my kids have been nutso-excited about our summer.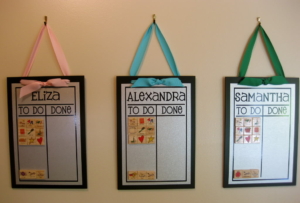 During the morning, we get our jobs done. These charts have worked extremely well. The girls are getting better and more efficient as the days go by. Included is a daily reading and writing goal and the girls do a few pages from their summer bridge workbook.
That leaves afternoons or late mornings (if the kids are motivated) open for a daily focus. Cleverly brainstormed (not by me) with an alliteration so moms and kids don't forget. Here's our first week of summer.
Make It Monday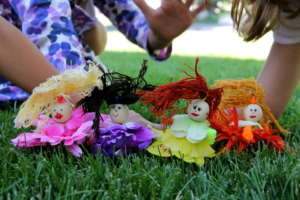 Mondays we make, build, or craft something. This week we made fairy dolls, in anticipation for Eliza's fairy party. Good thing we tried these in advance. I now know we will NOT be making them at the party. Fairy gardens will be enough. And I couldn't get the glue gun to work so we didn't put on wings or acorn hats, but Eliza opted for the crazy hair-do anyhow.
While making these dolls, I got a message from my friend April – wonderful April with Power of Moms. She was driving through our area, an unusual thing since she lives in California, and wondered if she could stop by. Talk about abandoning a plan for something more opportunistic.
A chance to see April? Absolutely! I put dinner prep on hold, let the girls make messy peanut butter toast and let the boys nap long, while April and I visited. April, your impromptu visit made my day. You are radiant in every way, and you're doing so much good for mothers around the world. Thank you dear friend.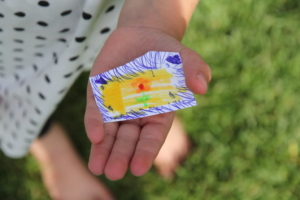 Back to Mondays. The girls also made fairy notes.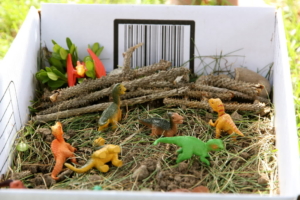 And Eliza built this cute "Jurassic Park" so the boys would have a place to play with their dinosaurs. Next week we're going to make
Summer Journals
– fun inspiration for our writing goals.
Take a Trip Tuesday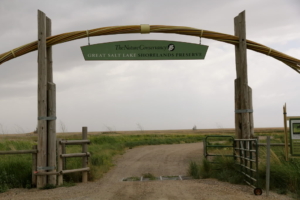 This is the first summer I feel I can manage an outing somewhere with all five kids by myself. I need Trip Tuesdays to get us out of the house. The kids LOVED the idea of an adventure every week. So this is where we went on our first Tuesday.
The morning was lovely and warm with temps in the seventies. But by the time we'd met up with my friend Kristen at the Shorelands, a nasty wind had picked up and it was getting cold. Even though we had no jackets and the kids were hungry, we decided to brave the gale and out we went.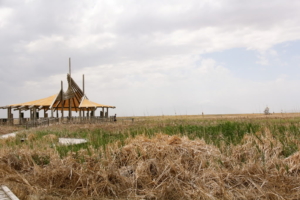 See that scaffolding of a tower off in the distance? That's where we were headed.
The Shorelands are a nature/bird preserve with beautiful reeds and great information on local birds as you follow the boardwalk. We bypassed all information signs, huddled in a circle to eat lunch, then kept on running, in an attempt to finish the walk as fast as possible.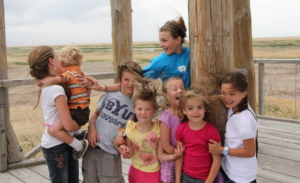 By the time we reached the tower, the wind had picked up (I learned later) to a speed of 30-50 mph. It was crazy I'm telling you. Tornado type winds. And my boys were not happy about it. Neither was Ali (not pictured because she had a death grip on my leg). Here are Kristen's darling kids, all of whom took wonderful care to help mine along. Gotta love Sarah's hair in this photo (she's wearing yellow).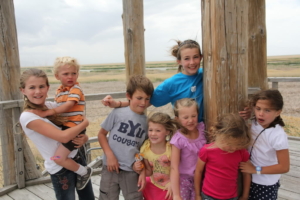 Everyone kind of looking at the camera.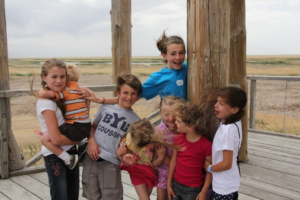 But not for long.
Here's our thirty seconds of majesty on the top of the tower, courtesy of Kristen's iPhone. You can see how insane the wind was.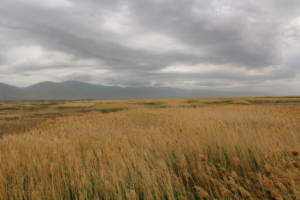 Kristen carried Spencer the entire way, his legs and arms slung tightly around her like a koala bear. He was hanging on for dear life.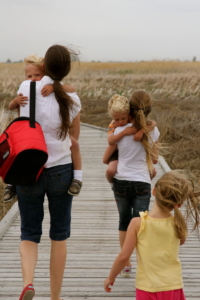 Oh, how I wish she lived around the corner.
Kristen
is a happy person who lives right (I'll keep you posted when her songs go up on iTunes), and her older girls would make for favorite babysitters.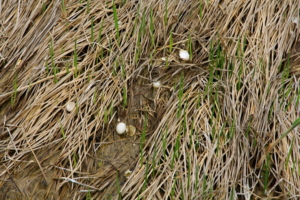 Bird eggs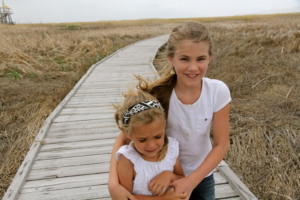 Ana Kate comforting Ali on the final walk back to the car.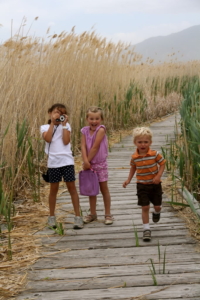 Eliza and Gwenyth became fast friends. They seemed to be enjoying the wind, while Gordon didn't like that I'd set him down at. all.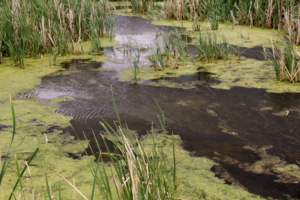 Can you see the ripples in the water? Caused by the wind? I could barely open the car door when we finished, the wind was so strong. The temperature had plummeted to 54 degrees, the boys' legs were a purplish color, and my hair was standing up every which-way, like I'd stuck my finger into a socket. (Should have taken a picture!)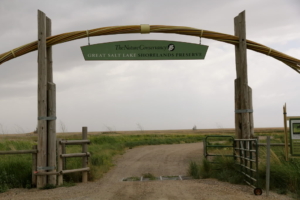 As we drove out, I noticed this quote on the back of the sign by Aristotle. Wild and whipping as the wind was, what we saw and experienced was marvelous. I told the boys we were going on a lion hunt that morning, something we were going to pretend to do as we walked through the reeds. Later that night Gordon said to me, "Mom. We didn't see any lions today. But the wind was like a lion."
"Yes! Yes it was," I said. And I marveled again.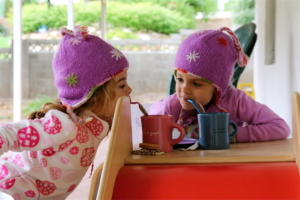 After arriving home, the girls wanted to have hot chocolate, of all places… outside. So while I put the kettle on, they dug out their gloves and hats.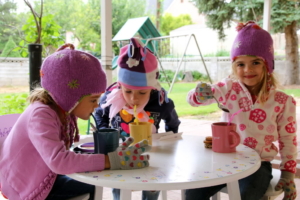 This is how I found them, sipping their cocoa. It's June, people!
The trek into the salt marsh was admittedly miserable, but at dinner that night, guess what was the kids' favorite part of the day? The windy walk. Adventures make for great memories.
Wet Wednesday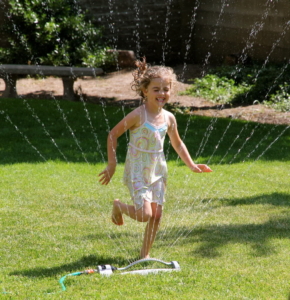 Wet Wednesdays are easy. Sprinklers, water balloons, a trip to the pool, squirt bottles. (Have you given your kids squirt bottles for an afternoon? Oh my goodness, hours of entertainment. Especially for the young ones. And you can get bottles for a dollar each at Target.)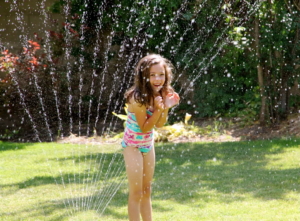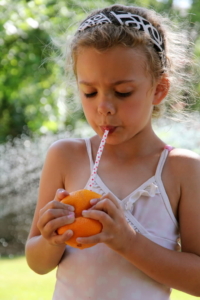 This is how my grandpa used to eat an orange. Squeeze and squish gently until the orange is soft and mushy. Cut a small hole over the navel and draw out the inner stem. Insert straw and drink fresh orange juice (or tip your head back and gulp), then split the orange open and eat the pulp. Yum.
Thinking Thursday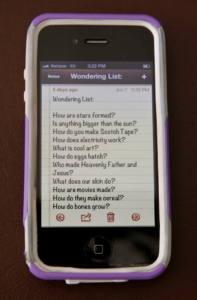 I love this chance to learn with my children. We made a "Wondering List" – questions the kids have been asking, things they want to know. Every day the list grows a bit. Last Thursday we researched stars that are bigger than our sun. Boy, did we learn a lot!
Fill a Need Friday
Power of Moms suggested "Friend Friday." My sister is doing "Fun Friday" (as well as "Mountain Monday" and "Work Wednesday") but I wanted to include some kind of service during the week, and the only "F" word I could come up with was a phrase, "Fill a Need." So on Fridays we will do service at home, in the neighborhood, or in the community.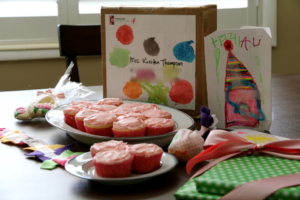 Last Friday we took gifts to neighbors (baby gifts, thank yous that have been sitting on the counter far too long). And today we're cleaning up the yard for Eliza's birthday party. Other Fridays I'd like to expose them to more serious needs in our community.
So that's our summer plan. It is probable that I will burn out after a month and need a week hiatus, but right now both the kids and I are pretty amped about what we have going. And we're having a wonderful time together.
Need more summertime ideas? This fine lady scoured tons of blogs and websites to put together
A Gazillion Summertime Ideas
, all tidied up for you in one post. If gazillion were a real number, there might just be a gazillion ideas there.
How is your summer shaping up? How do you feel about plans, calculation and serendipity?