Since the photo on my "Books" page still shows a poinsettia from Christmas, I figure it's high-time we discuss some good reads, share what's on the nightstand for the summer.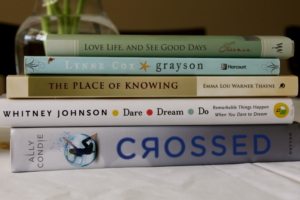 The lower half of the stack are books I am currently reading or hoping to read by the end of summer. I know, a lofty goal.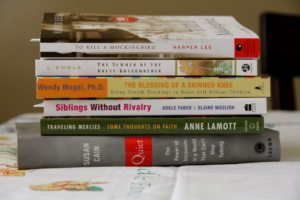 To Kill a Mockingbird by Harper Lee
– How in the world did I get through High School and College (including an English minor) without reading this book?? I've been hearing about Boo Radley and Atticus Finch for so many years; I know the story. But when I saw it a Costco last month I thought,
Honestly. I have GOT to read that book!
I'm four chapters in and looking forward to every page.
The Summer of the Great-Grandmother
by Madeleine L'Engle
– The Crosswick journals are becoming a favorite of mine. It's a shame I didn't discover them sooner. This one is the second in L'Engle's series (which I have been reading out of order!). I adore her writing. It transcends life as we usually know it. She speaks a language I understand, makes me want to live deeper, better.
The Blessing of a Skinned Knee by Wendy Mogel
– This practical parenting guide is all about raising self-reliant children. Mogel is a clinical psychologist who also wrote
The Blessing of a B Minus.
With warmth, humor, and her knowledge of the Jewish Torah, Mogel teaches how we can raise compassionate, ethical and self-reliant children in a world where entitlement and competition abound.
Siblings Without Rivalry
by Faber & Mazlish
– This book has given me so many excellent tools, phrases, and coping strategies for mediating conflict in our family. I'm half way-through and underlining as I go, so I can review easily (probably on a yearly basis). The concepts taught require real practice. But they have been helping. Next up? Their book,
How to talk so Kids Will Listen and Listen so Kids Will Talk.
Brilliant title, eh?
Traveling Mercies
by Anne Lamott
– I love Anne Lamott. In spite of (or maybe because of) her irreverence. She is witty but wise, and she knows how to talk about life in an accessible way. I loved her book on writing –
Bird by Bird.
So how could I not love her thoughts on faith? Just started this one so I'll let you know what I find.
Quiet
by Susan Cain
– Subtitle? The Power of Introverts in a World that Can't Stop Talking. Intriguing, no? I've just started this book, but I'm already fascinated. Whether you are an introvert, live with one, work with one, share family dinners with one, you need to read this book.
Quiet
shows how dramatically we undervalue introverts. Cain draws on cutting-edge research in psychology and neuroscience to reveal the surprising differences between extroverts and introverts. It's extremely eye-opening. Michelle recommended it months ago and recently wrote
this raving post
about it.
And there sits the stack. What's in your stack?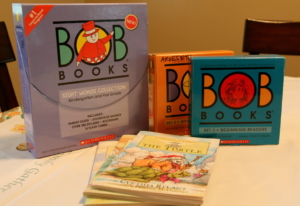 Oh, and for your early readers? We've been loving the BOB books. I tell you this because I wish someone had turned me onto these when Eliza was beginning to read.
And for young readers (1st and 2nd grade), Eliza has just started the Lighthouse Family books. Darling narratives about an animal family that lives in a lighthouse. We're still reading the Little House series, the Ramona books, and the Rainbow Fairy series. Other suggestions? Princess Academy and The Goose Girl, both by Shannon Hale. (Thanks Corinne!)