A few years ago I realized that the span in which we could throw butterfly, fairy, or rainbow parties would be fairly short. With five children so close in age and two sets of twins equaling four shared birthdays, I decided we wouldn't skip or take turns. We would throw a big to-do every year.
I've always loved birthdays. I like celebrating people. I like setting a day aside to make someone feel special – share their favorite tastes, colors, interests, dreams.
The kids, of course, have fun. But so do I.
I don't have many opportunities right now (or time) to be creative. I do some creative refereeing, come up with top secret missions to help the boys empty garbage cans, or read stories with a british accent. And yes, I write. But when it comes to hands-on creativity, I don't quilt, sew, craft, or cook fancy. Birthday parties, however, I see as a chance to create something. Something magical and memorable.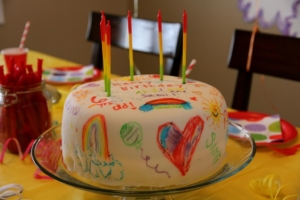 So we decided to try a new cake, the girls helped me with decorations, and together, we planned the activities. I considered it all an act of love. A way to fuss over them, show them they are worth my time.
Winter was lasting long and there were still several feet of snow on the ground, so we decided a Rainbow Party for Ali and Sami would be the perfect way to throw some color at winter.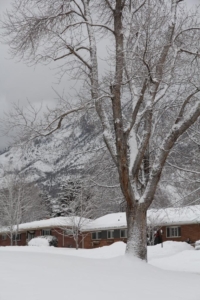 This is how it looked outside the day of the party. An hour later it was snowing hard.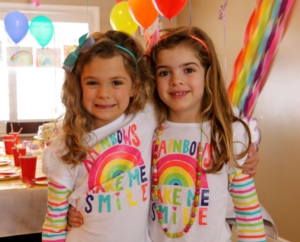 The anticipation was almost more fun than the party. As we turned streamers, placed straws in cups, and filled jars with candy, Sami kept saying, "Mom! This is going to be the BEST PARTY EVER!" She said it so many times I started to laugh, and wondered if I ought to curb her expectations. But she was so delighted with every detail, I just enjoyed her enthusiasm.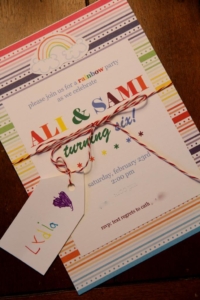 A week earlier we delivered invitations to the girls' neighborhood friends. Ali and Sami made the name tags while I glued cardstock.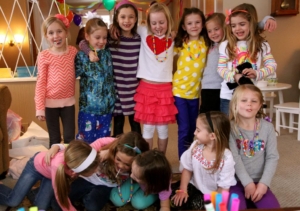 They are such good, sweet, and…. silly girls. Silliness was entirely appropriate. But, these were the best group shots I could get.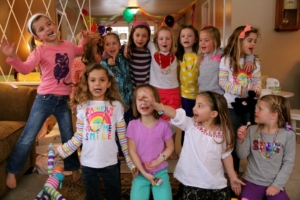 Lydia, catching some serious air!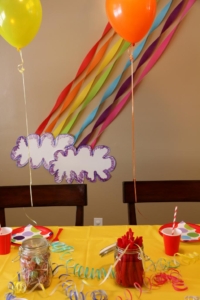 Eliza made the rainbow clouds all by herself. So happy to contribute and be a part.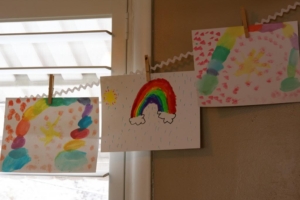 And all the girls made rainbow art to hang from our ric-rac banner.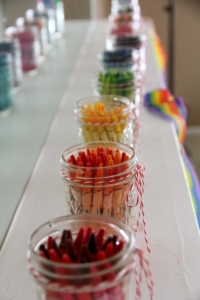 We filled jelly jars with new crayons. (Found boxes of crayons on sale for fifty cents @ Target.)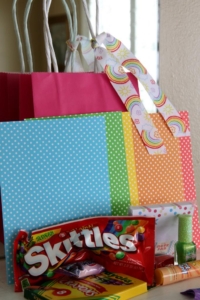 The girls loaded the gift bags and I tied ribbon.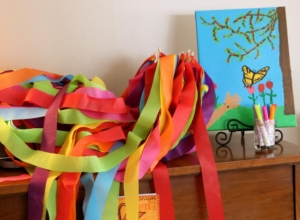 Then we made rainbow streamers (Michelle's idea).
These were a total hit. Simply buy wooden dowels at your local party store, then use packing tape to attach colored strips of crepe paper to the top of the stick.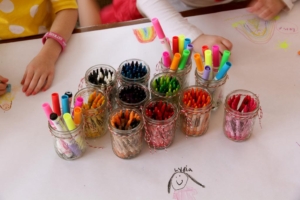 We covered a table with butcher paper so the girls could color and draw pictures.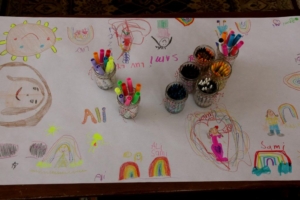 I loved their art.
I asked the girls to draw themselves, but most of them preferred to draw Ali and Sami.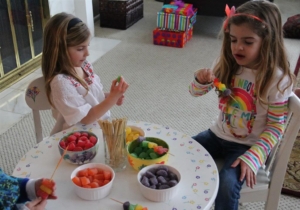 Rainbow candy skewers.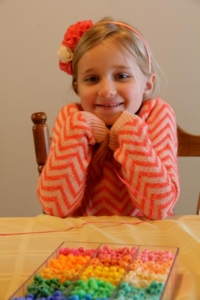 Beautiful Hazel. Ready to make rainbow necklaces.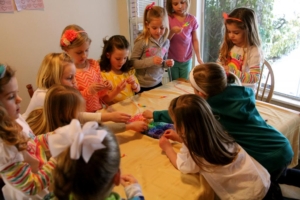 They bopped and bounced to music, singing along to every catchy tune.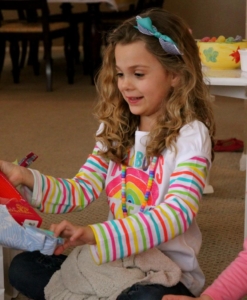 Ali and Sami opened presents.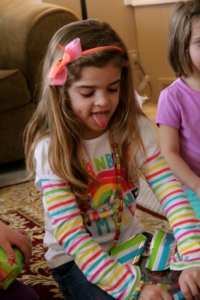 And there's the tongue. Always out when she's concentrating.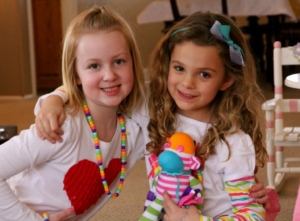 Rachel's Mom made the girls these darling sock monkeys. With matching socks to wear! So much time and work. Thanks Steph! The monkeys have been a favorite for weeks.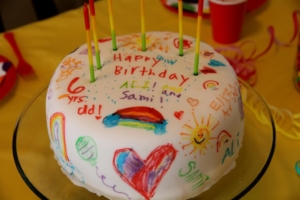 Recipe for the Rainbow Doodle Cake was from Sweetapolita. I figured fondant couldn't be that hard. But for a rookie, it was kinda tricky. I had to throw away my first try. And I never could get rid of the folds around the perimeter. But it worked.
The best part of this cake-making adventure? Doodling on the fondant with Americolor food markers.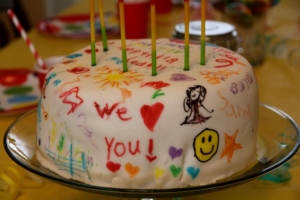 The whole family helped.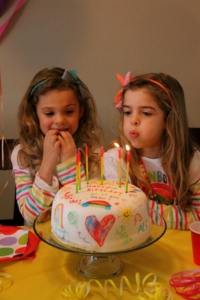 Unfortunately, timing on the candle-blowing duet was a bit off. Ali missed it entirely. But she didn't seem to mind.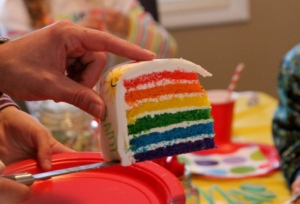 And the moment we'd all been waiting for? The inside of the cake!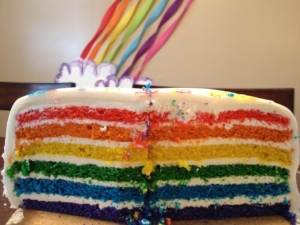 The frosting was a lemon meringue buttercream. Very light and tasty, but I have to admit, the cake was only so-so. I think gel food coloring always weirds the taste.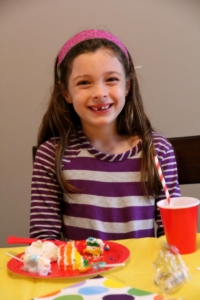 But Eliza liked it.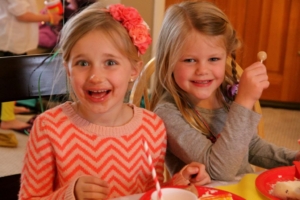 Ice cream faces.
More silliness.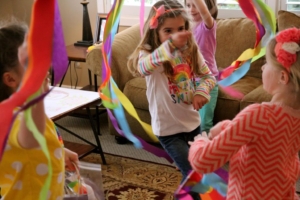 And lots of dancing with rainbow streamers.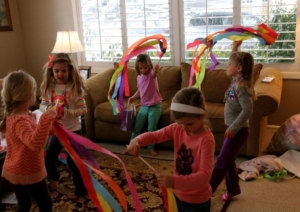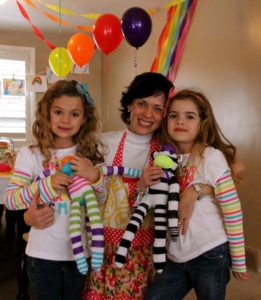 Afterwards, I felt kind of like Ali looks. Birthday parties suck the energy right out of me. Maybe one of these days I'll remember to prep a month ahead of time, instead of waiting until the last minute.
But honestly, throwing a party like this makes me happy. And Ali and Sami were over the rainbow about it. Which is all that really matters, right?