By Easter Sunday the blossoms on our tree hadn't opened yet, but they were puffing white, like tiny bubble skirts.
Our Holy Week was happy. It was messy, with kids running in and out of the house, banging the glass door, ditching muddy shoes onto the floor, carting cups of dirt to various sinks, climbing onto counters for candy eggs and handfuls of jelly beans, blazing across the blacktop on bikes. Messy enough to make me crazy. But it was also full of meaning.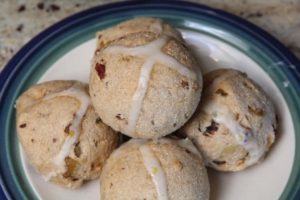 Friday we ate hot cross buns and went to my Mother's yard for our Easter Walk.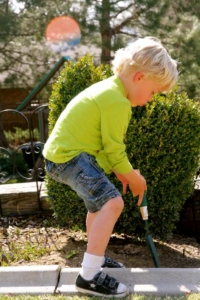 Spencer was satisfied to dig holes and trim bushes with hand clippers, something my mom lets the kids do anywhere they like. Snip away, she says. They can't hurt anything.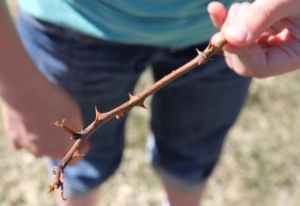 Three years now we've been doing our Easter Walk. The kids love it and so do I. I love reading verses from the New Testament and sending them chasing through the yard on a hunt for the perfect symbol – items in which they see Jesus.
Like this rose stem. Something thorny for the crown of thorns.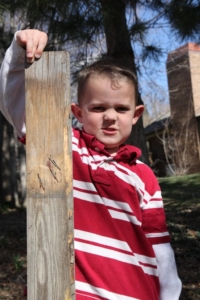 Kara's children, Parker and Katherine, joined us this year for our walk. Here's Parker hefting something made of wood to represent the cross.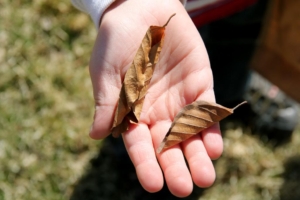 Something dead to represent Christ's death.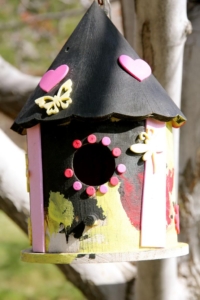 Something black for the period of darkness that followed the Crucifixion.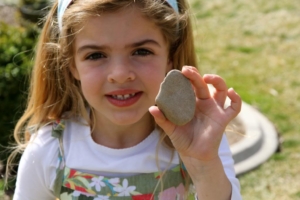 Something round for the stone rolled away.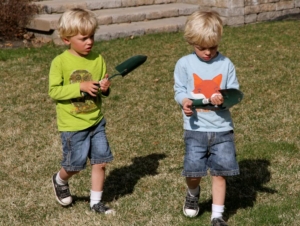 Occasionally the boys put one of their finds into a brown bag, but mostly they kept digging.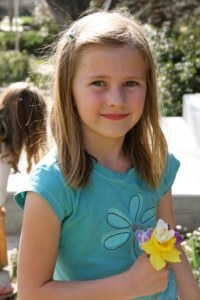 Katherine with her bouquet of "life" to represent something living for the resurrection.
It was sweet to have Katherine and Parker with us. We talked about baby Isaac. All my kids mention him frequently. His picture has a special spot on our fridge and we couldn't talk about "living again" without mention of their precious brother and the reunion their family anticipates, longs for, lives for.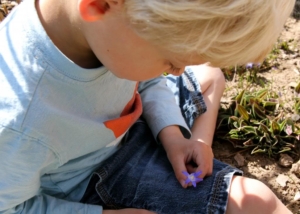 Gordon, fascinated with his pluck of purple life.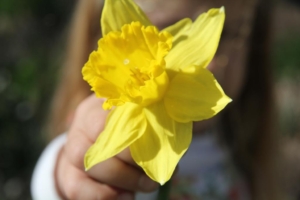 Sami's daffodil.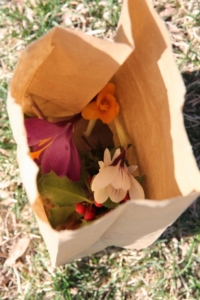 I loved all the brown sacks full of Easter treasures.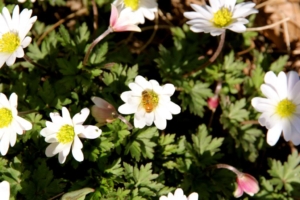 As we finished I noticed the bees beginning their work. A sign that Spring is definitely here.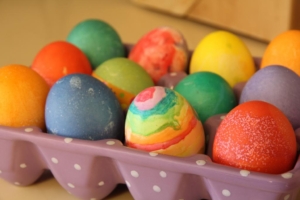 Saturday we colored Easter eggs. This activity was over in a matter of minutes. No one seemed very interested this year. It was too nice outside. So they left cups of dye for bike rides around the quiet neighborhood and swinging in the backyard.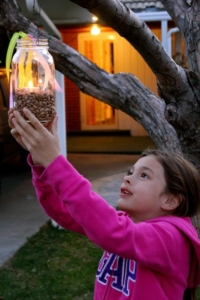 Saturday evening we lit our lanterns and hung them from the tree. This has become my favorite tradition. I love the symbolism of waiting for the True Light. I had my girls repeat John 8:12, one of my favorite verses.
"I am the Light of the World. He that followeth me shall not walk in darkness, but shall have the light of life."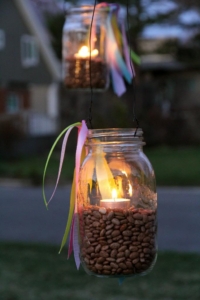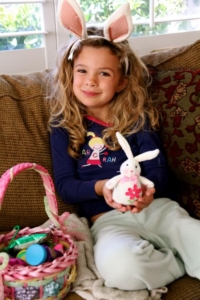 Easter morning was a flurry of finding hidden baskets and eating candy. While I tried to put baskets up and out of the way after a good dose of sugar, it was too hard to reign in. So we let them eat chocolate for breakfast, plus scrambled eggs.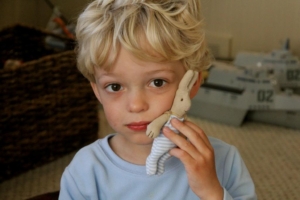 Gordon loved his little bunny in striped pjs.
After breakfast Eliza remembered she had built something in the backyard she wanted to show us. I noticed it Saturday afternoon while washing dishes. When I glanced up from the suds to see what she was doing I thought, It looks like she's building a tomb.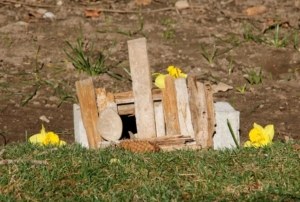 And sure enough, she was. All on her own.
Sunday morning she decorated it with daffodils. When Doug saw the sun fingering its way up the wall of her small tomb, we raced outside and down the stairs to see. I felt like the apostles running toward the empty tomb, wondering if it was true. Had he really risen?
A few hours later we went to Kara's church to hear her speak. She was asked to be the Easter speaker for her congregation's church meeting. I've never heard such a beautiful Resurrection message. Her are a few of her words:
Martin Luther said,
"Our Lord has written the promise of the resurrection, not in books alone, but in every leaf in springtime."
A dead thing made beautiful. From the dark into the light.
A tomb holding death – emptied into life.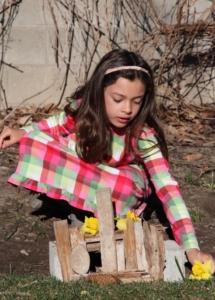 The soul darkened by sin – filled with light and life again.
And my son – sick, broken, lost – returned to health and strength and to me.
That is what the resurrection is about.
The potential for new life. On so many levels.
It is, I think, about our potential.
It is in our darkest times, I believe, where we are proven, where we have a choice, where our capacity is at its most profound.
Isn't she wise? So beautiful, so intelligent, so full of faith.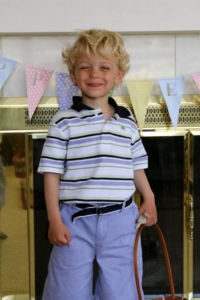 Gordon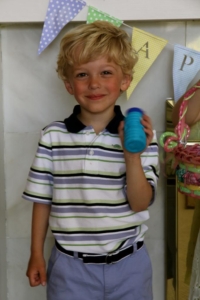 Spencer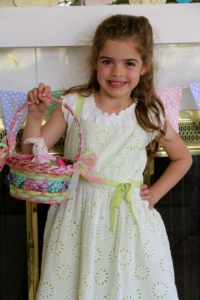 Sami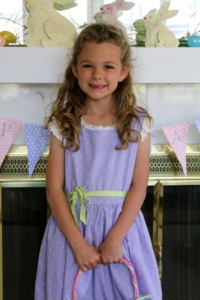 Ali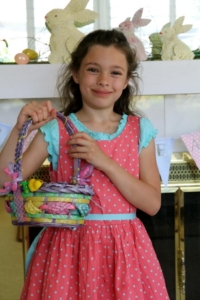 Eliza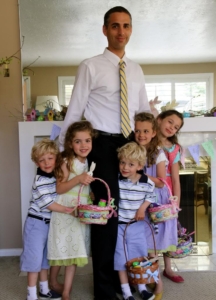 My favorite Easter peeps. (And believe it or not, I like the sugar ones.)
Hoping you had a beautiful Easter – full of sunlight, joy, and hope.