So I was sitting in "the special chair," opening gifts on Sunday, when Gordon proudly handed me his card. With one hand firmly on his hip, his chest puffed out and feet spread wide like superman, he announced with gusto, "Happy Smother's Day, Mom!"
I burst out laughing. Wasn't sure if he was trying to be funny, or if it accidentally came together that way. But whatever the derivation, "Smother's Day" has been the giggle of the week. Sigh… it still makes me laugh.
And it's appropriate, don't you think? What Mom doesn't want to be smothered with hugs, kisses, and notes, at least one day of the year?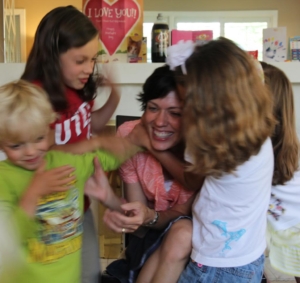 And that's exactly what happened.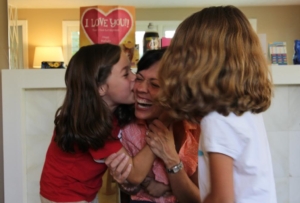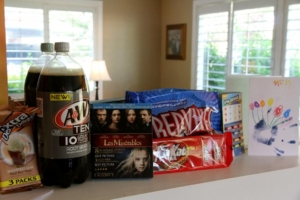 The kids were kind enough to wrap my favorite treats. (Love root beer, but I've never tried root beer float gum. We'll see how that tastes…) Doug and I are the only people I know who haven't seen Les Mis. Finally, we can remedy that. I loved the home-made cards with handprints and marker drawings, and the daisy bouquet from Doug.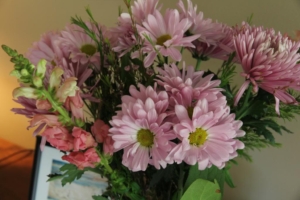 Friday before Mother's Day a surprise package arrived from my friend Saydi, who lives in Boston. Inside were all kinds of crafts and projects for the kids, some cd's for Eliza, and a copy of an essay that accompanied this beautiful print Saydi had placed in a frame. It is one of William Blake's artistic plates from his Book of Urizen (circa 1796). It is called Teach These Souls to Fly.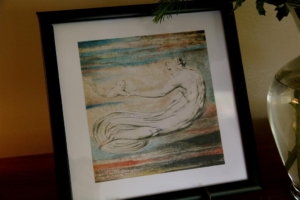 In college, I was fascinated by Blake's mix of art and poetry. I loved Songs of Innocence and Experience. But I'd never seen this plate before.
It's been floating around the blog world lately. Shawni @ 71 Toes gave it a shout-out (Saydi's sister), but I didn't have time to read about it. Saturday night, however, I sat down on the couch, artwork next to me, and read Lia Collings essay. It comes from this book. (For a chance to win a copy, visit Saydi's blog.)
Lia begins with a train ride across the German countryside, her baby in her lap. As they bump along, her sister hesitatingly asks, "Why would anyone want to be a mom? How do you bear the monotony… no matter what you try to do, you have these kids in the way?!"
The question shocked Lia. But she tried to understand. When she recovered, she responded with the usual platitudes, but the sincerity in her sister's voice troubled her. She thought on the question for months. Sometimes we don't consider how motherhood might look from the outside. How we might look. How dissatisfying it might appear.
This plate by Blake provided an answer. Lia writes,
"The beige muscles swelling across the mother's back inspired my admiration first. A woman with such strength could perform any labor she chose. Yet the curve of her shoulder introduced a steady softening that ended in a touch on the child's elbow. I saw the same combination of force and persuasion in the look she gave her child. This mother seemed in the same instant both to command and to invite, to compel and to persuade. I found the odd trajectory of the mother's flight as intriguing as the paradoxes of her person. The was definitely flying – that was clear by the way her robes hugged her body before swirling away. But her torso twisted back toward her child."
She continues to explain how someone like her sister might only see the woman as hampered and restrained. "What heights could such a woman not have attained, had she been free to pursue the course she had started?"
But to Lia, this mother was using her reserves, her capacities and abilities, not just for herself, but to elevate her child. To teach her child how to fly alongside her.
Oddly enough, the child stared, not at his mother, but toward her. Blankly.
"While his mother seemed wholly devoted to some noble end, the child appeared merely present. This child flew only because his mother pulled him, but like most children, he seemed oblivious to what his mother did for him."
As I read more and examined the painting, I thought of all the flexing, bending, lifting and guiding we do as mothers. How we are always curving toward our children. How it is hard sometimes to keep them afloat, to make sure they are equipped for both success and struggle. Lia observes that the painting is not particularly beautiful or technically impressive, but the longer she looked at it, the more she responded to it.
I had a similar reaction. As I thought of my children. And then my own mother, and what she set aside to raise six children. She set aside some dreams. Some desires she wanted to pursue. But instead, funneled all her energy into teaching us how to fly.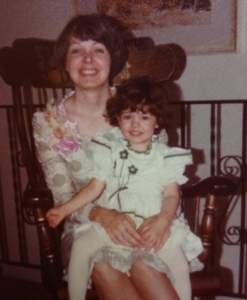 Me with my Mom. Mother's Day 1977.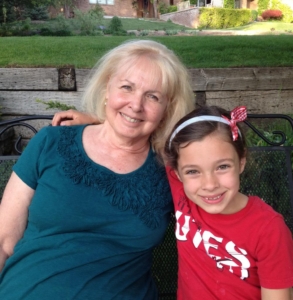 Mother's Day 2013. My Mom with Eliza.
A couple months ago we took two dozen daffodils to my Mom. As part of Daffodil Days. Each year Doug buys dozens of daffodils (first flower of Spring) to support the American Cancer Society. We give them to friends and family who have been touched by cancer.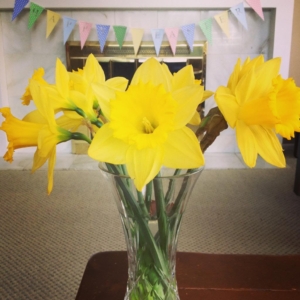 This summer will mark five years since my Mom was diagnosed with her second brain tumor. Treatments and surgery, to our astonishment, have left the tumor dormant. Currently, it is not changing or growing and she is enjoying a wonderful life. Smothered by grandchildren who love her.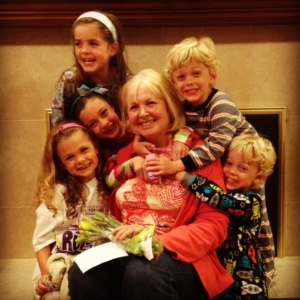 I know I've said this before, but I am grateful every day my kids have the chance to know her, learn from her, hug her.
A belated Happy "Smother's" Day to all you devoted women who are teaching souls to fly.
My favorite quote for the week?
"Life doesn't come with an instruction manual. It comes with a mother."
Keep flying. Keep teaching. Keep living for those you've been given. You are doing a work no one else can. You are elevating souls.