Hello new, shiny, unmarked year! How open and beautiful you look! What joys and disappointments will you hold? And how will we weather you? I wonder.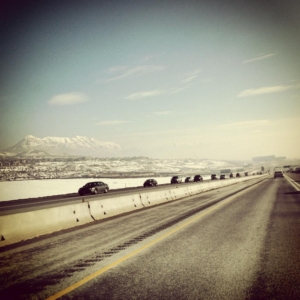 After Christmas we flew south for a few days. I was hesitant to go. Always so much to do at home – projects I wanted to tackle, some writing I wanted to do, storage rooms to organize. But… you know… it was the break. And temps in the fifties were beckoning.
So we left the gunky air of the valley. (Check out the inversion above. That's Mt. Timpanogos next to a range of mountains you can't even see behind the thick, smoggy air.)
Salt Lake is notorious for poor air quality in the winter. The cold holds all the smog close to the valley floor. But… we tolerate it during this time of year because it's still a wonderful place to raise a family.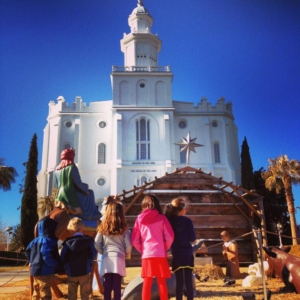 Our first Sunday there we stopped at the St. George temple, where their Nativity was still up, Christmas music was still playing, and the kids danced on the steps, marveled at the palm trees.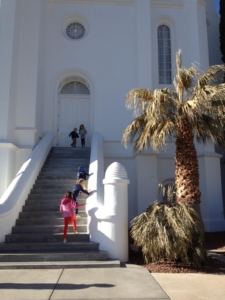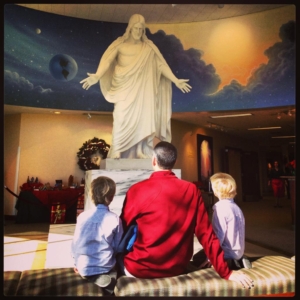 In the church meeting we attended that day, a fellow spoke who had just returned from an LDS mission to Sweden, where he and his wife attended a conference in Denmark and saw the orginal Christus statue (pictured above) by Bertel Thorvaldsen.
I looked at the Christus that day with new eyes. Doug sat with the boys and we listened to the message. The Savior's words to us. I love those words. Loved playing them for visitors when I was on a mission. I watched all three of my boys there together – teaching and being taught.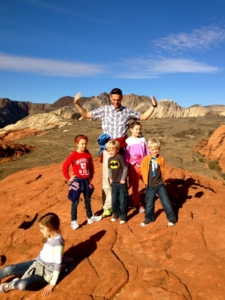 The rest of the days we played. Snow Canyon is one of our favorite hiking spots. Unfortunately, I forgot my good camera. This is the second family trip we've taken and I've forgotten my camera! I also forgot my toothbrush, mouthwash, belt, and running bra. But I packed all the kids without forgetting a thing! I think it's official. I need a checklist.
So… all these photos are iPhone photos. Thank goodness for iPhones.
I had some dreamy idea of gathering everyone together for a family photo. But Sam didn't want in. She was pouting.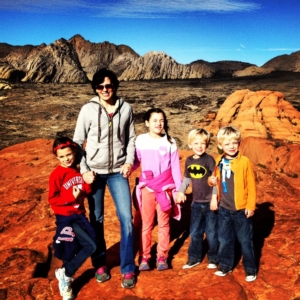 So the five of us held hands for the blink of a second.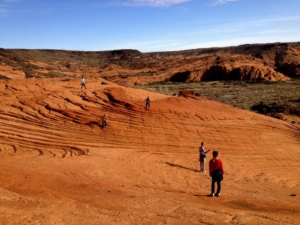 Then everyone was off again. Exploring the petrified sand dunes.
If you haven't been to southern Utah, or Dixie as it is called, these pics probably look like we landed on the red moon of Endor. It is a most unusual place. Red rock to climb on, red sand to sift, green sagebrush, all stacked up against the most brilliant blue sky you've ever seen.
It's an outdoor playground.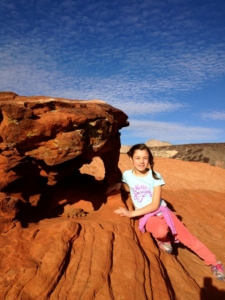 Eliza found the perfect spot to build a fairy table.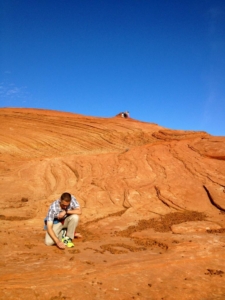 Doug worked on some pebble art.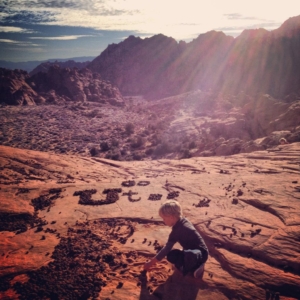 This was the final product. There was a game that night. So of course, we told the lizards and sand people who we were cheering for. I love the light in this shot. Sometimes the iPhone does more than not disappoint.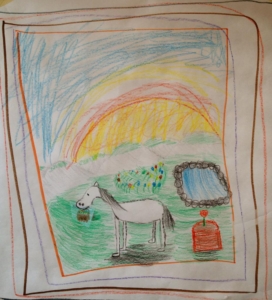 The girls always color artwork for their bedroom walls. Crayons on butcher paper. I especially loved this horse Eliza drew.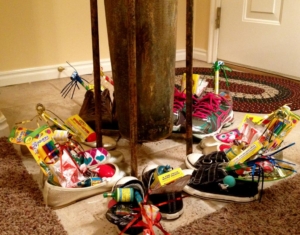 The kids and I were sad not to decorate our
New Year's tree
this year. But the New Year's Eve elf still came and filled our shoes.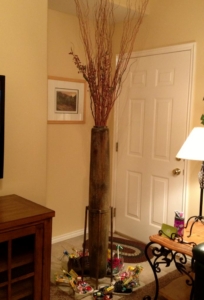 Our Dixie version of a New Year's tree? Desert twigs in a vase.
The celebration was very low key. In fact, the whole trip was a decompression of sorts. Lots of relaxing, reading, movies, swimming, and good food. Doug always cooks when we're in St. George and I'm so grateful for the respite.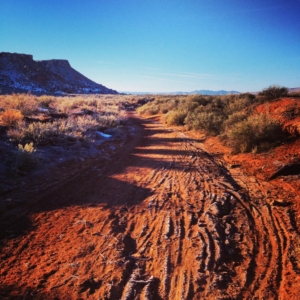 The desert happens to be one of my favorite places on earth to run. Funny how running totally alone in the middle of nowhere can be therapeutic. This is the bear claw poppy trail. 
In the mornings, the ground was frozen and rutted, the sage frosted white and fragile. But the air was wildly clean. Crisp and invigorating as it went in.
I never run with ear buds. I relish the silence, crave it, need it. Usually I roust a rabbit, hear birds, or see an occasional lizard. But in the winter, things were oddly quiet. Not a single birdsong.
When I run alone I don't feel alone. I hear myself think. I listen. And the whole process of it cleans out my head and heart.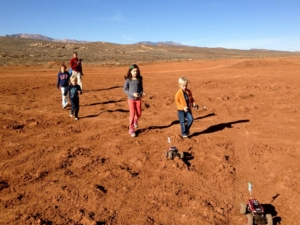 As I climbed up out of the valley and made my way down the dirt road, I could see the girls running towards me.
The kids had come out to greet the morning, their mom, and drive their new remote control cars all over the sand dunes.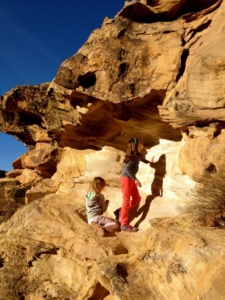 The girls wanted to explore the big ravine. So we did. And they scrambled up and down the walls.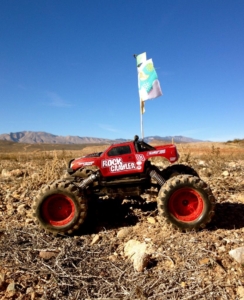 The boys stayed with Doug and ran their cars all over the hills. I had no idea these Rock Crawlers would be so awesome. They have incredible articulation and can maneuver over almost anything.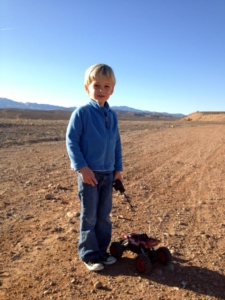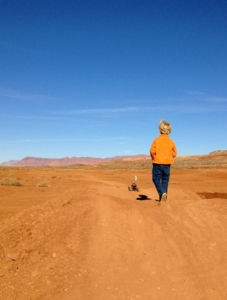 Here's a very short video to give you an idea of some of the fun they had. Not sure who was enjoying it more. Doug or the boys.
I wish I had time to write something more helpful. The first week back to school was all systems go, all day long. As always, there is so much I want to explore with words. So much I want to write about, express, understand better as I tap, tap away.But life is what it is now. And I can't function on four hours of sleep. Although sometimes (crazy me) I try.I haven't considered resolutions for the year. Our next family meeting we're planning to talk resolutions with the kids. Right now, I'm just trying to focus on the basics. The formula I believe makes for a happy, connected life. A life connected to those we love and to God.
Pray. Morning and night. Enumerate blessings, recognize His hand, express all concerns, place hopes and requests at his feet.
Read the Word Daily. We have made a revolutionary decision as a family. (Doug is leading out on this one.) We're getting the girls up every morning at 7AM for family scripture reading. (We let the boys sleep.) Doug literally scoops them out of bed and carries them in his arms to the couch. They snuggle into their blankets, whine a bit, but when asked to read aloud, they will. Even if it's a mumble. Then we kneel in family prayer. It isn't rushed. The morning goes so much smoother. And already, two weeks in, we are experiencing an improved spirit in our home.
As for my personal study, I'm still scribbling into my study journal, recording impressions, making my way again through the Book of Mormon, and beginning a study of Acts – Revelation. I believe partaking daily of God's word gives us much-needed perspective, discipline, and insight that we simply can't afford to live without. It helps us see things as they really are. It isn't so much what we read, but the spirit that comes into our lives when we do.
Love Purely. Also Doug's idea to work on loving each other better in our home. We've asked each child to do one kind thing for someone else in the family every day. So far, not so good. But we have over 11 months to make it a habit! And as I examine my own heart, I see how important it is to be conscious of our intent, our reason for doing things. If we consider the mind and heart of God and our loyalty to him – if being loyal to God is our motive – in contrast to being loyal to a person, a commitment, or a group of persons – we will always make the right choice.
Coming soon, our favorite children's books from 2013. And New Zealand photos. Happy 2014 y'all! I'm wishing you every good thing. xo