Just some quick info about book signings and Melissa Bradford's new book that will launch next week.Next Wednesday,
May 7th
, I'll be at
King's English Bookshop
for a Mother's Day book signing and reading. 7:00 PM. Please come! Bring friends, family, books you've bought, or of course, you can purchase books there. I'd love to see you, or meet you.
Motherhood Realized is also being sold at select Whole Foods and Costcos. So I'll be at the Sandy Costco Friday, May 9th, from 1-3 PM, signing with the lovely Allyson Reynolds.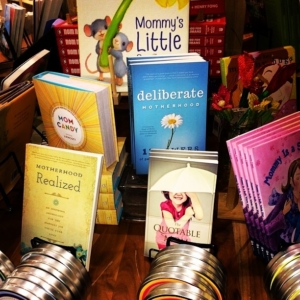 This book sighting was at Whole Foods. Photo taken by April Perry. Kind of exciting!And I am SO anxious to tell you about Melissa's new book,
On Loss and Living Onward.
It launches May 6th. I know many of you read
Global Mom
. If you did, you are familiar with her story of grief – of losing her vivacious teenage son, Parker.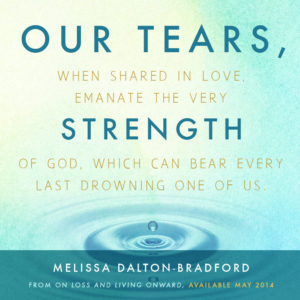 In this book, Melissa revisits that experience with new words. She shares angles of the story you won't read in Global Mom, and settles them into a collection of other voices. Voices that have also known great loss. Melissa immersed herself in these voices during her darkest time of grieving. She sought them out – stories of people who didn't just survive, but survived well.
Her prose, poetry, and wisdom will reach right into your soul and change you. Her words are true comfort. If you have ever grieved, this book is for you.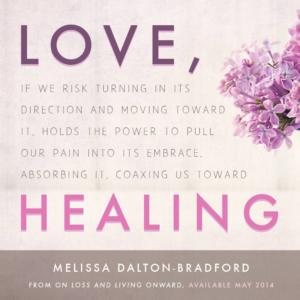 Soon, I'll return the stories of daily life. Like our Easter week (working on that post.) And the fact that I have to attend traffic court next Monday. (I kinda rolled through a stop sign in my own neighborhood – for good reason – but there just happened to be a cop in his big pick-up truck, hiding around the corner. Strategically placed by our neighborhood watch to catch high school students who speed. Bah!)
And the banner-news that tax season didn't really end.
I told Doug I'm going to stop celebrating April 15th because things just don't slow down for him then. While I bemoaned this fact during a long hug, he suggested we celebrate May 15th from now on. So… that's the adjusted plan.
For now, I'm still going it alone each night. Still pushing through the weeks with little time to talk. Still looking for tools to cope when taking care of everyone feels like a solo flight spiraling out of control.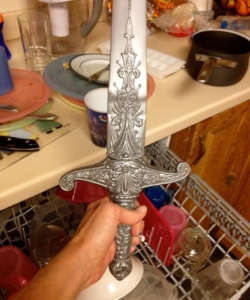 A few weeks ago I walked around the house from 6-9 pm with this plastic sword in hand, "encouraging" kids to come inside, finish homework, clean up, get in the tub, stop strangling each other, and brush their teeth. You know, like a cattle prod. It worked wonders.
They just giggled when it got anywhere near their belly button, but the occasional poke in the behind got them moving! After putting everyone to bed I did dishes and ate a whole bag of their easter candy.
Sometimes I turn into scary mom. Life gets hard. This mothering gig is a real challenge when your tag-team partner isn't around. You marvelous single mothers, I don't know how you do it. You have my utmost respect.
And those hubbies who work long hours? That's no walk in the park either. Sitting at a desk past sunset every night is grueling.
But it's where we are right now. So, onward and upward.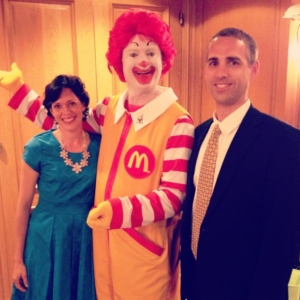 And for laughs, here's my last Doug sighting. Just teasing. But it was a much-needed evening out. A hot date to McDonald's. And look who we found in our happy meal?
No really, we attended a charity event. The Spirit of Children Gala for Ronald McDonald House Charities. Very inspirational. And fun to have a reason to dress up.
Hoping your week is cruising along beautifully. Sword-free.