This year for Eliza's birthday party she wanted to invite a handful of friends to join her for two favorite activities. Painting. And sharing good books.I loved the idea.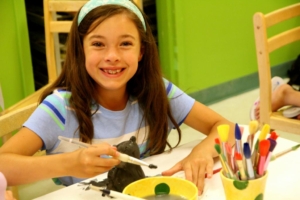 So we scheduled a date at the painting store, as my children call it. And for what they provided (including the fact that I didn't have to plan, prepare, or clean up – sometimes that is priceless), I thought the cost was quite reasonable.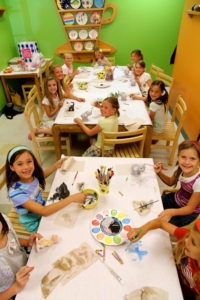 Each girl chose a small animal to paint. They settled into chairs and swabbed color onto panda bears, turtles, elephants, kitty cats, geckos, and dolphins.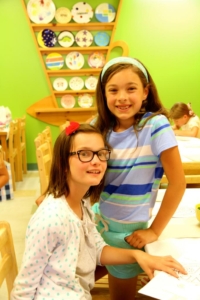 Eliza was in heaven. The girls chatted busily about Les Mis (no kidding), painting techniques, and what they were doing with their summer. This is Eliza with her favorite backyard friend, Delaney, who is moving to London for a year. Sigh… we're gonna miss this dear girl.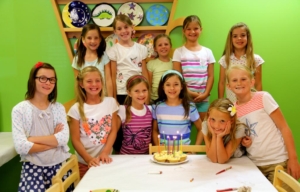 After all the animal creations were finished and slated for the kiln, we brought out cupcakes and tuned our singing voices.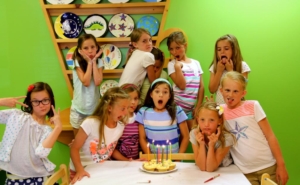 I love these girls. Full of personality, grounded, kind to each other. I'm getting to know most of them in new ways since being called to teach their primary class at church. I love watching them read from the scriptures, ask difficult questions, make real connections.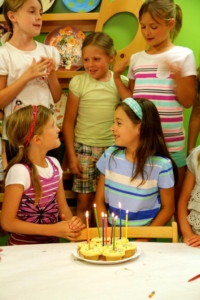 I hope these friendships for Eliza always bless her life.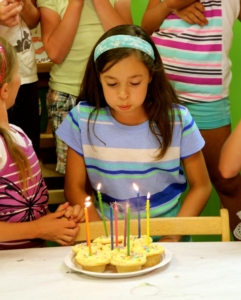 She blew out nine candles.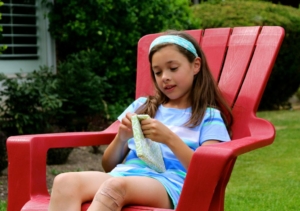 Then we came back to our home and opened presents on the front lawn. In lieu of regular gifts, we asked each friend to bring a book. One of their favorites to share with Eliza.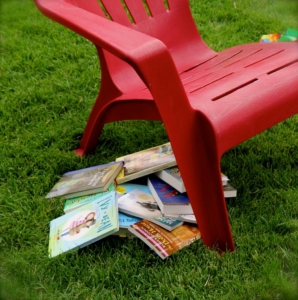 Eliza was elated at the stack of reading she unwrapped. Each girl told us a handful of her favorite titles. I wrote them all down and rounded out the list with some of our favorites from the last year. And now, I share it with you!
(I could go on and on about some of these. Like The Tale of Despereaux and its powerful message of forgiveness, all the Roald Dahl books – he's simply masterful. Or the way we cried when we finished Stone Fox and The Hundred Dresses.)
Moving Day – Meg Cabot
Regarding the Fountain – Kate Klise
Because of Mr. Terupt – Rob Buyea
Where the Mountain Meets the Moon – Grace Lin
Wonder – RJ Palacio
The Secret Garden – Frances Hodgson Burnett
The Doll's House – Rumer Godden
Stone Fox – John Reynolds Gardiner
Sarah, Plain and Tall – Patricia MacLachlan
Big Susan – Elizabeth Orton Jones
Betsy-Tacy Books – Maud Hart Lovelace
The Miraculous Journey of Edward Tulane – Kate DiCamillo
The Tale of Despereaux – Kate DiCamillo
Dragon Slippers – Jessica Day George
Tuesdays at the Castle – Jessica Day George
Wednesdays in the Tower – Jessica Day George
Pollyanna – Eleanor H. Porter
Ivy & Bean Books – Annie Barrows
The Hundred Dresses – Eleanor Estes
The Little House Series – Laura Ingalls Wilder
The Family Under the Bridge – Natalie Savage Carlson
Nancy Drew Mysteries – Carolyn Keene
Mr. Popper's Penguins – Richard Atwater
A Wrinkle in Time series – Madeleine L'Engle
The BFG – Roald Dahl
Clementine Books – Sara Pennypacker
Escape from Mr. Lemoncello's Library – Chris Grabenstein
Explore the list and feel free to add your favorites in the comments!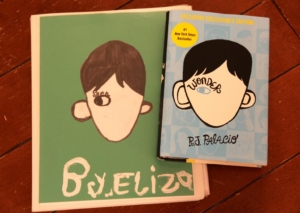 I will say, Eliza loved Wonder so much, it inspired the writing of her own book. The story of a flying book that takes you to different spaces or memories from your past. She called it Seen.
This list is great for young readers ages 6 – 12. And I recommend any of them for reading aloud.
So far this summer, I've read aloud Escape from Mr. Lemoncello's Library, The Tale of Despereaux, The BFG, and we're currently working through The Long Winter (Little House Series).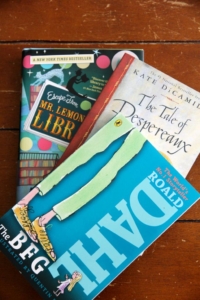 I recently received an email from a very engaged father who was curious as to how we read to not one or two children, but to five, and how we get our children excited about reading.
I told him good books are key. I rely heavily on trusted recommendations  And most evenings, reading is the reward at our house. I try to make it fun by reading in new and different locations. Like outside on the lawn chairs, on a blanket in the backyard, on the neighbor's trampoline, or in one of the kids' bedrooms.
The couch is also a standard spot, with children flanking us on both sides. I've said it before but I believe reading aloud is one of the best ways you can prepare your children to be good students. As well as strengthen family relationships.
And while it isn't the most popular thing to say, the truth is, we have very little screen time. My kids don't own any devices. We have a few games and learning apps on an iPad. But most days are totally screen-free. Unless it's Khan Academy, movie night, or a moment of desperation when I've GOT to take a shower without kids maiming each other and destroying the house.
I also encourage the kids to read on their own. This summer the girls have had a goal of reading at least 30 minutes every day from a chapter book and scripture.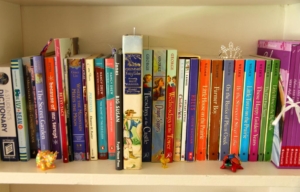 Eliza's newly shelved books.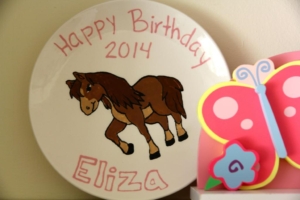 A week after the party, we went back to the painting store to get the girls' animals they painted. And picked up this cute plate the store painted for Eliza.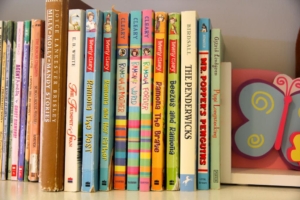 Ali and Sami (who are a little younger, age 7) have been enjoying the Ramona series this summer, along with Mr. Popper's Penguins, Pippi Longstocking, and Milly-Molly-Mandy. Some of which I know I've recommended before.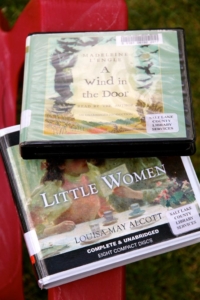 One last way we love to digest books is via audio. In the car. This summer we've listened to A Wrinkle in Time, Ivy & Bean, two Nancy Drew mysteries, and Little Women.
Even my boys listen without complaint. I love to stop the audio sometimes and discuss what is happening, drive home an important point or observation. Like how Beth treats her sisters in Little Women, or how Meg's love for Charles Wallace conquers darkness and evil, as illustrated so beautifully in L'Engle's Wrinkle.

Good books teach truth. And sharing them with my children brings me so much joy.
As for our sweet Eliza? Some day I'll write about her creative mind and how I can barely keep up with her projects and ideas. How is it that she is nine?