There is beauty all around
When there's love at home.
There is joy in every sound
When there's love at home.
Peace and plenty here abide
Smiling sweet on every side
Time doth softy, sweetly glide
When there's love at home.
This well-known LDS hymn, Love at Home, was written by John Hugh McNaughton (1829 – 1891). Ironically, it was my mother's least favorite hymn while we were growing up. With six kids battling each other more than she'd like, screeching, screaming, etching our names into closet doors, and sitting for long time-outs in the bathroom, she begrudged the tender hymn that celebrated a gentle, near-perfect home life.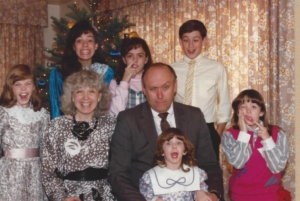 throwback to 1988. six kids, ages 14 – 4
The last verse bristled her most:
In the cottage there is joy,
When there's love at home.
Hate and envy ne'er annoy
When there's love at home.
Roses bloom beneath our feet;
All the earth's a garden sweet.
Making life a bliss complete
When there's love at home.
My Mom has always tried to do what is right. She is kind and easy to please. But she is also very real. As we got older, we teased her about this song – the way the lyrics chafed her. And when we sang it, we laughed. Our home wasn't what I'd call blissful. Nor do I remember roses blooming beneath our feet (that image always escaped me). There was enough chaos and fighting, my mom worried we would never like each other, never be friends. But we are. We love each other more than ever now. We carry each other.
Still, when I sang the song in church a few weeks ago, I chuckled.
There has been beauty all around this summer, but not so much at home.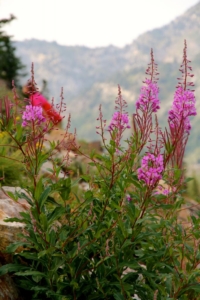 fireweed on the trail to secret lake
My kids have done more fighting the past three months than ever before. I can't figure out why it's been so epic. They've been far too physical. The shrieking has reached tones I haven't heard since I was a kid. Mean words have been said. Words I don't like. And even I have been called names.Too often I am refereeing some tiff or tattle, holding kids apart as they kick or swing a fist, sending offenders to their rooms, adding extra jobs to their list, or finding some way they can serve their sibling as retribution for an unsolicited attack.
It has been totally exhausting.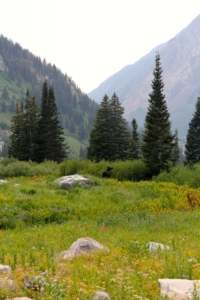 mamma moose – you can usually find her and her family somewhere in the basin
Ask my children what the word "restraint" means and they will tell you. "Control your emotions and behavior." We've talked and talked and talked about it. We've redefined the rules, discussed love in word and deed, tried new tactics. But with little improvement.
Just the other day I walked around with a squirt bottle hooked to my belt loop. I changed the setting to stream. Every time someone hit, pushed, scratched, or made a rude comment, I blasted them in the face with water. Have you ever been squirt-streamed? It's not pleasant. It's an affront.
I lasted about one hour then thought, Really? This is what I've turned into!? A mom with a water weapon!?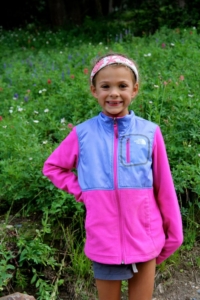 I've considered the cause(s).
They are so close in age. Which means they're constantly elbowing for the same things, the same needs. I would love an older sibling who didn't care if they got the watermelon blow-pop, who could take a little one by the hand and calm them down, act as peacemaker or helper. But alas. Herd mentality reigns.
Maybe it's me. Maybe I'm out of patience too quickly. Maybe they're modeling my own frustration, or at least, feeling it.
Maybe it's because we haven't read the scriptures regularly this summer, or had family home evening as often as we should.
Maybe it's because summer is just about over and every one of us needs more structure, more time apart.
Maybe it's all of the above.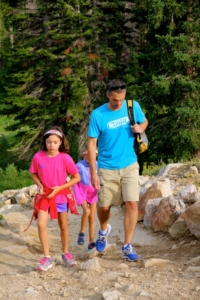 So I'm trying (always trying) to work on things. Trying to use a calm voice when every sinew inside me wants to erupt into a yell. I've started family scripture reading in the morning when everyone wakes. I'm trying to find more opportunities for us to work and play together. And this week we did an official family home evening, with everyone participating and taking responsibility for a job.
I believe those things help. I've seen them work enough times to know they do.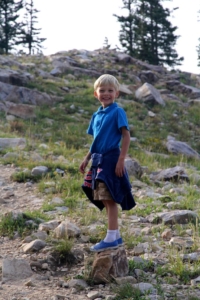 And I've noticed one other thing that works.
Simply getting outside.
When we take the bickering and needling out under a ceiling of sky, it stops.
We can have slugging, scratching, and sassy words during the drive, but once we park and push open the doors, things change. We unwind, stretch out, coexist.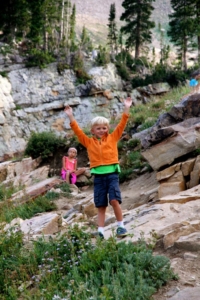 Nature helps us reclaim our best selves.
Be the people we should be.
Two weeks ago we hiked to Cecret lake, one of our favorite summer trails that leads to a gorgeous fresh water lake, shelved into the craggy swells of Albion Basin.
As we hiked, talked, and held hands, tempers settled, spirits smoothed, and we remembered how it feels to love each other.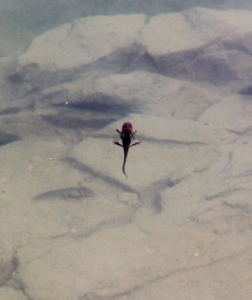 To everyone's delight, the lake was teeming with salamanders. If only we'd brought our nets we could have brought a friend home for Manders. Since Sally mysteriously went missing one day.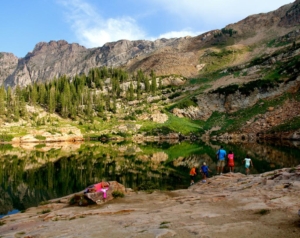 I stepped back for perspective. Watched my six favorite people exploring the water's edge.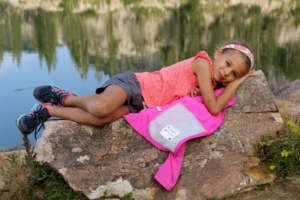 Ali found the perfect rock for a rest.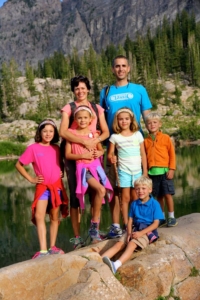 A nice man offered to take our picture.
It was just before sundown. Devil's Castle loomed above us. Mountain peaks reflected in the water.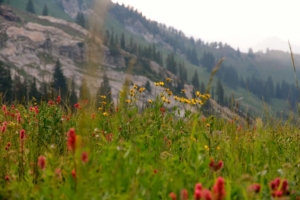 We made our descent down the ski runs. Much quieter and less traveled. Sami and Gordon stayed with me.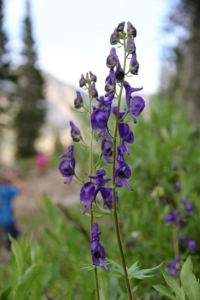 I pointed out my favorite wildflowers. Monk's hood always makes me smile; it looks just like its name.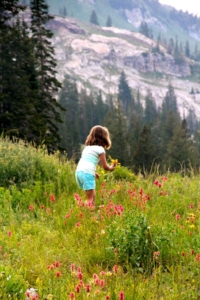 Sami gathered a small bouquet for Grandma Ronda's birthday. Shhh… I know we're not supposed to pick the flowers. But she was so ardent, and wanted so much to make Grandma happy, I gave in and said yes.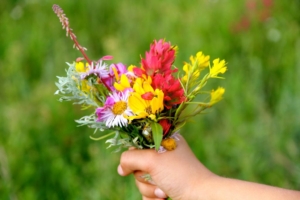 My Mom loved them.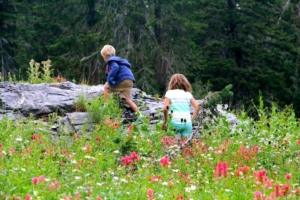 No one argued. No one pushed.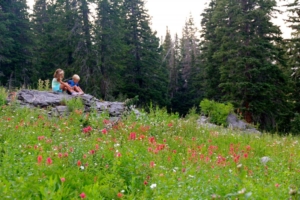 I thought my heart would burst with gratitude at being surrounded by so much beauty outside, and in.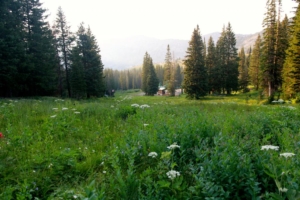 I know families who get along famously most of the time. I wish we were one of them. I want to be one of them. But we're raising five strong, creative personalities, who clash, who have agendas and wills, and forget to use their words.
Hopefully, as we keep teaching and talking, working and loving, and loving some more, we will move out of this stage. Into a place of real friendship, increased kindness, and love at home.
Things were better today. Eliza wrote Sami the sweetest "get well" note. The boys apologized to their sisters for destroying their restaurant downstairs then helped me clean up the basement. Ali hugged her brothers before bedtime.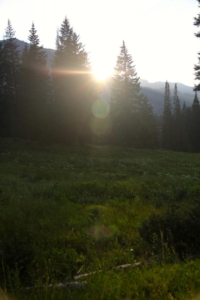 We work at it every day. The sun sets on the good and bad. Then we get up and work at it again. Success comes in small doses. We find extra patience. We help, remember, forgive, share, choose not to rush, speak softly, listen, and try again.
"He is happiest, be he king or peasant, who finds peace in his home." – Johann Von Goethe
And out of fairness to John McNaughton, I found a version of Love at Home by guitarist, Michael Dowdle, that I like very much.