At 7:45 we blinked awake. Surprised the house was still quiet. Then we heard a door knob tentatively turn and little feet shuffle into our room. It was about to begin…
Per tradition, no one peeked at the tree until we had gathered for breakfast in the kitchen and singing on the stairs.
Doug turned on the tree, started the fire, and whispered that Santa had come. As I was taking this picture, the kids were sitting on the stairs singing, "Here we sit like birds in the wilderness… Waiting to go upstairs."
Do you know this silly song? Keddingtons and Kimballs have been singing it for generations. Great way to channel the anticipation until everyone is ready to parade into the living room. Youngest first.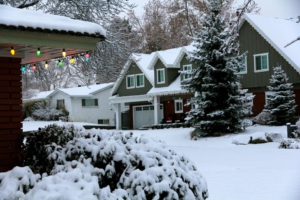 Almost as exciting as the tree inside was the wonderland outside. First big snow. White flakes began falling in the dark of early morning. While lying in bed I heard the rain go silent, change to snow.
Only hours earlier, the kids had sprinkled reindeer food (thank you Lauren!) onto dry lawn while a warm wind licked their cheeks. But by morning, everything was white. And still coming down.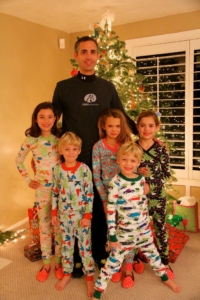 On Christmas Eve, Doug had to step into the photo to keep the kids from pushing and punching each other. Honestly, it was still up for debate at this point, if Santa would come.But eventually, they calmed down and went to sleep. A full day of skiing on Christmas Eve made for sound, long sleepers.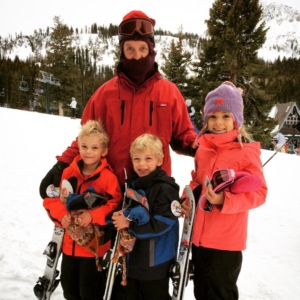 This was our first time getting the kids up on the slopes. High time these little Norwegians learned to ski. But for the last few years, we couldn't wrap our brains or pocket books around how to do it. This year, however, we took the plunge. We put the boys and Ali in ski school. Eliza skied with Doug. Sami and I, unfortunately, kept the infirmary warm. But the rest had a blast and didn't want to quit. I love Spencer's hair.
Here they are with Poppa Jim. Still skiing like a pro at 71. His father, Ruben, came over from Norway and helped establish skiing in Utah, put in the first tow rope at one of the resorts.
As we were walking out to the car Gordon said, "I LOVE skiing Mom! Can we come again tomorrow? Even if it's Christmas?"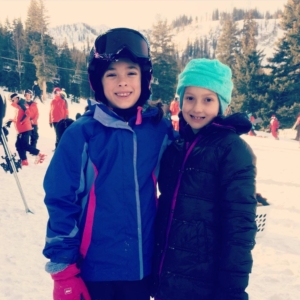 Eliza with her cousin Emily. Arveseths have been skiing on Christmas Eve for years. It's an old tradition but our first time joining. (And if you dressed as Santa Claus, you got to ski free! Check out the background.)
Here are their favorite gifts Christmas morning.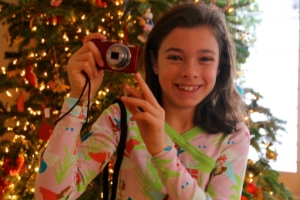 A camera for Eliza.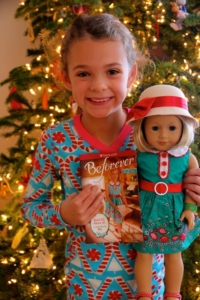 Kit for Ali.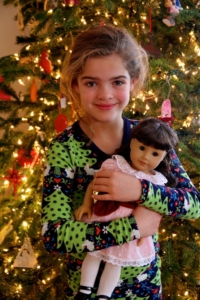 Samantha for Samantha.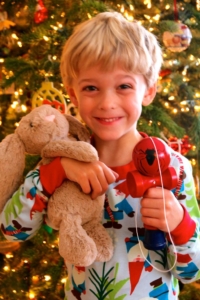 "Fluffy" the bunny and Spiderman kendama for Spence.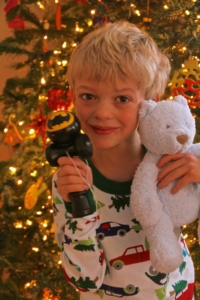 "Bluie" and Batman kendama for Gordon. Kendamas made for hours of entertainment Christmas day. They love these things! The boys keep calling them "kendominos." Cracks me up.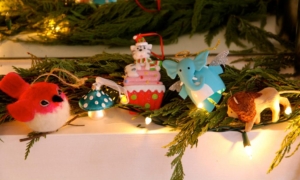 Santa gave each of the children an ornament in their stocking. Red bird for Eliza, our bird lover. Blue toadstool for Ali who is loving fairies and all things blue. Christmas kitty for Sami who adores cats. Angel Elephant for Spencer who loves elephants and has been quite angelic in recent months. And a lion for Gordon, who not only loves lions but has the temperament of one. At least lately.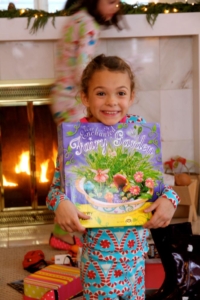 Love Ali's face when she opened this gift.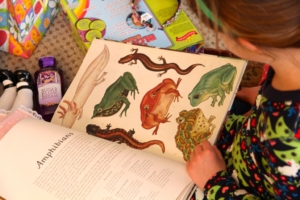 Sami, our animal lover, plunged right into this book. You'll love it too. More details coming in January with our 2014 Favorite Books post.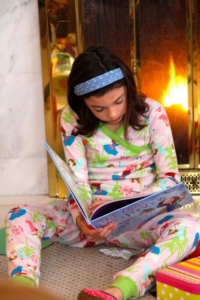 We tried a new approach when it came to gifts this year: something you want, something you need, something to do, something to read.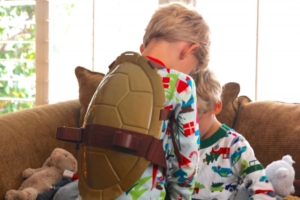 The boys asked Santa for Teenage Mutant Ninja Turtle Combat Gear but to our disappointment, the shells didn't fit well, and it was hard for them to grab their swords and daggers from over the shoulder. Buyer beware. Santa's elves needed to do a little more consumer testing on this one.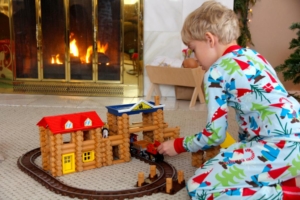 But Lincoln Logs were a huge hit.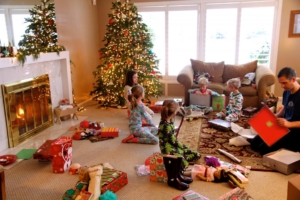 My people. My world.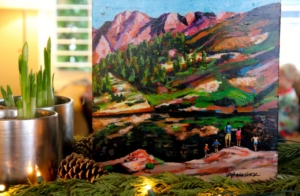 And my favorite gift of the day? This painting I gave to Doug.
Months ago, I commissioned my friend, Stephanie Hock, to take an Instagram photo I loved of Doug and the kids at Cecret Lake and bring it to life through her art. Together we titled it "Made to Stand Strong" (Psalm 30:7). David is speaking of the mountains in this verse. And when I look at her paining I think not only of the mountains, but also of Doug and our family. All made to stand firm and strong against harsh winds, storms, and the test of time.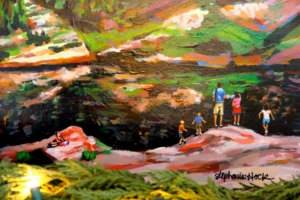 It snowed all day. By Christmas night, I was so taken with the fresh snow piling on lamp posts and sidewalks, I stepped outside for a short walk alone. It's good to step out under the sky. In any weather. Any time of day. But especially for me at night. It helps me connect with God. Find my small place in his universe.
I took this photo of our neighbors' home behind us. All ablaze. Under a gray canopy of falling snow.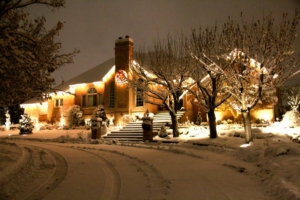 It was a beautiful Christmas. Simple. Soft. With all of us together. How I wish every day could be.