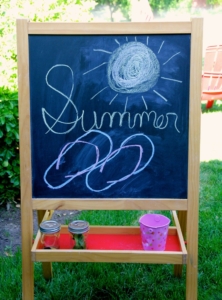 Eliza's art on the chalkboard. Lady bugs in mason jars.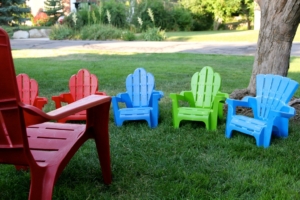 Lawn chairs set up in a semi-circle under the crabapple tree. Corn on the cob and watermelon. I love these signs of summer.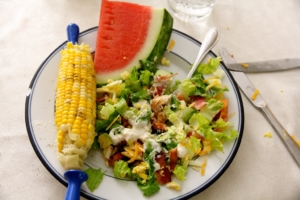 It means life has slowed down, changed, softened.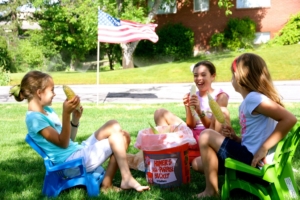 We have more time for each other, more time to play, more time for good food.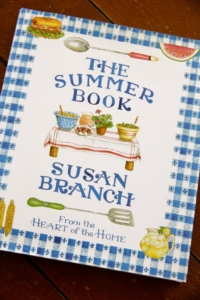 Speaking of good food, are you familiar with Susan Branch? East coast artist/author who has devoted her talent to the "home arts" and has written a number of charming seasonal and holiday books. Gorgeous watercolor illustrations. All hand-written.
She includes recipes, stories, quotes, and gardening/cooking deas. Simple things. Such as how to enjoy a bologna sandwich.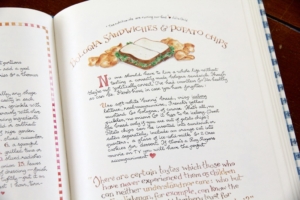 So we took her advice. I haven't eaten bologna in over twenty years. And guess what? It was delicious. As she said, maybe not "politically correct." But with potato chips tucked inside, everyone loved the crunch. And I felt like a kid again. I even sang the Oscar Mayer song to Sami: "Oscar Mayer has a way with B-O-L-O-G-N-A."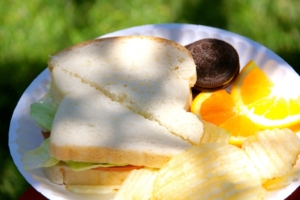 Then there are the mornings. I love summer mornings. Letting the kids sleep late, waking up before everyone else, heading out for a walk/run, then returning to a quiet house to organize myself for the day, read scripture, think.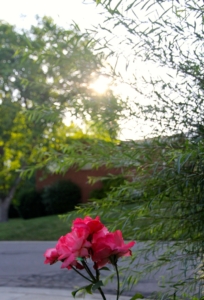 Summer is totally consuming as a Mom. You're "on" all the live long day. So I cherish slow mornings.
And by dinnertime I'm so tired, some nights I just sit at the table, full, and quiet. The kids race back outside, but I sit. Because I can. No one has anywhere else to go.
"There's absolutely no reason for being rushed along with the rush. Everybody should be free to go very slow." – Robert Frost
That's my mantra for the summer. No reason to rush. Really, Cath, there's no need.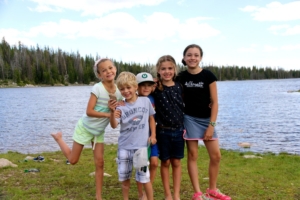 Can't believe three weeks of kick-back sunshine are already behind us.
I purposely kept the first two weeks of June wide open. So we could ease into the summer routine of jobs and study in the morning, followed by play in the afternoon. It always takes a while to find the swagger of a new rhythm. So I've been protective of our family time, and careful not to over-schedule the kids.
I hope you don't mind. This post has a fair amount of idea-sharing in it. Only because I like to share good discoveries. In hopes they might work for you too.
Family Economy
The most productive change we've made this summer, was to set up a family economy. In which the kids (mostly the girls) manage their chores on their own and earn money to pay for more things like clothing, part of lessons, and entertainment. We've been rewarding them for initiative and willingness. Certain jobs need to be done no matter what, but if they do them happily, without being reminded, then they get paid. And the pay is pretty good.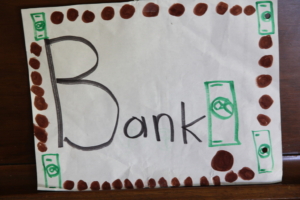 We haven't worked out all the kinks yet. But I haven't had to do a lot of reminding. Or begging. Or bugging. And that's a first! The girls are motivated. Everything gets done in the morning. Then we play in the afternoon.
If you're looking for a way to teach kids about money, that will help them learn ownership (rather than entitlement) and get them motivated about doing their chores willingly, check out Power of Moms Family Systems eCourse. I've been putting these family systems into place for a few years now, but this eCourse, with it's weekly tasks and step-by-step how-to, has helped us figure it out what will work best for our family, then implement it slowly. One piece at a time.
Morning Routine
Each morning, the kids are required to do their morning routine: make bed, clean room, get dressed, brush teeth, prayer. Some days this includes laundry, garbage, or extra jobs. Then they do 20 minutes of reading, a writing prompt (one day in a journal, next day on the computer), math fact practice (we use xtramath.org), and piano.
Eliza and I had fun picking out new journals for everyone this summer. We've been using them not just for writing practice, but for love notes. You can write a note to a family member in your journal, leave it on their bed at night, and then, if they like, they can write a note back to you. I have loved this new tradition.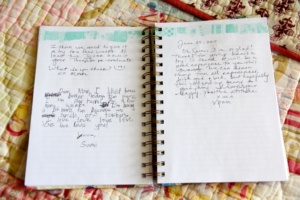 Another thing we discovered, in effort to keep the brain sharp, are the "Are you Ready" games.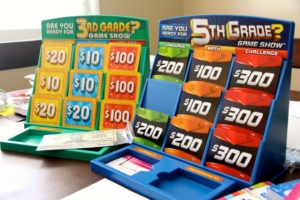 Teacher recommended, these games are built around the common core standards. So we thought we'd give them a whirl. And the girls are having so much fun! Six stacks of questions in language, reading, and math. Keep track of the ones they miss and it will allow you to identify areas of weakness that need practice. Then you can go online and print practice sheets for these specific areas. The girls get paid pretend money for questions answered right. Then, when they reach a certain monetary goal, I take them for ice cream. This has helped us maximize our time and focus on what they really need. You can buy the games through Lakeshore Learning for $20. Link above.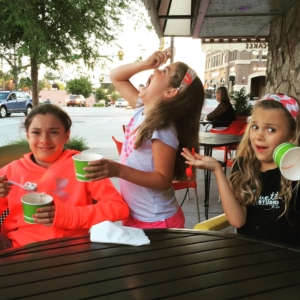 Ice cream antics.
Since starting our Summer Plan a few years ago, the kids are hooked. They love a daily focus. So we're keeping things flexible, but somewhat the same.
Make-It Monday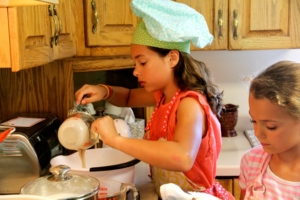 This has turned into a crafting or cooking activity. The last two weeks we crafted, in prep for our first adventure. Another day we made homemade rolls. Eliza sewed this baker's hat in her sewing class and gave it to me for Mother's Day. She wears it much better than I do.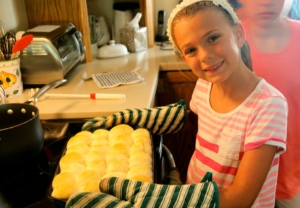 Take-a-Trip Tuesday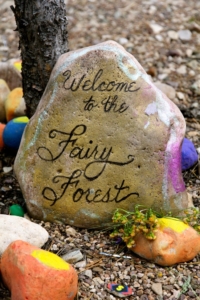 Our first adventure was to the Fairy Forest east of Kamas, UT. People have told us about it the last two summers so we moved it to the top of the list this year.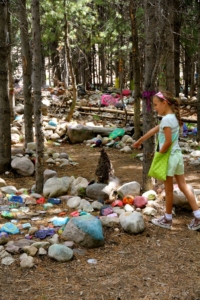 It was a magical place to explore, and easy to get to.
Just drive 17 miles up the Mirror Lake Scenic Byway, east of Kamas. Park at the 17 mile marker on the right side of the road. Walk through the campground, then cross the creek.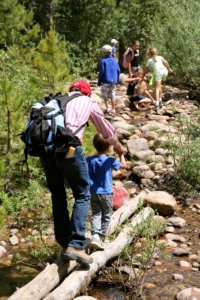 Sometimes there is water, sometimes not.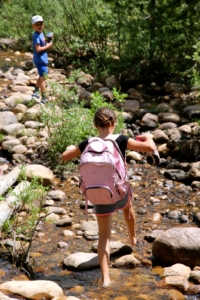 The kids, of course, were thrilled there was water.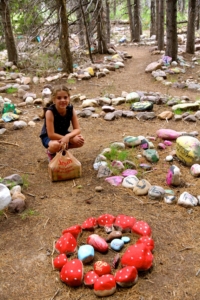 And then you're there.
The paths are lined with rocks, many of them painted. Some in memory of a loved one. Some funny. Some whimsical.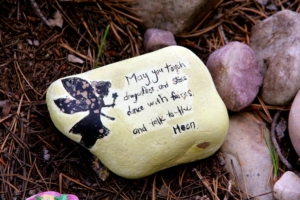 This was one of my favorites.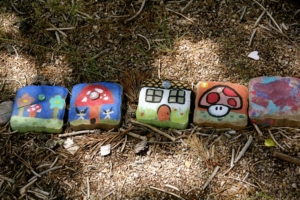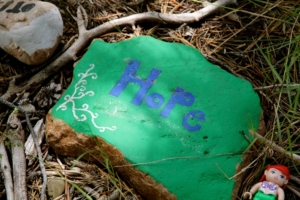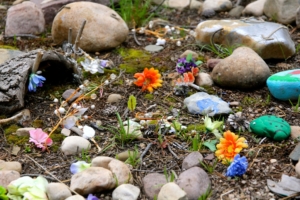 Tiny fairy hideouts and decor are everywhere.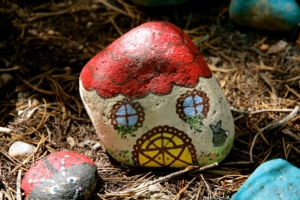 The more you look, the more you find.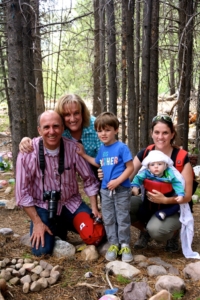 My Aunt Leslie and Uncle Roger told us about the forest and we were so glad they could come along! My cousin Mary also joined us with her two cute boys, Justin and Heber.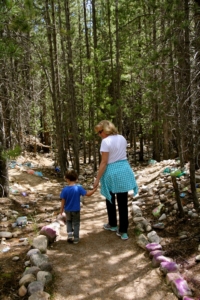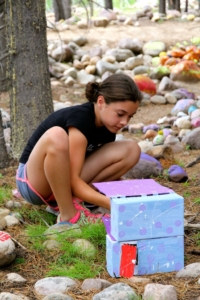 All the girls worked on fairy houses to take. To our surprise, the Forest Service keeps this spot untouched. Allowing little believers to leave tokens, houses, painted rocks, ribbons, and wind chimes.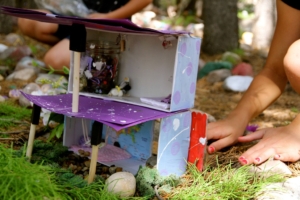 This was Eliza's artist studio. Made of boxes and paintbrushes, a popsicle stick door, tiny blankets, trinkets, and a US map on one wall. She has joined my place of believing but still keeps it fun for the younger ones.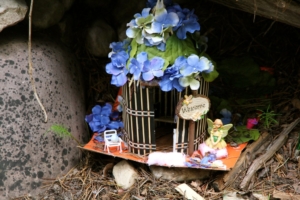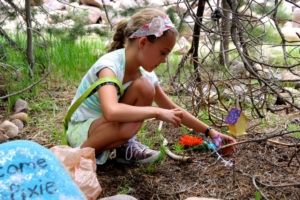 Ali set her fairy garden up in Pixie Hollow.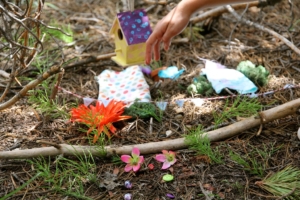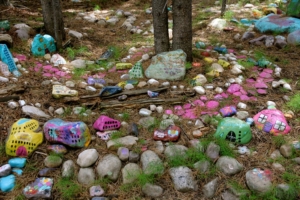 Fairytropolis.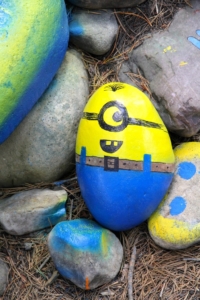 Minions.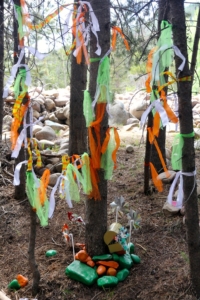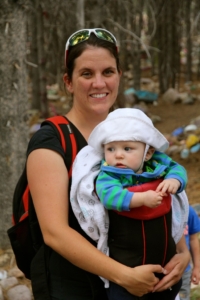 Beautiful Mary with baby Heber.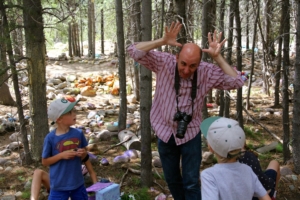 We even saw a large bull moose wandering through the forest! Roger did his best Bullwinkle impression, and as you can tell, the boys were quite amused.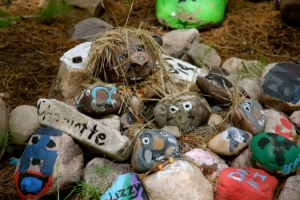 Resting Natives.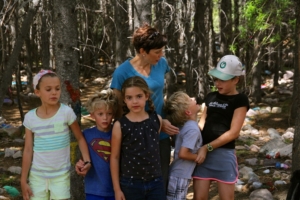 And restless Natives. Who wouldn't hold still for a photo.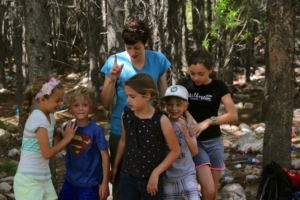 I think I've combed Spencer's hair twice this summer.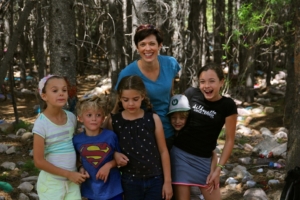 Maybe.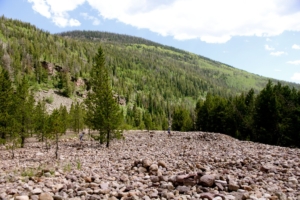 Explorers.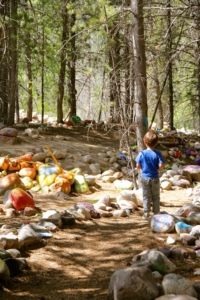 Justin.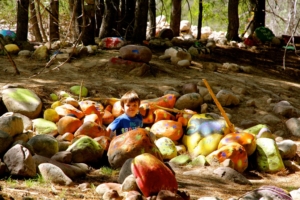 Finding the perfect spot to sit.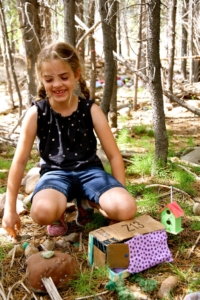 Sami with her fairy house.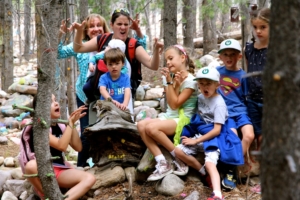 Which witch?
Can you find the wooden one? With her hat and yellow teeth?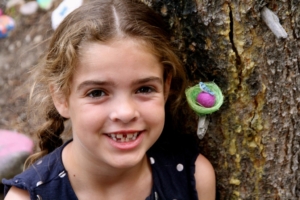 Tiny bird's nest.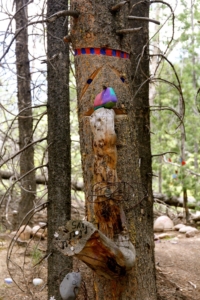 Pine Tree saxophone player.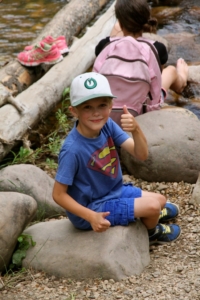 And a successful return across the creek.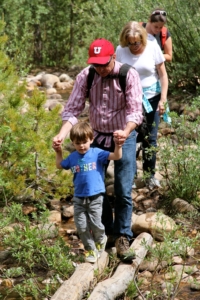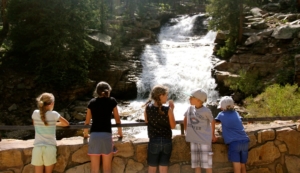 After exploring the forest, we drove further up the Mirror Lake Road to see the Provo River Falls.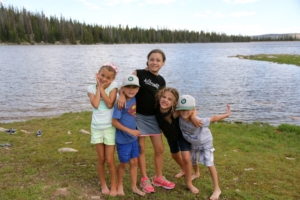 Then we played here. At Lost Lake.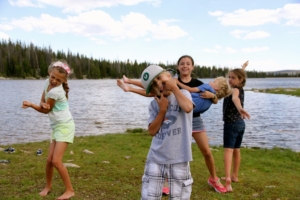 We just kind of stumbled upon this beautiful lake. It was the perfect place to stop. The kids were soaked when we left but thoroughly happy.
Wet Wednesday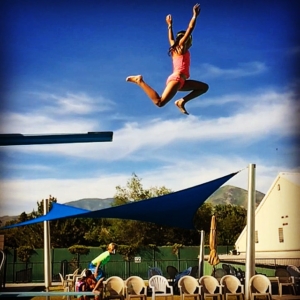 Wet Wednesdays mean we usually stay at the pool after swimming lessons.
Check out Liza here. Airborne. This girl runs as fast as she can off the high dive. No fear. Way more guts than I had at age 10.
If not at the pool, we'll pull out the sprinklers, water guns, and wading pools. With 100 degree temps this week, water days are sounding more and more enticing.
Thinking Thursday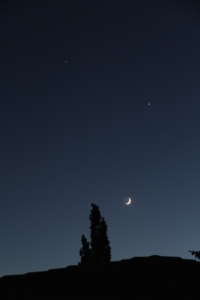 Last week we talked about the planets and moon phases. Then that night we watched for the moon rise, as well as a sighting of Jupiter and Venus. This was taken from our front yard. Crescent moon below. Venus above. And Jupiter slightly to the south.
We were enchanted by the sky.
"The moon giveth her light by night, and the stars also give their light, as they roll upon their wings in their glory…"
– Doctrine and Covenants 88:45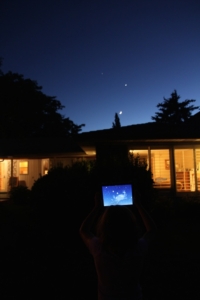 We loaded the Sky Guide app on my iPad and the kids have loved pulling it out at nights.
We decided another good thing for Thinking Thursdays would be a trip to our local library, for reading time and new books.
Fill-a-Need Friday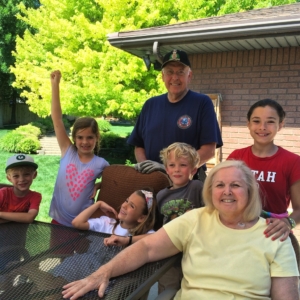 Fridays we try to fill a need. For now, our service will be at my parents' home. There is always something to do there. This Friday we helped Grandpa in the yard. The kids dead-headed flowers, weeded in the garden, cleaned up the playroom.
I washed and styled my mom's hair (Deb usually does, but this week she was out of town). We cleaned bathrooms and vacuumed.
I'm grateful we live close. Grateful for every memory we make there.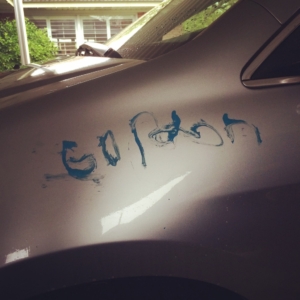 And just for fun, I thought you'd enjoy this graffiti story. No question whodunnit. Yeah… that's nail polish… on the front of our Odyssey.
Doug got it off with magic eraser, but I'm pretty sure the finish will never be the same.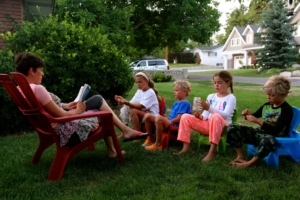 And almost every night we finish the day with popsicles and reading outside. We've all come to love this tradition so much.
One night however, everyone was so whiny and disobedient, I just up and left. Doug had been out of town most of the week. He was finally home and I think I was just burned to a crisp. So I told him I was going somewhere. I didn't know where. Just somewhere.
I went to Kara's to hold babies and talk, and left my phone in my purse. 19 missed calls when I looked at it later that night. 4 voicemails. All from the kids. Wondering if I was coming back to read to them.
I returned in a much better state. Happy to be home.
I have to remind myself every day to be patient and flexible. And yes, I crack sometimes. But I do love summer. Most of our nights have been lazy and long. With beautiful sweet light breaking over the rooftops, fading slowly into a blue evening. We're on our second Narnia book and loving every page.
It's a sacred thing to go slow.
Tell me, how is summer going for you? Do you have any recommendations for day trips? Or other ideas you'd like to share? I'd love to hear.