Prettiest pink tulips for our Passover meal on Holy Thursday.
With a nod to Layla's Mediterranean Grill, we filled our table with pita, hummus, kibbeh, spiced chicken, cucumbers, salad, and fruit.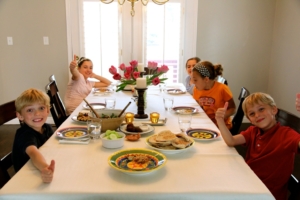 We haven't made the leap to lamb and bitter herbs yet. But it's coming. This year we played some traditional Israeli music. We lit candles and tried to talk about the actual passing over for the Hebrews. The blood of the lamb on the lintel posts, the leaving in haste, their bread having no time to rise, and the perfect lamb sacrificed in symbol of the Lamb of God.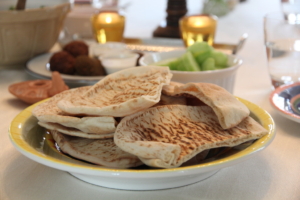 Sometimes we sing a hymn, as Jesus and His apostles did at the Last Supper. Next year, if I can keep the kids seated long enough, we will read from the Hallel (Psalms 113-118), the last half of which is traditionally sung at Seder.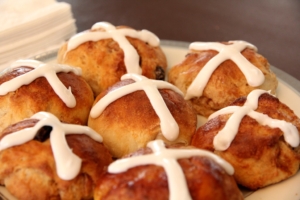 Hot Cross Buns to share with our new neighbors on Good Friday.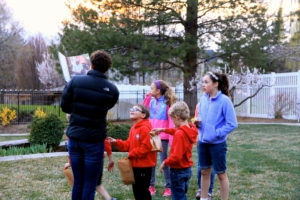 Easter Walk in Grandma's backyard.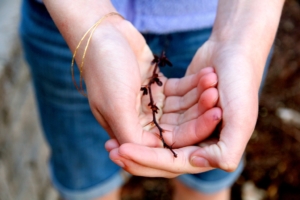 Thorns.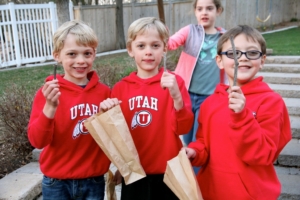 Pieces of wood.
And the boys, with their best bud, Brandon.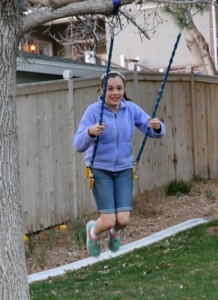 Liza swinging.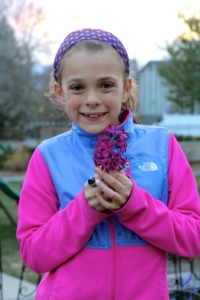 Ali's resurrection bloom.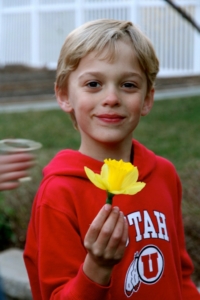 Spencer's symbol of Easter morning. Chocolate round his lips.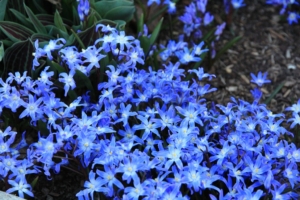 Ice-blue starflowers.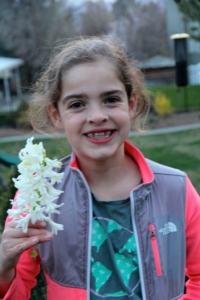 Sami's sweet-smelling hyacinth. And last week of braces.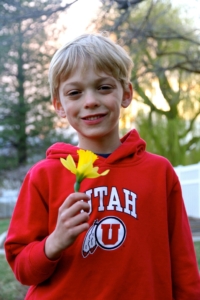 Gordon's quirky smile.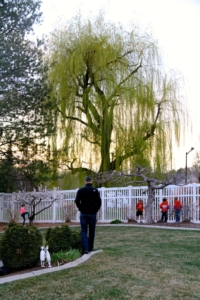 This weeping willow.
Can't believe I never noticed it in the context of Easter.
Tear-shaped leaves just beginning to green. So appropriate for Good Friday.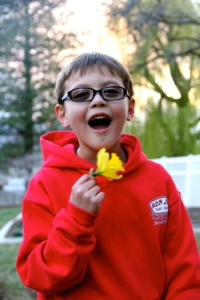 Darling Brandon.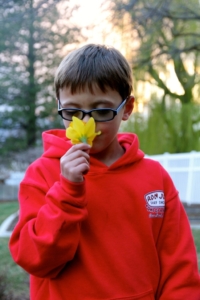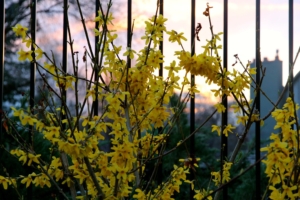 Last light of day.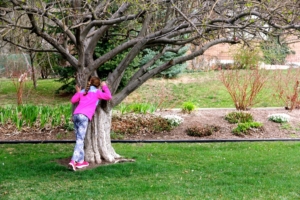 Family Easter egg hunt Saturday afternoon.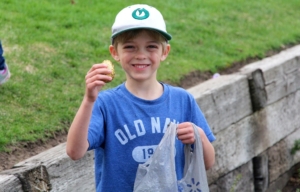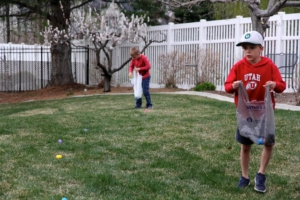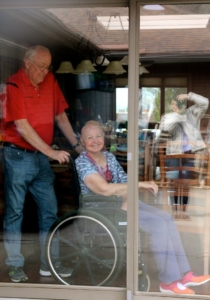 My sweet mom, watching from the window.
Ever smiling, despite this new normal we're all trying to accept.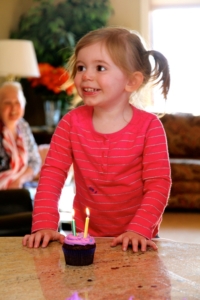 Cupcakes for cousin Hana on her second birthday.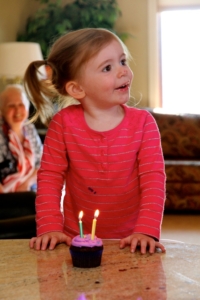 I adore these photos for Hana's pigtails and sparkling eyes.
Then I saw them enlarged on the screen, and I withered. Look at my Mom, in the background, unable to see Hana's face, but smiling just the same, as we sing Happy Birthday and Hana puffs out flames.
This… is my Mom's new normal. On the periphery, watching, unable to fully participate.
I'm not okay with it.
It's hard.
Hard for us. Bur harder for her.
I didn't realize it until I saw these photos. Too often this is her view.
I don't know why we didn't bring Hana to the middle of the family room, right in front of her.
It pains me that we didn't notice, didn't see this for what it was.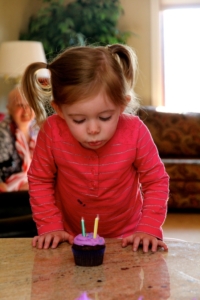 How easily we overlook others.
How quickly someone can go from being seen to unseen.
Usually, we circle everything around Mom.
But we didn't this time. And it makes me sad when I think about it.
You think you are aware and then you realize… you aren't.
And you need wider eyes, a wider heart.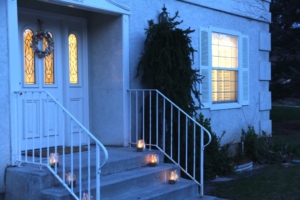 Saturday evening, we placed our Easter lanterns on the doorstep.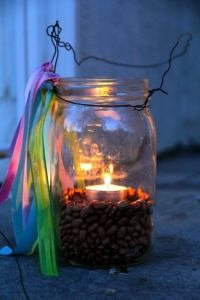 Haven't found the right tree yet.
But I liked the change.
A path of light into and out of our home.
Making way for the Savior of the World.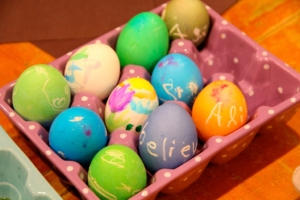 On Easter morning, Doug spoke to our congregation.
My favorite part of Doug's talk was about how the Christ sees us for who we can become. How His atonement allows for real change, lasting change, despite what our personal demons may whisper to us:
The adversary will do all he can to prevent us from experiencing the enabling power of the Savior's Atonement, redeeming love, and healing peace of forgiveness that only comes from sincere repentance. He will tell you that any shame you feel because of your mistakes must be carried with you throughout your life. He will tell you your weaknesses can never be changed and he will try to deceive you into thinking that you must accept that you are weak. However, the truth and reality of the Savior's Atonement will always overpower even the most deceptive lies. In his epistle to the Romans, Paul taught, "But where sin abounded, grace did much more abound. That as sin hath reigned unto death, even so might grace reign through righteousness unto eternal life by Jesus Christ our Lord." 
For as long as I have known the stories of Paul, Alma the younger and the Sons of Mosiah, I have been fascinated with the dramatic changes in their lives. The Sons of Mosiah were described as "the very vilest of sinners. However, the Lord saw fit in his infinite mercy to spare them." I am inspired by their strength to change from being "disrupters" of good, to becoming loyal disciples of Christ. I love how the Lord's plans for them did not focus on who they were, but who and what they would become.
In the story of Saul, later known as Paul, who became one of the Savior's greatest ministers, when the Lord asked Ananias to go and visit Saul, Ananias, looking at Saul's past, had concerns because of what he had heard about Saul. He said, "Lord, I have heard by many of this man, how much evil he hath done to thy saints at Jerusalem."  But the Lord responded, "Go thy way: for he is a chosen vessel unto me, to bear my name before the Gentiles, and kings, and the children of Israel." Later in his life, Paul explained how accepting Christ empowered him to not dwell on his past. Paul said, "but this one thing I do, forgetting those things which are behind, and reaching forth unto those things which are before." I do believe there are lessons to be learned by looking to the past. However, I think what Paul is saying is that when we allow the Savior's Atonement to heal us – whether it be sin, discouragement or other trials – it enables us to look forward with confidence and not be hindered by the past.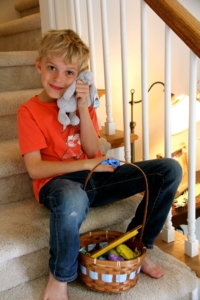 After church we found Easter baskets.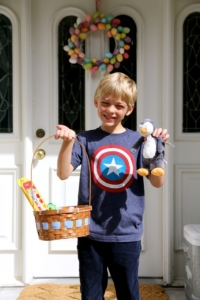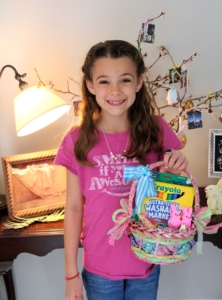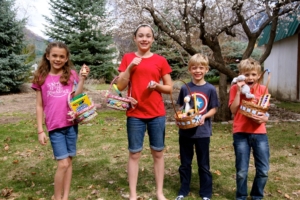 Sami is not pictured because she was in melt-down mode on the couch after not getting a stuffed animal like the boys. Easter bunny bad. Spencer was fevered all day, but you wouldn't know it from his antics here.
And so it went. Another Easter. Another holy week.
As I write today, I think how holiness is all around us. In the faces of my children who spin and burn with light. In the trees as they explode with color. In an email from a friend whose father is dying. A good man, a great man. A man who will know the names of the angels who come for him.
It's in the words of an honest husband who knows what it is to change. And it's in the eyes of my mother, doing something so hard, so difficult, so beyond what she thought her life would be. It is that moment. When she looks out the window, smiles, and assures me she is alright. That is holiness. That is Easter.