Just before Mother's Day, my parents came for dinner. It was the first time my Mom had come to our new home. With Dad by her side, she made it out of the car, up the four front steps, and into the living room, were we gave her a seat at the head of the table. We tied an apron round her waist, and she laughed as we ran it around the sides of the chair, securing her to it, so she wouldn't fall off or lean to the left. Better safe than sorry, we chuckled.
She's such a good sport.
She started attending church again about a month ago, just sacrament meeting. And she has accompanied my Dad, via wheelchair, to the theatre three times now. All big milestones. Every time she ventures out of the house, we count it a victory!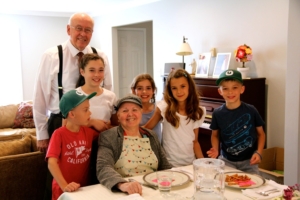 My Dad continues to be the most patient, kind, and uncomplaining caregiver. But we can tell he needs a break sometimes. Caregiving is all consuming. So he drove south one weekend in May, just by himself, to explore some red rock country. And in June he will head to Houston to stay with my brother's family for a week. We will "mommy-sit" as he calls it. Something my sisters and I are so happy to do.
My Mom keeps worrying that she is a burden and feels badly that we have to spend our time helping her. But, as I told her yesterday, this is exactly what a family does. We take care of each other.
At some point children take care of their parents, whether it's sooner or later. And heaven knows, we can never repay her for the years she took such wonderful care of us. In the end, I believe, this season will have been a gift, rich with learning and tenderness we wouldn't have had otherwise.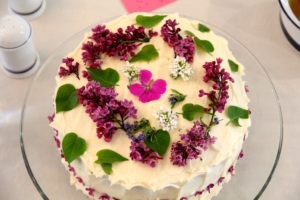 So, per her request, we made our Hummingbird Cake for dessert. The girls did the decorating.
This is a recipe I learned from a dear woman I came to love like a mother when we lived in Virginia. My children affectionately call her "Auntie Pat" even though it has been years since we've seen her. With each baptism and birth, a turquoise blue box has arrived from Pat and Phil. A necklace, a bracelet, a frame or engraved box from Tiffany's. She cared for me like her own when we lived there. I used to teach an exercise class for her and her friends in her basement while her housekeeper, Gabriella, took care of Eliza. We continued this set-up until the twin girls were born and a year and a half later we moved to Utah.
I think of her so often. And I miss her.
But two weekends ago, serendipity happened. We were attending a work event in Ponte Vedre, Florida, with front seats to the Players' Championship, and who was there? Pat's son, Andrew, and his wife Ashley. Ashley and I used to work together in McLean, Virginia.
It was such a happy moment to reconnect with them and to send hugs home with them for Pat.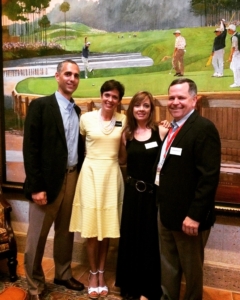 And if I can digress, for just a moment…
Attending the Players' Championship was an incredible experience.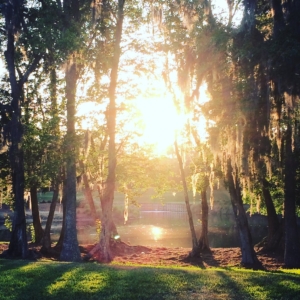 This is Sawgrass. Golf course where the PGA holds the tournament. We stayed in the Mariott right next door to the course.
I thought I was going to Florida to sit at the beach while Doug attended some meetings, but I was wrong. Boy, did we have a full schedule. And the beach? It wasn't even within walking distance! (website pics can be deceiving.) I could have taken a shuttle to the beach at 5:30 AM for sunrise yoga… I even set my alarm… but it didn't happen.
And true confession, I arrived on the course that first day of the tournament as a complete golf ignoramus. I didn't even know how to score the game! Nor did I know a single golf pro's name. So I told Doug, "I am resorting to teenage tactics and rooting for the cutest golf pros. Starting with Jordan Spieth."
By the end of watching four days of golf, up close and personal though… I had my favorites, and we were walking the course with the top golfers on the leaderboard.
I was thoroughly enjoying myself.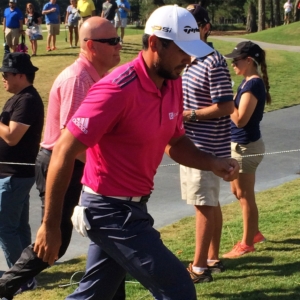 Here we are, just a few feet away from Jason Day, who won the championship. On his 4th round, leaving the 10th green.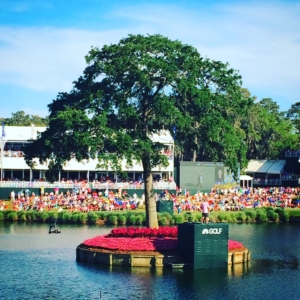 This was our view from one of the tents at the 17th. Gorgeous course.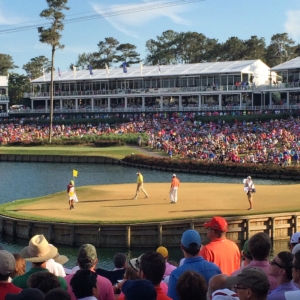 It was always fun watching the players drive their ball up and over the water, hoping to land it on the green. This was Ken Duke and Alex Cejka, just before Cejka birdied on this hole.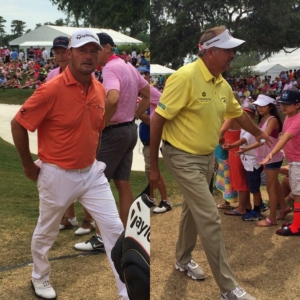 Cejka and Duke leaving the 9th. I loved watching Ken Duke brush hands with all the kids.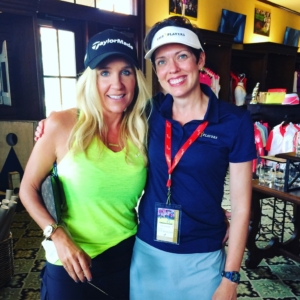 And funny enough, we attended church at a chapel in Ponte Vedre Sunday morning and met Alex Cejka's wife there! Alyssa Cejka. She was absolutely lovely and happens to be LDS. Wherever they are on Sunday, she said, she finds a ward and attends church that morning.
When we ran into her again in the Clubhouse, we took a quick picture.
Then we headed over to the first hole to watch her husband tee off. He was in second place at that point.
Golf. Whudda thunk? Without a single grain of sand between my toes, I came home feeling rejuvenated. I think the whole experience was such a diversion for my brain, so different from anything I do or think about, I came back feeling refreshed and rested.
So. The lesson? Sometimes you don't necessarily need to relax to feel renewed, you just need to do something entirely different from your norm. It's good for the mind, body, and soul.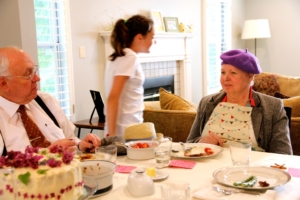 During dinner, Eliza let Grandma try on her hats. (We've been trying to find some new options for my Mom.)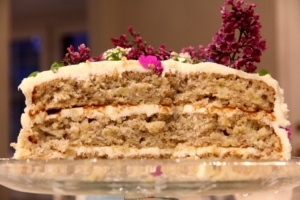 And then we had cake! It's the perfect Spring cake. So moist. Made with cinnamon, bananas, pineapple, and cream cheese frosting. Decorated with fresh flowers.
Hummingbird Cake
Grease and flour three 9″ round pans. (I love the nonstick ones from Williams-Sonoma.)
Combine in large mixing bowl:
3 C. flour
2 C. sugar
1 tsp. baking soda
1 tsp. salt
1 tsp. ground cinnamon
Add:
3 eggs – beaten
1 C. oil
Stir in:
1 1/2 tsp. vanilla
1 C. crushed pineapple
2 C. bananas (mashed)
Spoon batter into pans. Bake @ 350° for 25-30 minutes. Cool 10 minutes in pans. Remove and cool completely.
Frosting:
2 8oz. packages of cream cheese
1 C. butter (soft)
2 lbs (6 C.) powdered sugar
2 tsp. vanilla
Whip cream cheese, butter, powdered sugar and vanilla until light and fluffy. Ice cakes. (I always wrap my cakes in saran wrap and tinfoil then freeze them because they frost more easily when frozen.) Garnish with fresh flowers.
Happy baking!