Last day of June… I'm determined to get this post up before the clock strikes July. I think I might just make it.
May was full of overcast days, cool temps, and lots of rain. Which made the mountains climb with green and the flowers vibrant. It kept the kids inside more than usual, but it was a beautiful month. With sports, concerts, celebrations and end-of-school festivities.
We watched with awe as these peonies ⬆️ Gaylyn brought over for Mother's Day slowly opened. Aren't they magnificent?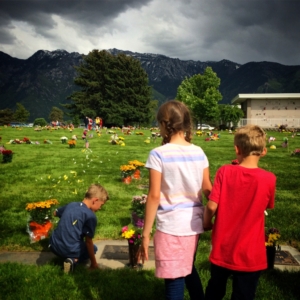 Memorial Day weekend we visited graves and celebrated with Doug's Stout side of the family.
Memorial Day, though, was heartbreaking, as we received a phone call telling us our dear friend Hillary, who helped with our boys when they were born and stayed with our kids when we were out of town, lost her baby girl. Tilly Louise. Two months after birth. This family has known more loss than one family should. I will write about it in another post. It was an awful day. So awful, it still pains me to think about it.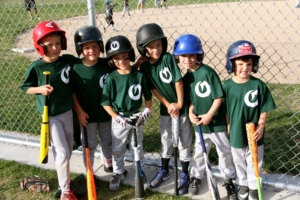 May meant baseball for these little sluggers.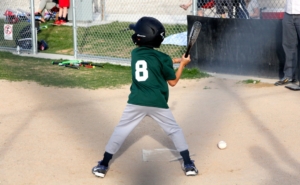 I love the way Gordy always tucks his pants into his socks. Makes me chuckle.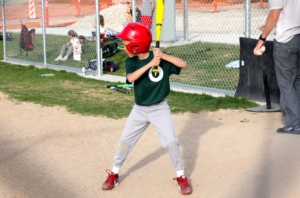 Spence was the token south paw. But this lefty can hit. Knocked it way past the diamond one night for a home run.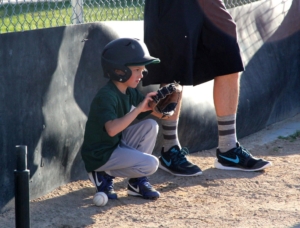 Gordy also had one home run and is learning how to play catcher.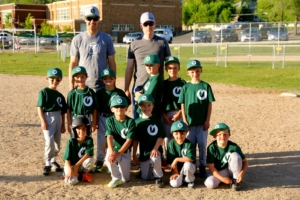 You can't find better coaches. Two VandenAkker brothers (Jason and Cole) and Ryan Shatzer. These guys are such good examples for the boys. And they are awesome players themselves, who know and love the game.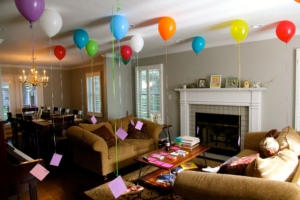 May meant 17 years of marriage for us. The kids helped me tie love notes onto 17 balloons for Doug and scatter them round the living room.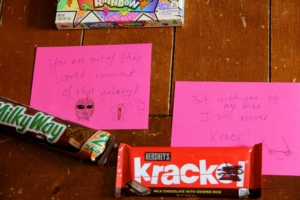 We also put together a corny candy gram. Sami did all the artwork.
Marriage gets easier in some ways over time. Harder in others. But Doug and I decided long ago, when we said yes to each other, that we would stick it out, that we would learn from each other, try to be selfless, and keep the promises we made. I am so grateful for his love.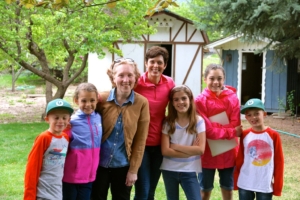 May brought a visit from this special lady. Many of you know Ellen Patton, or EP as she signs her notes. She has friends all over the globe.
A few years ago she adopted Ali as her pen pal and changed Ali's world. More about Ellen here. This was our first time meeting in person and it was a complete delight. We made smoothies as she sat at our kitchen counter and talked about life.
Ellen knows what it means to mother, even though she has no children of her own. She understands this title extends beyond biology and has created a family of individuals who love and care for her everywhere she goes. She loves, bakes, sews, extends herself, and continually gives.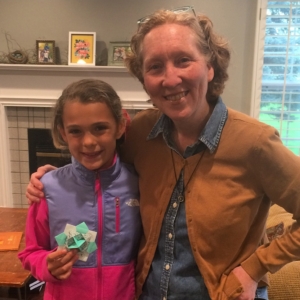 I hope we see you again soon Ellen. You are so dear to us. Salt of the earth, an elect lady, and probably the most loved Bostonian on earth.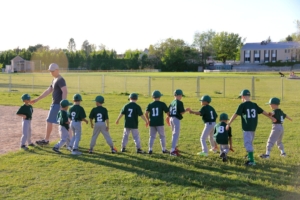 More baseball.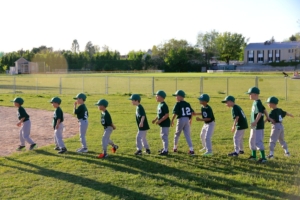 At the end of each game the boys would do this cute lineup followed by a race against their coach. Sometimes they'd start stomach-down on the grass, hands hovering off the ground.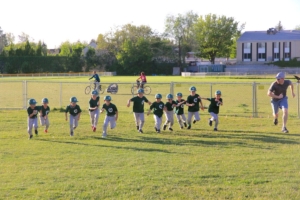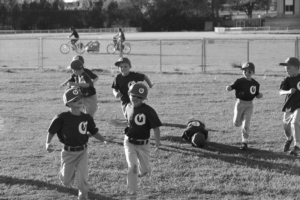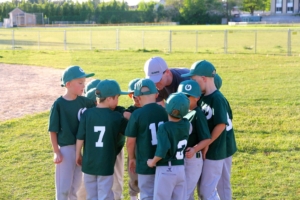 Then they'd finish with a pep talk from coach, and a team cheer.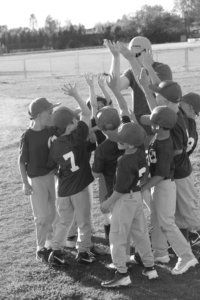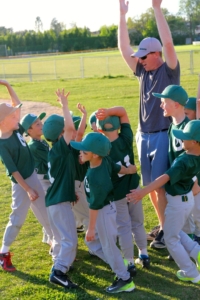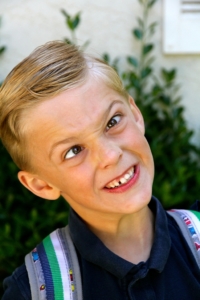 May brought Spencer's funniest smile yet. His two front teeth slowly got more and more loose, which meant they got more and more crooked.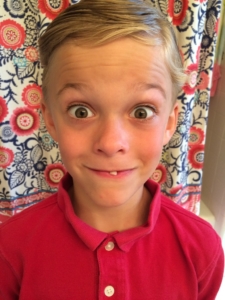 For a while we couldn't help laughing and saying, "Dadgum!" when he walked by. Doug called this his Mater smile.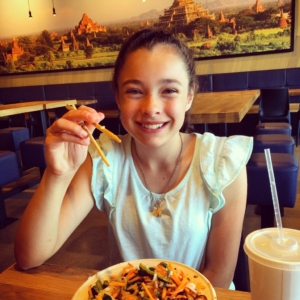 This girl turned 11 in May!
Seriously, how can she possibly be 11? How can we be one year away from going into Young Womens? From starting Junior High? And everything else that goes with teenage-hood?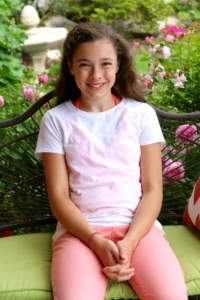 Beautiful Liza is always up for an adventure. Kind, steady, brave, and full of sunshine. She is good for my soul.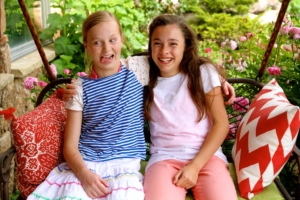 We spent an afternoon at the Lehnardts. Swimming, laughing…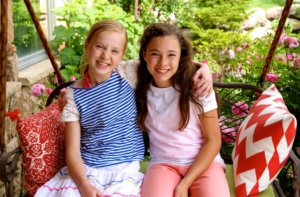 Cute Mary. These two make an awesome babysitting duo, if you're looking for helpers!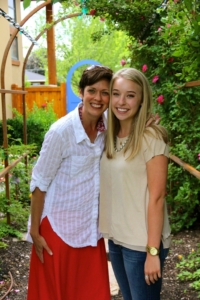 And we said goodbye to our sweet Ellie, who returned to her mission in May. Mandarin speaking in Eugene, Oregon. She's doing remarkably well.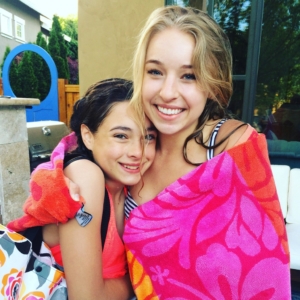 Amazing how quickly this bond formed. As Eliza told Ellie in a card, "I used to feel like I was the only one on earth with dyslexia. Then I met you, and we did the video. I don't feel alone anymore." Ellie changed us in a huge way. We will never be the same.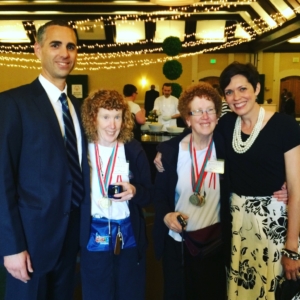 Doug and I attended a fundraising event for Special Olympics. Doug serves on the board for Special Olympics Utah. And lo and behold, who did we see? Our darling friends from way back in the day… when Doug and I managed the Special Olympics at the University of Utah… Ellen and Elaine! They about knocked us over when we walked in the door, tackled us with hugs.It's been years since we've seen them in person. But we've always swapped holiday cards, stayed in touch. They are remarkable. And anyone who knows them will agree. They work at McDonald's, ski, play basketball, bocce, and run track. They even live on their own, with the help of family, after losing their parents a few years ago. The most inspiring thing about them? Their love. They love unconditionally and unabashedly.
The rest of the evening, they would sit by us, float away for a bit, then return to link elbows with us. Again and again they would say, "You know I love you?"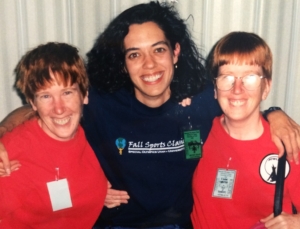 Here's a throwback from almost 20 years ago.
We hope Doug's involvement with SOUT allows us more frequent contact with our favorite red-headed twins. Ellen and Elaine make this world a happier place.
And the rest of May was consumed with end of school projects, parties, gifts, and activities.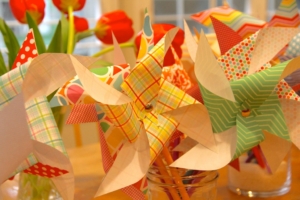 Ali made these fun pinwheels for her Roman Forum. They were asked to bring 25 items, homemade, to sell in the Forum, as part of their Roman Civilization unit.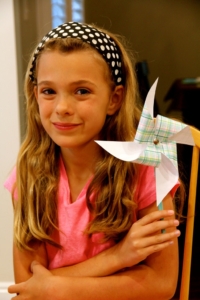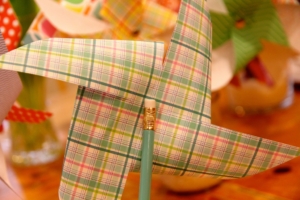 We found this easy tutorial online and secured the pinwheel to a pencil by pressing a thumbtack (or pin) into the eraser. Spinnable and useful later.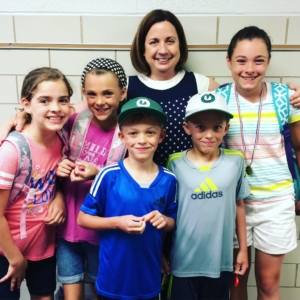 We said goodbye to the best principal ever. Miss Merry retired this year. She listened to feedback and requests. She led with inclusion, insight, and example. She valued her teachers, the parents, and made every student feel special. She knew all of my kiddos by name, would visit each classroom every morning, and brought a genuine feeling of happiness to the school.
My kids will never forget the evening they stayed late (past dinnertime) helping me at the school for the art contest. Merry saw that we were all still there and invited us into the teacher's lounge to eat with her. Leftover soup and sandwiches from a faculty meeting they'd had. My kids thought that was the nicest thing anyone had ever done for them!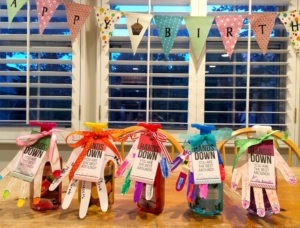 We made Miss Merry these "Hands Down" tags tied to hand soap. Each of the kids traced their hands, decorated them, and wrote one thing they loved about Miss Merry on their hand.
The elementary school always has an end of year concert in the park. One of the kids' favorite events. Even the parents come out for this one. My kids are in the mix somewhere…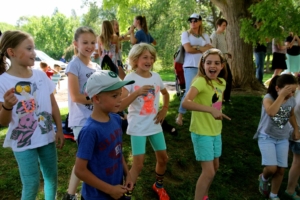 Sami talked Spencer into dancing with her friends.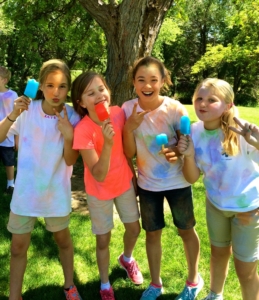 Eliza and some of her buddies after a chalk war.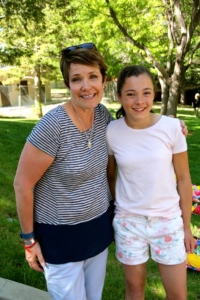 Eliza with our beloved Mrs. Jenkins.
Honestly, I can't talk about this lady and all she's done for Eliza without getting emotional. Mrs. Jenkins saw Eliza's unique gifts, and she worked hard to cultivate those in Eliza, show-off her successes. Maybe Eliza didn't get a high score on a math or science test, but when they had an engineering activity that required building something or putting a puzzle type activity together, Eliza was the first one done. And Mrs. Jenkins made a big deal of it. She celebrated Eliza's ability to engineer quickly, to build, invent, and work hard.
At the end of the year she gave Eliza the "Steve Jobs" award. She wrote on Eliza's report card, "Eliza might be the next Steve Jobs, or the next inventor of a world saving device. Whatever it is, I know Eliza will make her mark in the world."
There is nothing like a teacher who believes in you.
Mrs. Jenkins helped us navigate Eliza's first year with known dyslexia. She helped us figure out accommodations, talked through homework over the phone, bumped Eliza's SAGE and DIBELS scores, and loved her through every hurdle.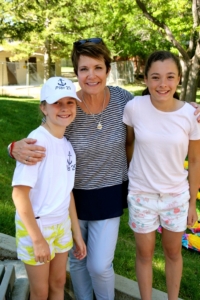 And the icing on the cake for Eliza's 5th grade year? Having her best friend Katherine in the same class! Everything is better when Kath is around.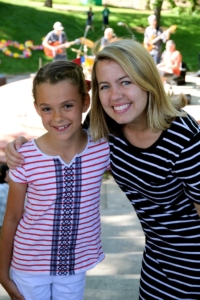 Ali was lucky enough to have Miss Paige. A perfect fit for her. Miss Paige is so gifted. Not just in teaching third grade curriculum, but in teaching her students how to meet life with steadiness and compassion. I watched her handle difficult circumstances with wisdom and words way beyond her years. Ali loved her "wall of gratitude," her ideas about class community and they ways she taught them that kindness always wins.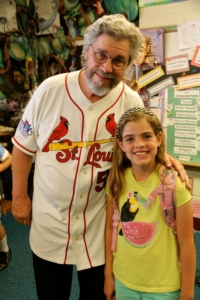 On the last day of school a handful of kids were crying in Mr Flox's class. I noticed Sami was blinking away her own emotion but she held it together. Later that night however, she told me she came home and cried in her bed. She has adored this unconventional artist/musician who read them Goosebumps books, made the civil war come alive, and played his guitar for them. Mr. Flox teaches most disciplines with art and mind-mapping. He turns out incredible artists, historians, mathematicians, and overall good little people. Sami soared in his class. And when I would see him he would tell me how much he loved her in his class. That she was an incredible human being.
Sami really blossomed as an artist in his class. Some weeks they would be asked to draw something from a single line or squiggle on a paper.
Here are a few of Sami's "squiggle doodle" pieces. I think they're amazing. And clever. Our family has dubbed her our budding cartoonist.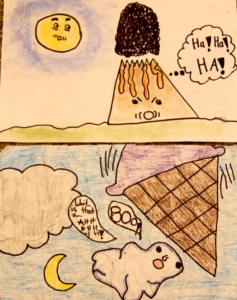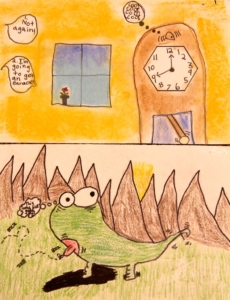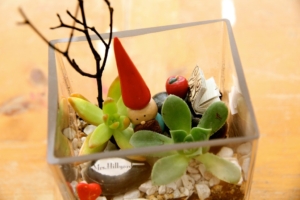 Our friend Lisa made two of our teachers these cute terrariums. Complete with book and apple.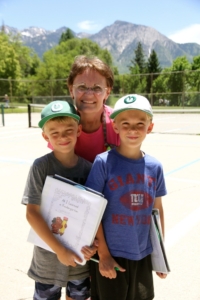 And finally, darling Mrs. Hillard, Spencer and Gordon's Kindergarten teacher. Sooo grateful she hasn't retired yet. This lady has so much experience, so much love, so much patience, and is so much fun. She deserves a gold star for telling these boys apart and for tolerating their six-year-old antics. Like Gordon's all black watercolor he titled, "Don't Like Color." Or his persuasive opinion essay on "Why We should NOT Recycle." (Man, that was a doozie.) And then there was their over-dramatized fear of girls, as well as their "Death and Dying Club." She's a complete saint.
And that's a wrap. School year over. June over. And July about to begin in less than sixty minutes. If you read all this you deserve an ice cream cone. Of your favorite flavor.
Happy Summer!