Oh my goodness, these people make me laugh so hard.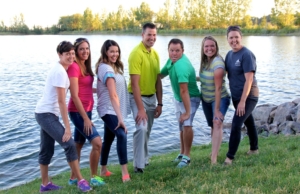 Kesler cousins! (Yup, their 2016 music video is at the end of this post!)Took us half a dozen tries to take a serious picture.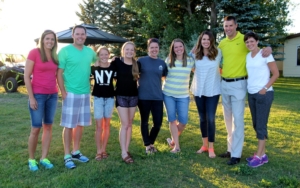 But we finally managed.
I love these cousins. After twenty-something years and lots of talking, we decided it was time to get our families together.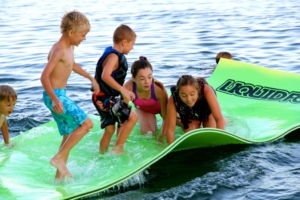 Just like we used to. Every summer for our Wray family reunion.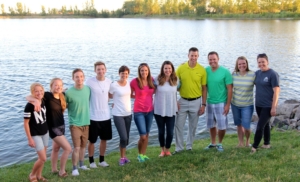 Wait… add two more cousins…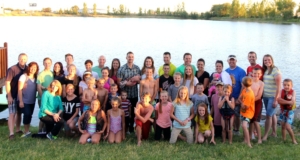 Some spouses, kids, and a few aunties.
With more family filtering in as the weekend went on.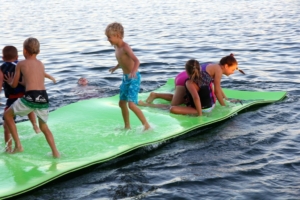 We met at Brett's Lake. Wakeside Lake, where he runs his business and a side venture called the Cable Factory. More about the cable in a bit.
My kids bolted straight for the water.
This water mat was a riot. So hard to stand on. All the kids had a ball.
Unfortunately, Doug couldn't make it. He was home tearing down an old shed in our yard and cleaning out the basement. So I didn't get the best photos. Even forgot to get a picture of the original Wrays: my Mom and her siblings. Too busy counting heads and making sure everyone had life jackets on!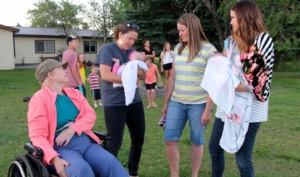 Deb and I caravan'd up to Idaho with my Mom and Dad, so we could help Mom at rest stops. They found a hotel near the lake where they stayed, and fared pretty well with the accommodations, travel, and wheeling here and there. My Dad is amazing. They both are such troopers. I love this photo of my Mom, totally enjoying her Kesler nieces and their new babies.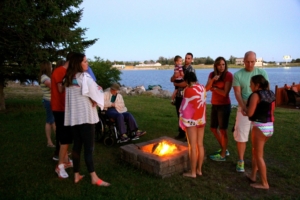 It was a full moon that first evening. Gorgeous over the lake.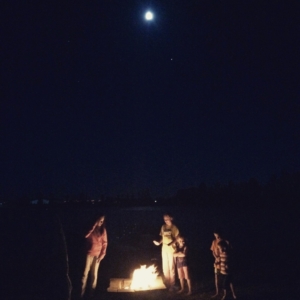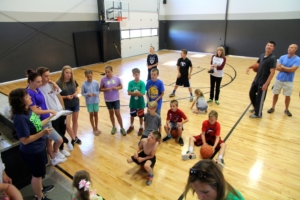 The next morning we met at Brett's offices for some Lightning Ball. In memory of Grandpa Wray.
Uh, cool offices right? With a full basketball court? And office space on the perimeter up above.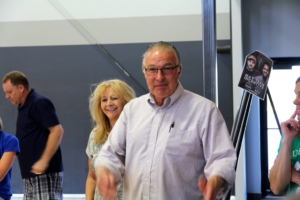 This is my Uncle Berkley telling us about my Grandpa's basketball career. When he played for UC Berkeley. (Thus the cool name.)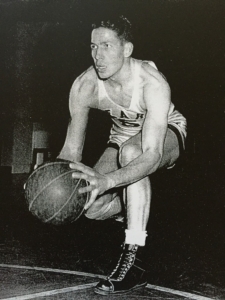 Grandpa was known for his fast breaks and "tireless" play. He was a great dribbler and a "deadly free throw artist," so the paper said.
One year he played in the championship tournament at Madison Square Gardens. Big moment! Playing for the Cal Bears was one of highlights of his life.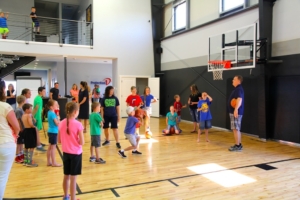 So, we broke the kids into age groups and starting the Lightning competition.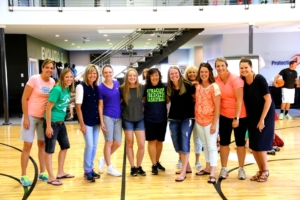 Adults played too. Ladies first.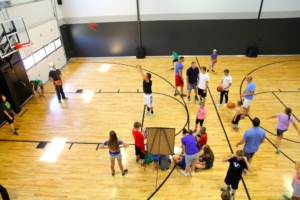 And then the men.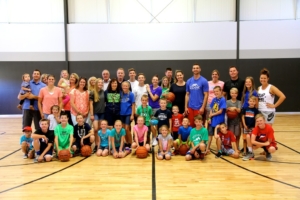 I think Grandpa would be pretty proud of all these hoopsters.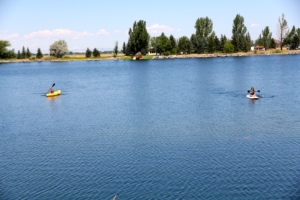 During basketball, these two decided they would rather row across the lake. So off they went, Spencer and Sami, on their first solo water adventure.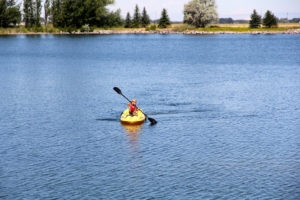 Such a great growing up weekend for my kids. Paddling out into the lake on their own, trying SUP, kayaks, and wake boarding.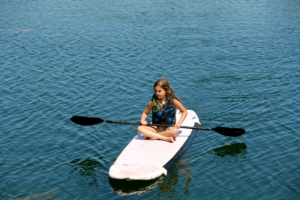 Sami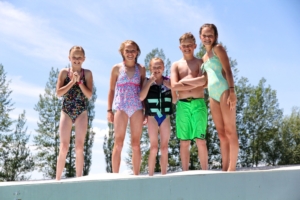 Sadie and Kesler Cousins!  The next generation.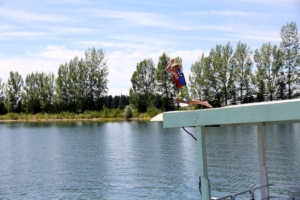 Brett also had a pontoon boat the kids had fun jumping off. Here goes Spence!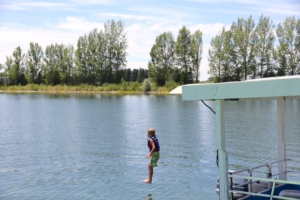 And then there was the Cable Factory. Totally brilliant.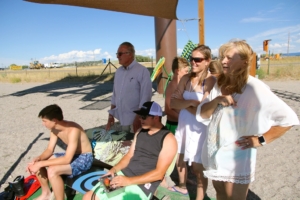 Brett rigged a cable system over one side of the lake, so wake-boarders can ride and do tricks, pulled by a cable instead of a  boat. It's perfect for teaching kids. Because you don't have to circle the boat around every time they fall, you just bring the rope to them, pull the cable taught and they're ready to try again. Here's Brett running the cable.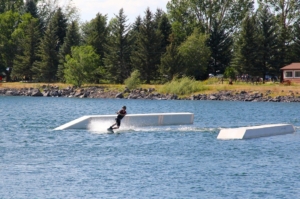 One of his employees boarding.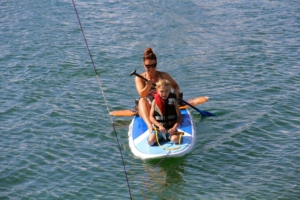 Spence, Gordy and Eliza were pumped to give it a go. Not an ounce of fear. Way braver than I ever was as a kid. The boys made it up for a few seconds. Eliza for a little longer.
Brett's wife, Misty, stayed out there on a paddle board, helping them get situated, coaching them, talking to them so they knew what to do. She was amazing. She must have been out there for three hours, coaching kids and eventually hugging them onto her paddle board so they could be pulled back to shore. (Gordy above.)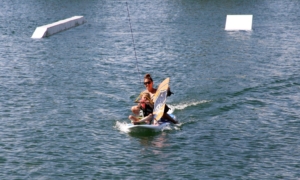 Spence coming in for landing.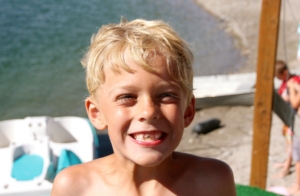 Happy Camper.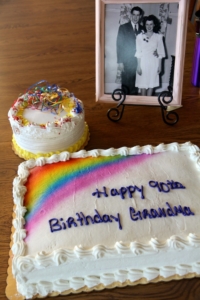 That evening we celebrated what would have been my Grandmother's 90th birthday. Note the rainbow on the cake. For years and years, my Grandma would put together a family newsletter called the Wraynbow Connection. With a rainbow just like that across the top corner. It was so much work. I received a copy every month even when I was on my mission. Serious labor of love.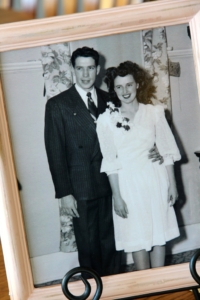 Aren't they such a gorgeous couple? I like to think this is how they will look when I find them in heaven.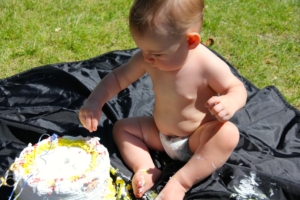 My littlest niece, Emma, shares a birthday with Grandma Lorraine. Her full name? Emma Lorraine. In memory of Grandma Wray. Everyone loved watching her 1-yr-old cake smash.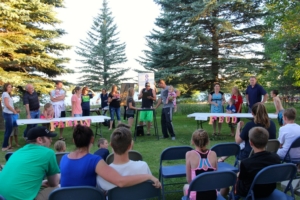 We also played a rockin' game of Family Feud. Now, you have to know, the Keslers were on the real Family Feud with Steve Harvey a few years ago. So hilarious. First family from Idaho to ever be on the show. They know how to feud!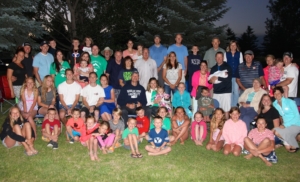 Here's the whole crew that night! Rachel counted up the posterity. (Not all present.) From Marv and Lorraine: 6 children. 30 grandchildren. 82 great-grandchildren (four on the way). 1 great-great grandchild. Amazing.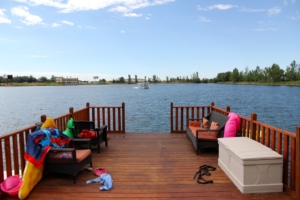 The next morning was quiet and a little cooler.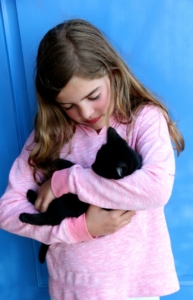 Sami could be found several times a day visiting the kitties. Her favorite spot.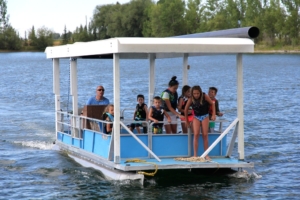 Morning ride.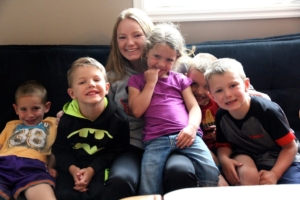 Cute Brynley always had a crowd of littles around her.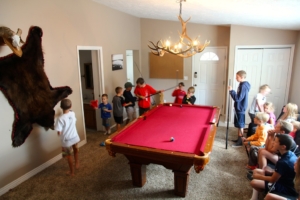 The boys kept the pool table hopping.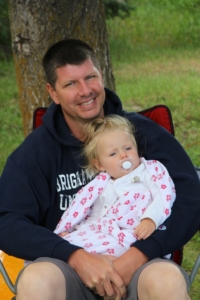 Neil and Ada.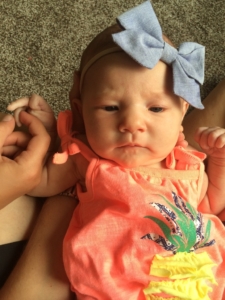 I couldn't get over Kelsi's new baby. Beautiful Elianne. So precious.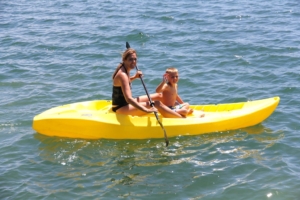 Deb and Michael.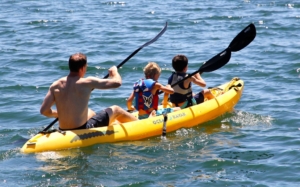 Dave, Gordy, and Ethen.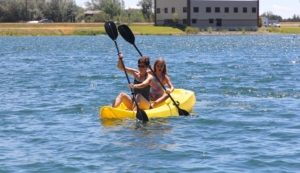 Me and Sami.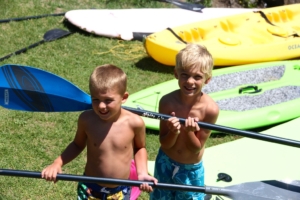 Paddle boys.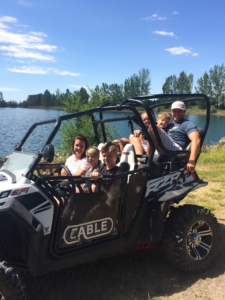 And our hosts. Brett's family. One of the best parts of this weekend was getting to know my cousin's spouses and children. Some I had only met a few times or not at all. They're each so wonderful and so fun to chat with. And huge shout-out to my aunts who planned the reunion and pulled us together. So grateful for the good times and good feelings we shared.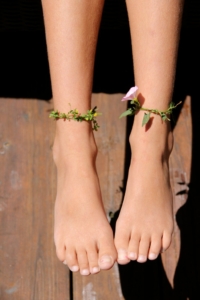 Ali finished off her last swim in the lake with morning glory ankle bracelets.
And now, the real reason you're here… The Kesler Fam's new music video! Some of their best choreography yet. No doubt you'll love it. Sure to put some sunshine in your pocket.