Well, Summer just kind of happened. In one quick rush of adventure and activities, weekend trips, backpacking, playing at the lake, and reading on the backyard swings, it came and went. School started end of August and I am in a dizzy spin wondering how the months sped by so fast. I didn't have time to get organized or feel on top of things. But it was what it was. And it was still good. And fun. And full of new experiences.
To kick off this recap of our Wray Reunion, put your hands in the air for everyone's favorite Kesler family and their 2017 Summer music video! You'll see a new face this year, Kelsey (with an "e") who just married my cute cousin Jordan last weekend! (He's the one single fella whom many of you swooned over the last few years.) Well, ladies. He's now taken. And she's a doll! We're so excited to get to know her better! So fun celebrating with them last weekend!
And Kelsi (with an "i") you never cease to amaze. Awesome choreography. Love you! Love this whole Kesler crew!
We were missing a number of families at our Wray reunion this year. My sister Deb and I were the only ones who could represent from the Keddington fam.
My Dad, bless his great big heart, had major back surgery right before the reunion. He herniated two discs lifting my Mom, and after looking at the MRI and discussing with his neurosurgeon, it was determined he would need a four-level lumbar fusion, with laminectomy at each level to free up the compression of his spinal cord, a discectomy to clean up the herniated discs, and a harvest of bone from the hip to cover the hardware. We're talking MAJOR surgery. Even my Dad, as a physician, was intimidated. He didn't want to be dependent or a burden. But, we encouraged him to move ahead. "We did two years taking care of Mom," we said. "We can do six months of caring for you!"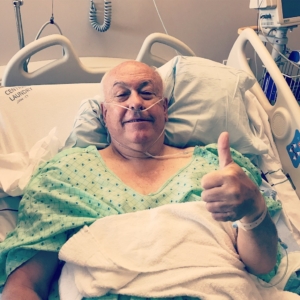 And look at him with that smile and a thumbs up just an hour after post-op. I know he was in pain but he was cheerful and cracking jokes when we came in, making the nurses laugh, per his usual self.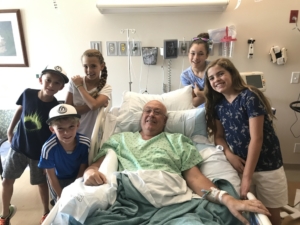 Surgery went better than expected. His bone was healthy enough no graft was needed. Our neighbor and friend, Chuck Rich, did the surgery, and our friend Chelle's husband was in the OR helping with the new hardware. And I think my Mom was somewhere close, sending him her strength. It was the thought of her and all the brain surgeries she went through that gave him courage to move ahead. We know his recovery thus far has been a gift from heaven.
Dad's courage and spirit have been remarkable. I think doctors often make the best patients. He came home one week later and is healing very well.
He even drove up to Idaho with his siblings to see the solar eclipse a few weekends ago.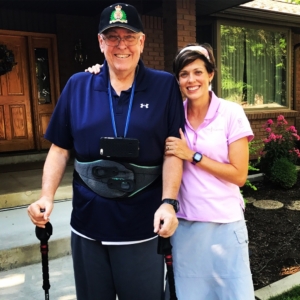 He still wears his brace and keeps his phone round his neck because he's not allowed any lumbar flexion or rotation. But his two mile walks around the house and driveway have turned into 2.5 miles at the sports club track. Cheers all around Dad. You amaze us.
We also missed the Huffakers at the reunion, a few Keslers and some Wrays. But it's always so fun when we're together.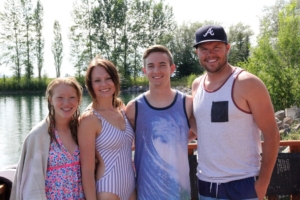 Christiansens with Brett Kesler. Thanks to Brett for letting us stay at his lake house in Rexburg, ID, and for teaching our kids how to wakeboard.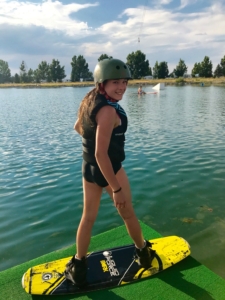 His cable factory is a pretty awesome gig. Snowboarders come to train here in the winter. And Brett, who used to compete as a wakeboarder, is a fab teacher.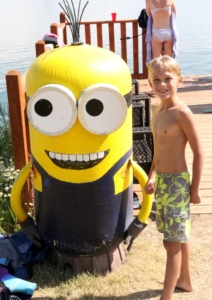 Kevin the Minion joined us this year.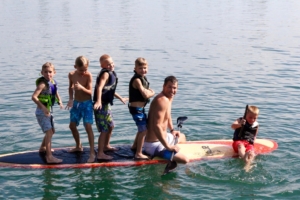 Landon was the go-to help in the water while the boys were trying to wakeboard.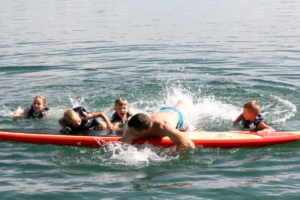 They thought they could hold their own on his paddle board, but he dumped them every time.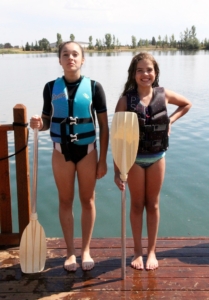 Liza and Sami's, Rexburg Gothic. An adaptation.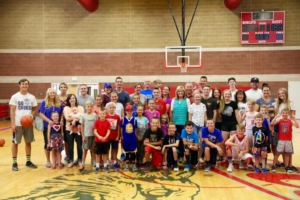 We held our second annual J. Marvin Wray Shootout in memory of my Grandpa Wray. Awesome bunch of hoopsters! Grandpa would be so proud!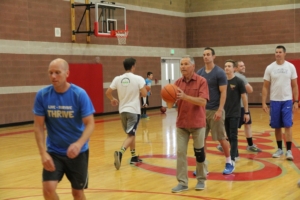 Lightning Ball.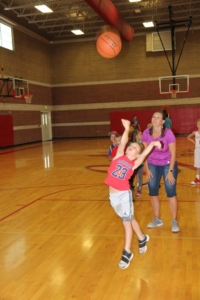 The perfect game for every age group.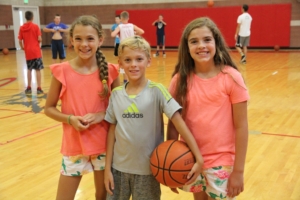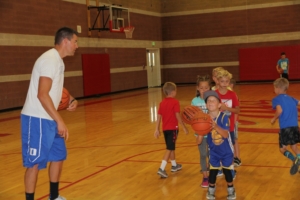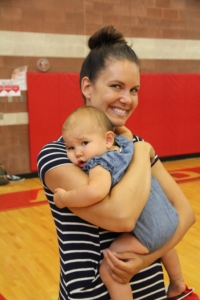 Misty, with Kelsi's baby, Elianne.
Is she not delicious?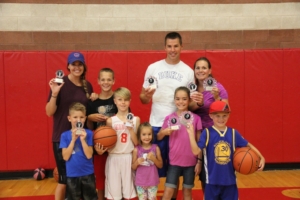 The Landon Kesler fam cleaned house at the shoot-out. With pretty great representation from  Brett and Misty's boys and Kelsi, who maintained her title as women's winner for the second year in a row!
Admiring the trophies.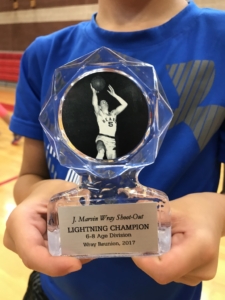 Shelli had these awesome trophies made in memory of Grandpa.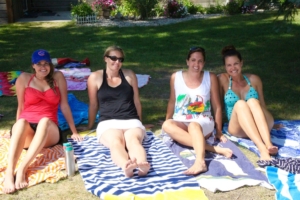 Lots of chatting lakeside.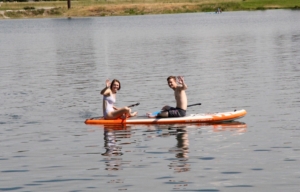 Sam and McKay paddle-boating.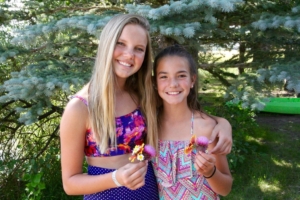 Macy and Quinley, gathering wildflowers.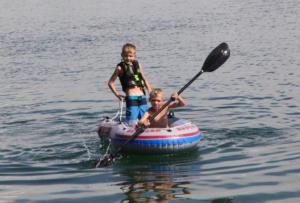 Camden and Gordy.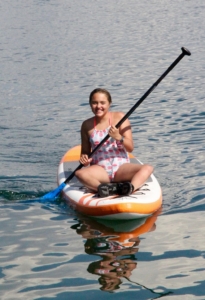 Lizzie.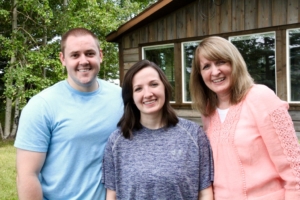 Hannah, her husband Justin, and my Aunt Pam.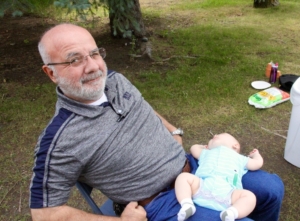 Uncle Gary. True baby whisperer.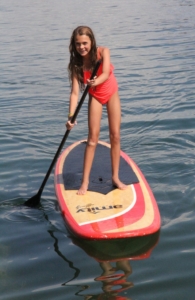 Ali on the water.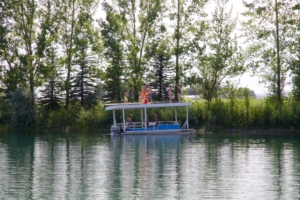 Jumping off the fishing boat. Again and again and again.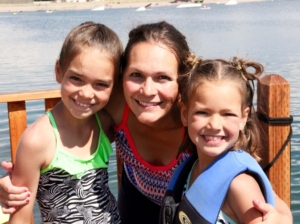 Landon's wife, Sarah Jane, with two of her girls.
Landon and Sarah Jane have eight children. And seriously, I could not have been more impressed with their whole family. When Landon walked in after they arrived and quietly announced he had forgotten the life jackets, she said, "Ouch. That hurts. Well, we'll take turns on lifeguard duty. You're first." No blaming. No getting upset. Just acceptance of the new reality and how to move forward. She is patient, kind, organized, and her kids are wonderful at including others, helping each other, and being polite.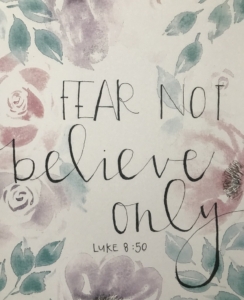 The theme of our reunion this year was my Mom's favorite scripture. Fear not; believe only.
Sam, McKay's wife, designed this bit of art for everyone. Beautiful Sam.
Deb and I spoke for a few minutes about my Mom, shared some things we have learned from her. Ali and Quinley modeled some of the dresses she made for me, and we played an audio clip of my Mom telling my children about working on the farm, getting up at 4AM to move pipe, swatting mosquitoes from her face, and learning to work as a team with her brother Berkley.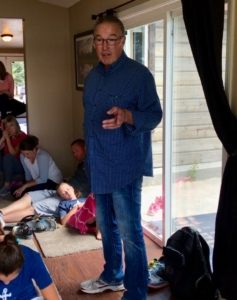 Berkley said they learned some very important life lessons moving pipe together.
1 – learn to work together as a team
2 – make your siblings your best friends
3 – do a job right the first time
4 – you can have strong muscles (even the ones you can't see) – that was a quote from the audio clip, something my mom said. 😊
5 – you can do hard things.
I recorded Berkley talking about my Mom and when I listened to it again and heard him say, "Ronda learned she could do hard things," I found myself overcome with emotion. She did do hard things. So many hard things. Right up until the very end of her life. And she did every hard thing with faith.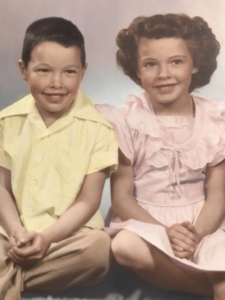 My Mom and Berkley back in the day. Aren't they adorable? They really were the best of pals.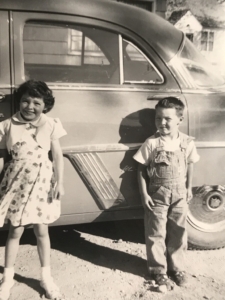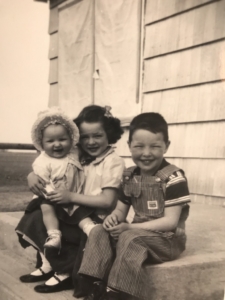 Baby Candice on my Mom's lap. Berkley on her left.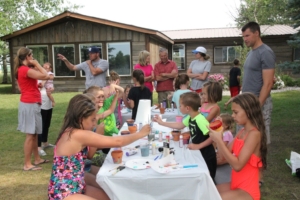 After our devotional, the kids painted pots, planted a seed in each pot and then we talked about faith. How faith can be like a seed. If we plant it in good ground, nurture it, give it what it needs to grow, it can become something big and beautiful.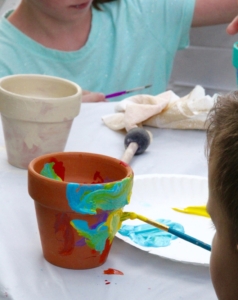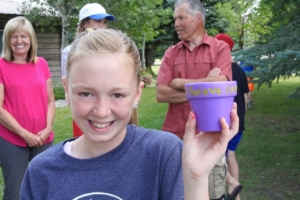 Believe Only.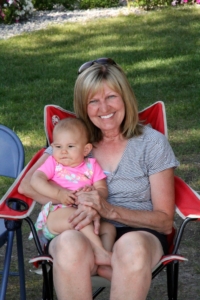 Marva Lu with grand baby, Elianne.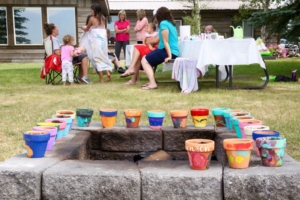 All kinds of pots, in all kinds of color and design, united in one faith.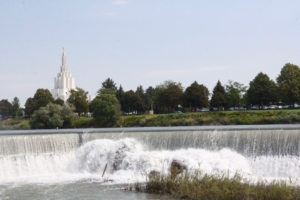 After the reunion, we drove to Idaho Falls to see the Idaho Falls temple, where my Mom and Dad were married in 1971. The falls were gorgeous.
Then we hopped off the Interstate in Blackfoot to head down highway 26 to the Wray farm. My Grandma and Grandpa Wray's farm is now run by my Uncle Berkley.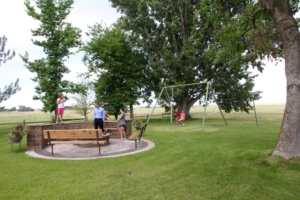 This is where we would come every summer for reunions, and every Christmas. To see Grandma and Grandpa.
We would jump on the trampoline, swing in those tall swings, have chin-up contests, waterslide on black plastic in the summer, eat outside, sleep on the back porch.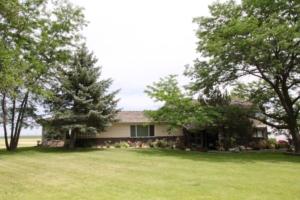 The Christmas tree that Grandpa cut each year would sit right in front of that window.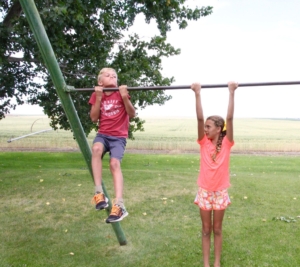 The kids tried doing chin-ups on the same bar we did them on. Grandpa would often pay us in crisp dollar bills for doing a certain number of chin-ups or push-ups, or for collecting clay discs in the fields after they finished shooting skeet.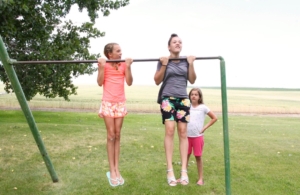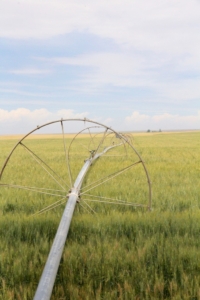 We walked to the edge of the yard to survey the wheat fields. Those beautiful fields. Sometimes we would race down the rows. Looking over at each other, heads bobbing above the wheat until it felt like we were king or queen over the field, rows and rows in every direction.
Grandpa Wray grew potatoes and wheat. Berkley does the same.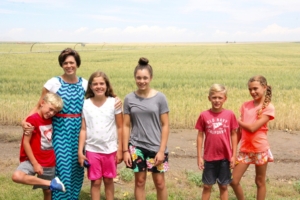 I have so many great memories of this place.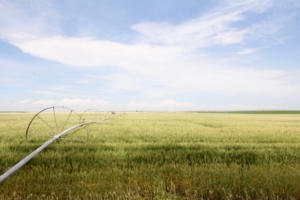 Snowmobiling on stubbled fields in the winter. The smell of the wheat during harvest. Watching the kernels slide out of the combine and fill the trucks. Grandma's cookie jar, full of fig newtons. And the fact that she and Grandpa ate so dang healthy we could never find a decent treat in the house!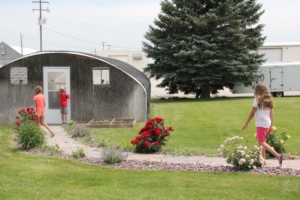 Berk and Connie have made the farm so beautiful. I'm sorry they weren't there when we stopped.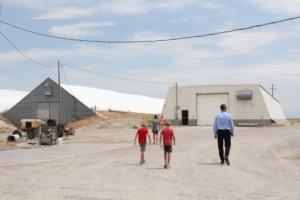 We walked out to the potato cellars so we could show the kids how big they are.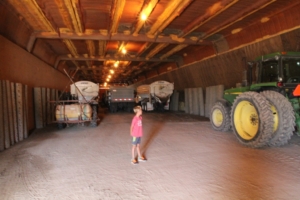 After harvest in a few weeks, each of those cellars will be full to the ceiling with taters.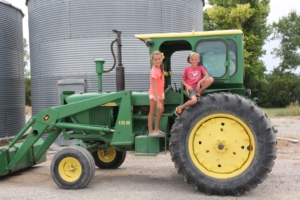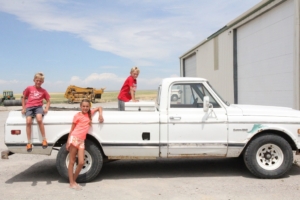 Grandpa's old white pick-up truck is still there. I remember driving with Grandpa into Blackfoot sometimes to pick up something from the store or run an errand.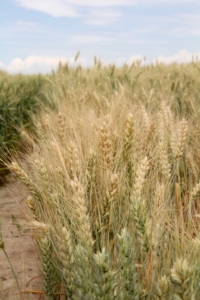 Sami picked a shaft of wheat to take back to my Dad. To remind him of my Mom. His beautiful, Idaho girl.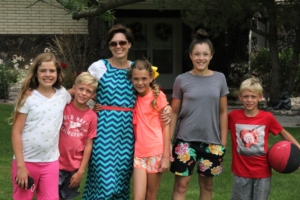 As we walked across the grass, out to the fields and past the cellars, I felt like my Mom was all around us. I had never been to the farm without her. And while my heart strained with longing, something rushed round me and through me, and made me believe she was near. This place of volcanic rock and wind, wheat and potatoes, and family; it made her who she was.
I am beginning to believe she is aware every time I'm thinking of her, remembering her, longing for her. Maybe it is an unwritten, undiscovered law of this grand universe, that when we think about or long for a loved one who has left us, they feel it. They know. And for those moments – those minutes of feeling severed and apart – we are actually connected.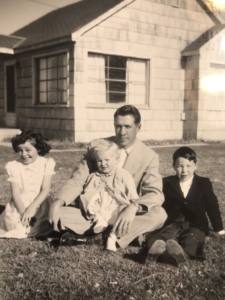 I miss my Grandpa Wray. Isn't he so handsome? I miss my Grandma Wray. And I miss my darling mother. For that kind of missing, there are no adequate words. But sometimes I see the lines of her hands in my own. Sometimes her smile flashes across the face of my Liza. Or Ali wants me to climb into bed and hold her because she misses her Grandma. At those times I know something powerful. We are linked. Linked in love. Linked by heaven. Not for a moment. But forever.