Our extended MLK weekend is over, and I am sitting in the silence, gazing at our Christmas tree. It is still drinking water. Still bedecked with it's ornaments and lights. It seems a shame to take it down, but I think today might be the day.
January bulldozed in with three big projects to manage. Two with my church assignment, including our Stake Daddy-Daughter Sweetheart Ball coming up end of month (that's Stake as in combined church units; not Steak as in Ruth's Chris; unfortunately), a teaching event for the children in our Stake (again, no steak), and the school's annual Art Contest. I have been buried in brainstorming and spreadsheets, invites and emails, ribbon and tissue paper, and I am finally coming up for a breath.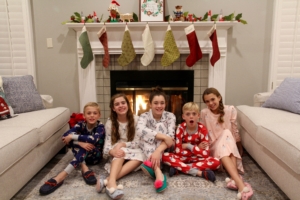 Look at these cute little elves. Sometimes I think, ah no… Don't you be fooled by their pretty smiles and new pajamas. They be trouble.
But then I step back and remember how much I love them. I demand a lot of them at times, but really, they're just kids. Still learning how to be. And while the boys drive me crazy with their soccer games in our master bedroom, their snowman building on the garage roof, their tantrums when I tell them it's time to clean the toilet or put their laundry in the washer, the truth is, they just want to have fun. All. The. Time. But we're working on that. They are good boys, mostly trying to do what's right.
The girls have become big contributors to the family. They often ask how they can help. They fill in when needed, stir and chop for dinner, do dishes, help the boys practice piano. Maybe getting older does help?
Stepping back is vital in the thick of mothering, don't you think? You gotta step out of the whirlwind to see the way things are spinning. See the amazing things your kids do and think and want to be.
Important. Not just for me, because love is restored. But for them. Because it means they will live to see another day. 😉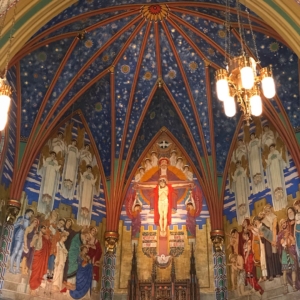 Christmas was wonderful. Our Christmas story had no red ryder bb gun, but there was some drama. And comedy. Mixed in with the love. All of which I will share with you.
A few days before Christmas we went down to the Cathedral of the Madeleine, one of the most beautiful Catholic cathedrals in our city. We listened to their Children's Choir perform. The music was so beautiful and clear. I especially loved the words of their Recessional: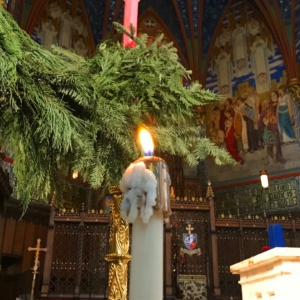 Christ the Lord is born today; today the Savior has appeared. Earth echoes songs of angel choirs… today on earth his friends exult: Glory to God in the highest, allelujah.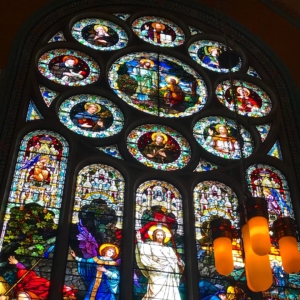 These photos were take by Liza. She was so enamored by the architecture and stained glass. We loved that everything pointed to Jesus. A beautiful way to start our holiday.
The day before Christmas Eve Doug took the kids skiing. Christmas was a ways off from being ready, so I had to stay home and get some things done. Our elf decided he wanted to ski too.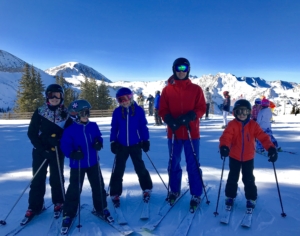 It was a gorgeous, snowy day. Doug didn't get any pics, but we took this one over the break. Topping out on Supreme, at Alta.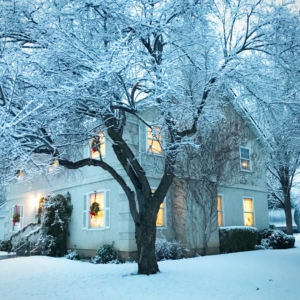 I grabbed this photo on one of the few days we had snow in December. (We're hoping winter decides to arrive before March!)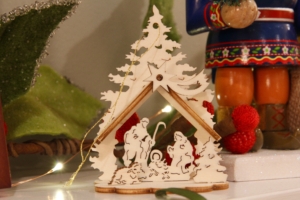 On that snowy afternoon, I was home alone, wrapping, and the doorbell rang. I answered it to find my dear friend, Anna, standing on the porch. Anna and I served together in a Relief Society presidency, way back when we were in a Single's ward. I have always admired the gentle way she has about her, her wisdom, her genuine kindness, and peaceable walk. Before my Mom passed away, she offered to come and play church hymns. My Mom wasn't very responsive then, but she would nod her head and smile when she recognized one of her favorites.
So there was Anna, with this small gift. A tiny wooden Nativity. She didn't have to say anything. Just her presence at my door moved me to tears and we shared a long hug. Christmas was busy as always, but there was a hole without my Mom. And her acknowledgment of that, and her faith in Christ who makes that loss okay, was a gift to me.
Thank you Anna. I love you.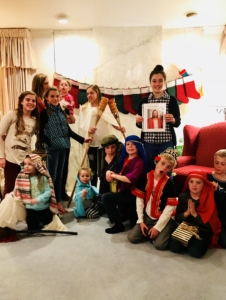 On Christmas Eve we had a nice dinner with my family. The children reenacted the Nativity, my Dad read Luke 2, then Becca thought to read something my Mom had written to the family. Bec said, she could feel my Mom near, that my Mom wanted to say something, be a part of our evening. That was when she thought to grab the book my Mom made with the stories of Jesus. The first page of the book is a letter from my Mom to her children, with her feelings about Jesus. It was perfect. Tearful, and sweet.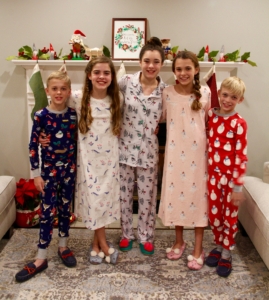 Christmas Eve at home meant new pajamas, a plate of cookies for Santa, then off to bed! All kinds of magic is afoot on Christmas Eve. But only once the littles are asleep.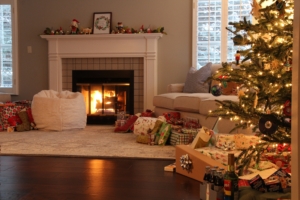 Christmas morning the living room was quiet and warm. The calm before the storm.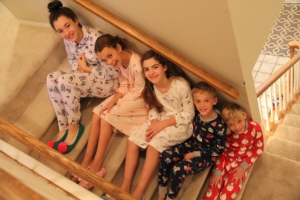 The kids sang "birds in the wilderness, waiting to go downstairs…"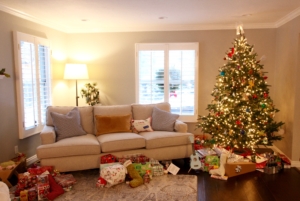 And then they came.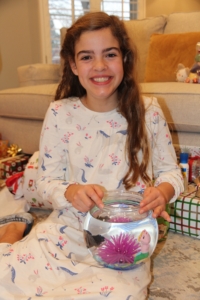 Look at that smile. Hang onto it as long a you can. Because here begins the Sami Santa saga.
Santa had a hard time getting Sami a gift this year. First, she asked him for an iPod (but… thank you Apple, they are no longer being made). So mid-month she sent a new letter to Santa, requesting a sewing kit. Well, Santa told her in a letter she found Christmas morning, that the elves had made Sami the most beautiful sewing box. They used the finest wood and supplies from Poland. But because her letter came so late in the month, they weren't quite finished. And, ya know, production can't be rushed in Santa's workshop, especially at the expense of quality.
So in lieu of the sewing box, which Santa said would eventually arrive, Santa brought Sami a new fish. In a new fish bowl. With a cat mermaid. Perfect for this kitty lover.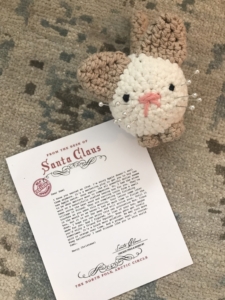 He even had this darling kitty pin cushion crocheted for her so it could fit into her sewing box when it arrived. Well, all was right in the world. Sami was elated with her new fish! Santa brought her a pretty, black moor. A goldfish compatible with her current fish, Squishy. Sami named the black moor, Poppy. For his large, bulbous eyes.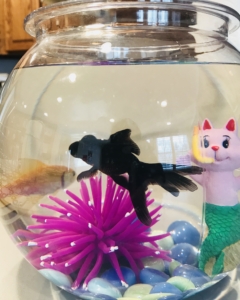 It was all joy in fishdom until about 10PM. I was already in bed, because you know, little sleep on Christmas eve, when Sami shook my shoulder and whispered with a quiver in her voice, "Mom? I think Poppy is dead." I threw the covers off and bolted upright. "Dead?" I queried. "Yes…" her voice trailed off.
We hustled downstairs together and sure enough, there was Poppy, floating on his side at the top of the water. Dead. She started to cry. Sobs that started a two hour cry session as we tried to understand the universe and why Santa Claus would bring her a fish that would die on Christmas Day! I pulled out all my best Mom wisdoms. But they fell flat. We discussed getting a new Poppy, but she didn't want another Poppy. We talked about getting a new kind of fish. A beta? "No," she said. "They sleep too much." "Maybe we should just leave Squishy solo?" I wondered. "So at least you have Squishy and there's no risk of him dying?" We settled on that decision. And a trip to the Aquarium.
I asked if she wanted me to take care of Poppy so she could go upstairs to bed. But that girl has grit I tell you. She said, "No. I want to be the one who takes care of Poppy." So she bravely scooped him out of the bowl and flushed him down the toilet.
Moral of the story people? Santa should not do pets.
And the sewing box? Last sighted in Warsaw. It STILL has not arrived! We're pretty sure the elves used regular post, but with international transit, anything could have happened. So you can probably deduce what kind of questions and conversations that lent to. 🎅🏻  In which I tried my newest Mom wisdoms, but Sami was having none of it. Just more tears. More disappointment. Crushed hopes. And man, I was feeling like dirt.
Sami had a rough Christmas. Despite that incredible and happy smile you see above. Seasoned parents, please tell me someday we will laugh about all of this!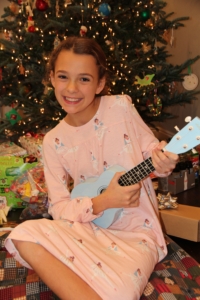 Meanwhile… back at the ranch. Ali got a blue ukulele and has been teaching herself chords.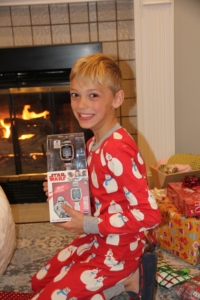 Gordon and Spence got Vtech watches. Star Wars of course.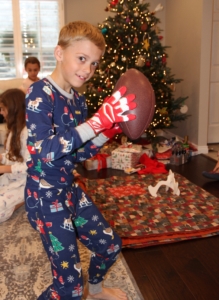 The boys were were way excited about their new NFL footballs and gloves.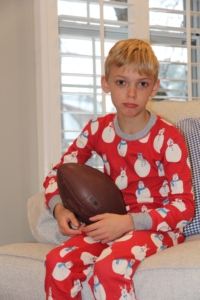 Except when we couldn't find Gordon's gloves. I was SURE I had wrapped them. Well, I hadn't. They arrived two days later UPS. 😜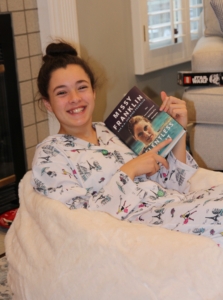 Liza got this plush bean bag she was dying for. And a biography about one of her favorite swimmers.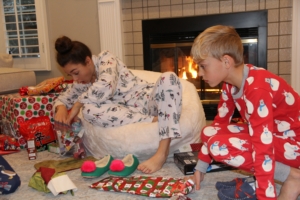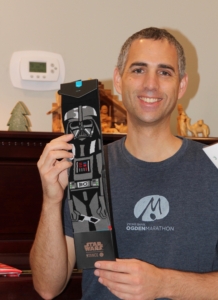 Liza gave Doug these Vader socks. Which reminds me… I forgot to mention we did see the new Star Wars movie. Loved it.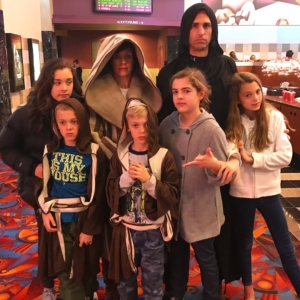 We had fun dressing up. Kylo got a few weird looks in the restroom. I wore my Mom's old coat with a gigantic hood. When we were growing up, we called it the Jawa coat. And I don't think Sami realized what finger sign she was making. Shhhh… don't tell her. That will really put Christmas in the tank.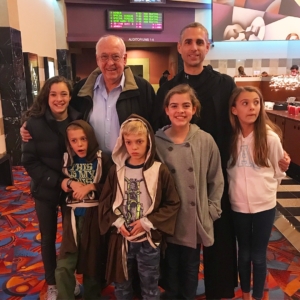 We were so happy to take my Dad with us. He's a true SW fan.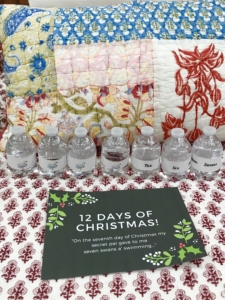 Liza also did the 12 days of Christmas for Doug. It was so clever and thoughtful. Each day she did a twist on one of the song verses. Here are her "Seven Swans a Swimming."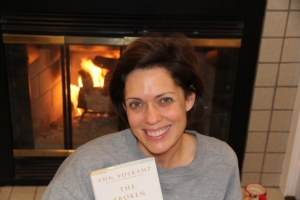 Liza gave me Ann's latest book.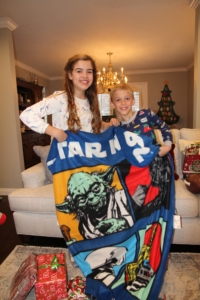 Sami bought Spencer this awesome SW blanket.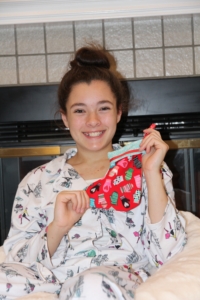 Sami also sewed this cute little stocking for Eliza.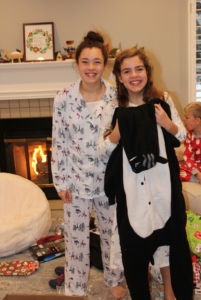 Eliza gave Sami this cat onesie. I think Liza was most excited about this gift because she knew how much Sami would love it. Sami has worn it to bed almost every night since.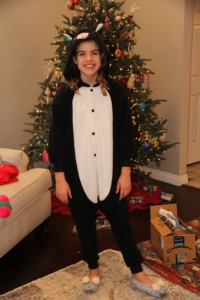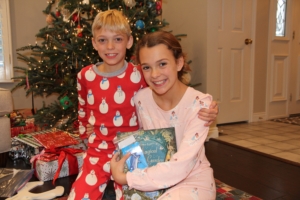 Gordy gave Ali this fairy pop-up book and a dolphin bookmark. Two of her favorite things.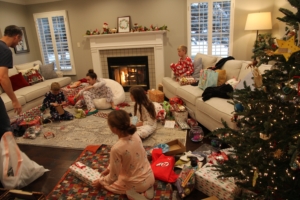 The storm was wild but beautiful.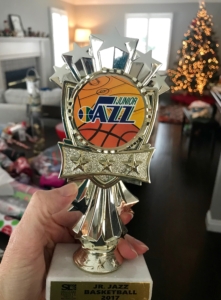 And my favorite gift of the day. This trophy Spencer gave me. "Wow! It's your basketball trophy!" I said. "Yep," Spence responded with a nonchalant lilt in his voice. "Because you never make it to any of our games." Awkward silence.
Truth bomb. (As my friend calls it.) Kids are always dropping them. Right in your lap. And in his defense, he was spot on. For three seasons now I haven't made it to one game. Well, maybe one. Doug coaches, and games are on a weeknight. So I'm left running the girls wherever they need to go.
It's my trophy of failure. 😂 Wrapped with total sincerity. Spence gave it with zero malice. It was a statement of pure fact and a hint of wish you'd been there.
So for all you Moms out there, who sometimes feel like a failure, this trophy is for you! My friend Amanda says her Mom is always telling her kids she wants her gravestone to read, "She tried." And that about sums up Christmas. A whole lot of trying. With a handful of sparkle and magic.
How was your Christmas this year? Have you got a story? Do tell!