Alright folks, anyone else convinced the earth is making faster trips round the sun each year? Where or where did summer go? All my kids are back in school this week and, wow. It's been some kinda whirlwind. Have you started the great post-summer dig out? For the last three days I've been trying to find my way through all the piles and back to school papers, attempting to sort out the knee-deep neglect of three months and reclaim my place as Mamma in the House.
Just this morning I signed the last disclosure form, wrote the last check, and dumped a satisfying pile of papers into the recycling bin. That's right. I'm in the House! I'm back. I'm in control. (At least for the next hour. While everyone is at school.)
So it's time to tell you about our week in Paris. I'm working on two more posts to go up after this one, and Eliza is editing a video for you. But I know you'll understand if it takes me a bit to catch up.
Our red-eye flight from SLC to Paris had us landing at Charles De Gaulle around 11 AM. We took a cab to our hotel and unpacked. Knowing we needed to stay awake the rest of the day, we headed out to explore the neighborhood where we were staying. Eliza could not stop smiling the first 36 hours after we arrived. (Which was precisely how long we were awake until finally getting a good night's sleep.) Honestly, Liza was so jazzed. The ENTIRE time. Here she is on the balcony off our hotel room.
Now Pause. Jump back in time with me to January 2018. Liza had been begging for a couple months to go with her French class on a trip to Paris and London with two of our favorite ladies, Michelle Lehnardt and Shelah Miner, who started Blue Bicycle Travel. You really should check out their website. Eliza was willing to earn all the money, (or work as an indentured servant the rest of her life), for this trip. So Doug and I started plotting. Neither of us had been to Paris. Should we let her go without us?  Nope. We didn't want to miss out!
So we decided to say no to Liza's school trip but surprise her later with a special adventure to France, just the three of us. We started watching for cheaper flights and secretly making plans. Of course Liza was devastated when we told her no. But we said we'd take her to the French Bakery downtown in lieu of a trip to Paris. (Not quite the same thing. But she was a good sport.)
A few weeks later we piled all the kids in the car and headed down to Les Madeleine's. We ordered Kouign Ammans and hot chocolate for everyone, then Doug handed Eliza a gift. A Rick Steve's guide to Paris, so she could learn all about the city, even if she wasn't headed there anytime soon. She was crestfallen. We were adding insult to injury. The look on her face was a plain, plastic, courtesy smile, disappointment etched beneath.
Then Doug handed her an envelope, on which he'd written: Un nouvelle adventure vous attend! An adventure awaits you!
It took her a bit to understand what was happening as she opened it and looked over the flight itinerary. Finally Gordon had to say, "You're going with Mom and Dad to Paris!!" He couldn't hold it in any longer. We let the other kids in on our surprise one hour before, hoping they could stay quiet for sixty minutes. She looked at us with a big question mark in her eyes and we nodded the truth. Then she burst into the biggest laugh I've ever seen.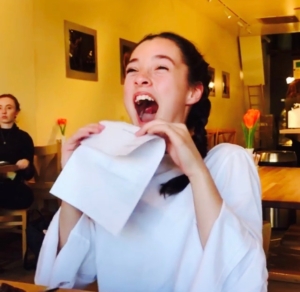 "You're not joking, right? That would be a really mean joke," she said. "It's for real," we answered. Then she laughed again. So astonished she'd been duped!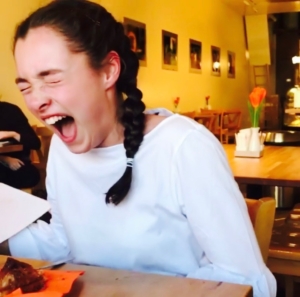 I'm so sad I lost these videos when my phone crashed. 😫 Above are a few snapshots I took from Instagram. Liza could NOT stop laughing. She went around the table and gave our whole family a hug. She was over the moon. Dream of all dreams come true for her.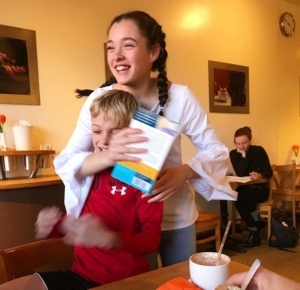 This girl has been hanging Paris décor and trinkets in her room for three years. She's been dying to learn French and just started her second year of French at the Junior High. Passion and fire for certain things are inside us for a reason. Doug and I might not be able to take all of our kids on an adventure like this (we make no promises), but we do hope to show them how to love this big wide world, in whatever ways we can. When we jump on board one of their dreams, we connect with them, see them grow, and share the kind of happiness that says, "if it's important to you, it's important to me."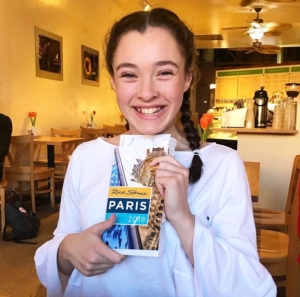 Now that's a smile… ear to ear.
So we left our hotel that first day and sauntered up the Champs Élysée toward the Arc de Triomphe.
Arc de Triomphe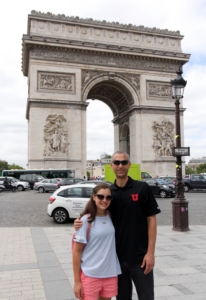 Doug's greatest victory of the trip was navigating this six-lane roundabout when we rented a car and drove to Normandy. He worried about it every time we walked by. It's the only roundabout in Paris (maybe the world) where cars in the circle yield to cars entering the circle! It was crazy!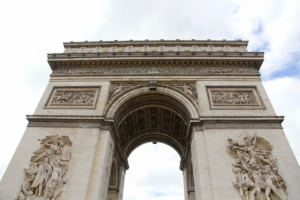 This 165-foot arc was built to honor the victory of Napolean's soldiers, patterned after arches of ancient Roman conquerors. France celebrated Napoleon as the emperor of a "New Rome" and while Napoleon actually died before it was completed in 1840, they still paraded his remains beneath the arc (19 years after his death) and now his tomb (which is incredibly overdone in my opinion) remains one of the most visited spots in Paris.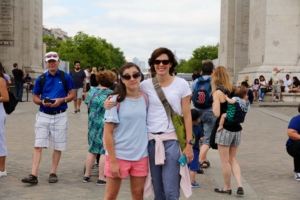 Liza got a little frustrated when Doug was behind the camera. He does take a while to set up each shot. Ya know, gotta be just right. Thus her face.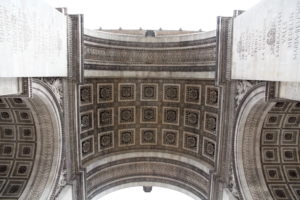 View looking up at the center of the arc.
We climbed the 284 steps of the spiral staircase to top out on the arc for an incredible view of Paris from the Etoile (which means "star") with its 12 boulevards radiating out from the Arc.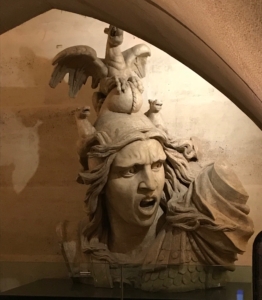 On the front right pillar, the famous relief of La Marseillaise (Lady Liberty), stands atop soldiers, shouting. This bust is in the museum area just before you get to the top of the arc and I had to laugh when I looked at it up close. What do you think she's saying? "Ah no, you did'n!" Or "Oh snap, girlfriend!" One of my friends simply captioned the photo with this date: November 9, 2016. I'll let you chew on that one. What she's really hollering while pointing her sword ahead is, "Freedom is the way!"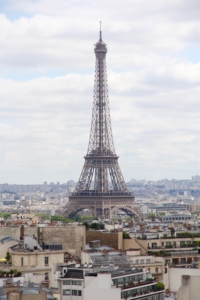 View of the Eiffel Tower from the Arc.
We loved the Paris rooftops. Red tile, red chimneys, and beautiful gardens. This spot looked like a quiet oasis in the middle of a bustling city. How would you like to eat lunch there every day?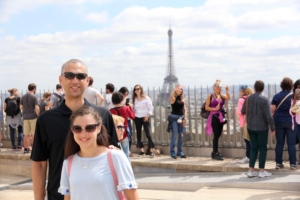 After viewing Paris from the Arc we took the metro over to the Cathedral of Notre Dame.
Notre-Dame de Paris
First we took in the grandeur, and the pink rose garden.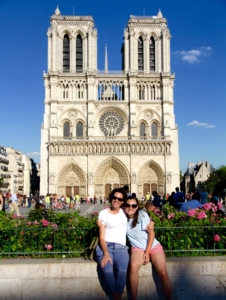 Then we glossed over the architecture as we walked down Rue Chanoinesse to Pont Saint Louis, knowing we would return later to tour the cathedral and study the relief sculpting.
L'Isle Saint Louis
We found the perfect café for dinner. Right on the tip of  Isle Saint Louis. I walked out to take in the view of the Seine and watch the riverboats pass by while Doug and Eliza visited at the table. It made me happy to glance back and see them sitting there. I could hardly believe we were in beautiful Paris. Together.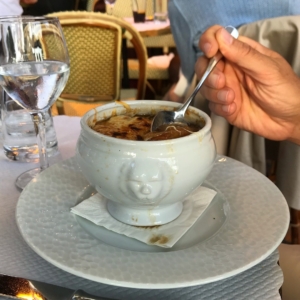 Doug ordered one of his favorite appetizers. French onion soup. And it was as good as any he's had.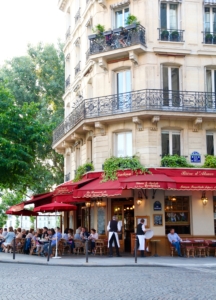 Café across the street. We loved L'Isle St. Louis for its food and proximity to the water. Known for great Italian food in this neighborhood, we found another excellent spot for dinner. Restaurant Sorza.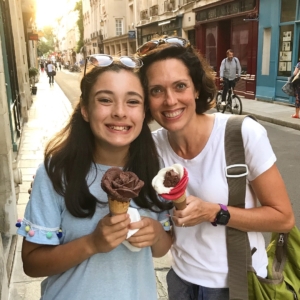 After dinner we walked a block or two down to Amorino for gelato. After getting gelato in a few different shops, we quickly decided Amorino was the best. Because it's a chain, you can find them all over the city. The classique rose glacé was our favorite. Choose as many flavors as you want! It was amazing to watch them spackle all kinds of gelato into one cone. I tried when we got home with a butter knife. It was a bust.
Tour Eiffel
The next morning (after a sound night's sleep), we got up early so we could be in line at the Eiffel Tower as soon as it opened. Per Rick Steve's instructions, we arrived early, got in quickly, and went straight to the south tower to get our tickets. I'm gonna tell you right now, Rick Steve was our man. His guidebook (updated every year) had all the right tips. He has a number of Paris walks you can do, top ten places to see, restaurants, museum tours, and historical information. He didn't lead us astray once. He was the best guide. (Which makes it easy to see everything you want at the pace you want, for the prices you want.) I highly recommend picking up his books if you're planning a trip anywhere in Europe. His team knows what's up.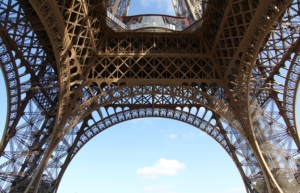 Standing beneath the tower was mind-blowing. The detail. The physics. The massiveness of the structure. You don't appreciate the size of it until you are up close. This 1,063-foot-tall ornament of Paris has to be at the top of your must-see list. And if you go in the morning, it's not so crowded.
Gustav Eiffel (1832-1923), a bridge builder, won the contest of creating a centerpiece for the World Fair in 1890. Thankfully, his architectural genius beat out the rivaling giant guillotine. 😳 This contest celebrated the centennial of the French Revolution. Eiffel not only designed and engineered the tower, but personally financed it and oversaw its entire construction. And did you know he had a small apartment at the very top, complete with a grand piano?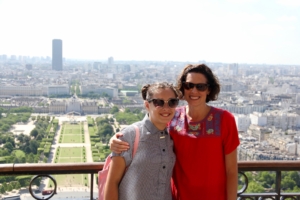 We climbed the 720 steps up to the second level, then took the elevator from there to the top. Lines for the elevator are shorter at the second level.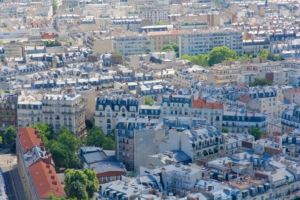 Again, notice the charming rooftops. No building surrounding La Tour Eiffel has been built higher. The tower is taller than the Chrysler Building in New York and eye-catching from every vantage point.
View from the Tower over Champs de Mars.
View over the Trocadéro. (Best place to view the Tower lights at night.)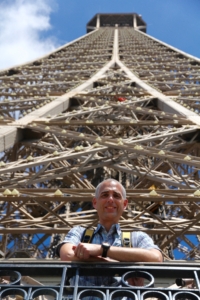 Going up?!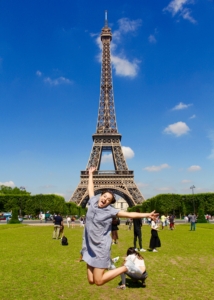 After taking in the view atop Tour Eiffel, we walked along the Champs de Mars. Liza still giddy every bit of the way.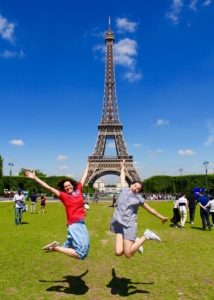 It was her idea to do the jumping shots. Clearly, I am older and feeling it. My face looks strained rather than elated. ha!
Quick note on pickpockets. Liza wore a backpack she watched carefully and had no problem. People had deterred us from taking backpacks so I took a bag I slung over one shoulder and across my chest. But I'm a total backpack-lover, even used one as a diaper bag, so I would have preferred a pack. And I wish I'd brought one. Doug used his camelback.
If you watch your belongings closely, keep an eye on on the people around you, and carry your packs on your lap or in front of you in trains or tight quarters, you'll be fine. There are a few people running scams around this area, petitioning for donations to help the handicapped or other causes. It's a ruse. Just say no and keep walking.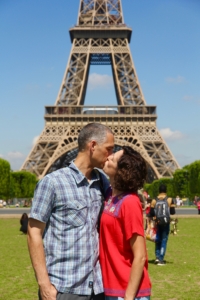 This one's for our kids. Yep, just for your guys. So you can complain, cover your eyes, and say, "Eww!" every time you see it! 😘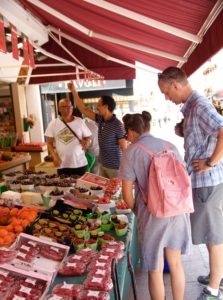 For lunch we headed to the Rue Cler Market.
Liza and I couldn't get over the peonies (pivoines) and the gorgeous clusters of color. Dozens of them at our feet.
We ate lunch at a little café in Rue Cler and stopped in a darling children's book shop. Then it was back to Notre Dame to tour the building and study the facade.
Cathedral of Notre Dame
Did you know Notre Dame is point zero for France? It is the center of France, the exact point from which all distances are measured, and it was the center of Paris 2300 years ago. This gorgeous catholic cathedral, dedicated to Mary, "Our Lady" (Notre Dame) reminds visitors of the compassion and grace offered by the mother of Jesus. Construction began in 1163 and wasn't finished for another two centuries! Hard to imagine a tiny medieval community mustering enough money and manpower for the construction of this incredible edifice with its 200-foot tall bell tower.
We loved learning about each small chapel along the nave. Joan of Arc is so beloved in France. Almost every church or cathedral we entered had a chapel for Joan. As a courageous teenager, she rallied her country's soldiers to drive English invaders from Paris. Later she was burned at the stake for claiming to hear heavenly voices. A martyr for her country and her faith. Eventually she was redeemed of sorts, in 1909, with this chapel.
This mural is in the process of being restored. Something in me loved that it was Jesus they chose first to bring back into full color and brightness.
To me, the exterior of the cathedral is more incredible than the interior. All the relief sculpting, each person or thing symbolic. You could study it for days. In this relief, it's the end of the world and Christ is sitting in judgement. Beneath him, both angel and demon weigh souls in the balance.
The twelve apostles flank Jesus. Six on each side. And above them the 28 kings of Judah (not pictured). Whose heads were lopped off during the french revolution by angry citizens frustrated with the oppressive catholic church. The heads were buried by a school teacher who lived nearby and weren't discovered until 1977!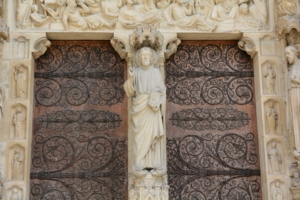 Jesus again, standing at the doors.
The flying buttresses really are magnificent. And the gargoyles. Of which I didn't get a good picture! You can't help but imagine the hunchback of Notre Dame skulking around as you walk in and past the cathedral.
The Left Bank sellers pay a pretty fee to have a spot here right by the Seine. They have to be open 5 – 6 days a week to retain their permit. All kinds of art, books, magazines, and trinkets for sale.
After Notre Dame we visited the WWII Deportation Memorial (where I respectfully took no photos) then continued our historic Paris walk, through the Left Bank and past Notre Dame for another perspective of it's exterior.
Saint-Chapelle De Paris
Next stop? Saint Chapelle. No cathedral in Paris is more stunning. Truly. I would put this place, just below the Eiffel Tower, on your must-see list. It's a triumph of gothic architecture. Literally a glass cathedral. Like no other. Unlike Notre Dame, it was built quickly from 1242 – 1248 for King Louis IX, to house the supposed crown of thorns placed on Jesus' head. This Louis was the only King to become a Saint.
"Fiat Lux," in French means "Let there be light." And there is, in this glorious place. Divine light shines through each stained glass, representing God's grace shining down on the earth. But to me, stained glass has even deeper meaning. It's a lesson on how we ought to live. Stained glass is dark when viewed from the outside. It has to be seen, experienced, and appreciated from the inside. Just as we can only really appreciate others when we know what they're like on the inside.
And how does the inner self become beautiful? Via light from a divine source. Light from God and His Son. THE Son. The Light who lights every man.
I also love that stained glass is broken glass. Bits and pieces fitted together. Just as we have to be broken. Our hearts, our wills, our pride. All broken. So we can become windows for God's light. So we can become beautiful. Broken open. And He can come into us and illuminate the dark places.
These panels of stained glass depict all kinds of scenes from the Bible. From the Creation to the Coming of Christ.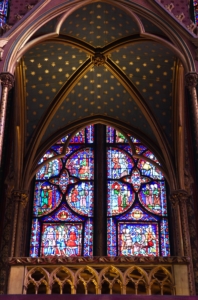 The altar, pictured here, was raised up off the ground for safe keeping of the crown. Look closely and you can see the panel of Christ receiving the crown of thorns. This altar was destroyed during the French Revolution, but it is said that the crown still exists. That King Louis paid the equivalent of 500 million euros for it and it is now locked away for safe-keeping by the Notre-Dame Treasury. Hmmmmm…
I loved this little telling of Noah's story right by the front doors.
The lacy spire of Chapelle is very neo-gothic, but the rest of the exterior is mostly functional, made to support all the windows inside.
Walk out of Saint-Chapelle and you are in the courtyard for the French Supreme Court. As I mentioned in my last post, I love the French motto engraved above the three doors. Liberté, Egalité, Fraternité!
La Conciergerie
After Saint Chapelle, we toured the Conciergerie. Also known as the Palace of Justice. I don't have great photos. But the Conciergerie was the center of the Reign of Terror – the year-long period of the Revolution during which revolutionary fervor spiraled out of control and thousands were killed. It is the famous prison that was basically the last stop before men and women were transported by cart to the guillotine on Place de la Concorde. It is in the Conciergerie that Marie Antoinette was held for an interim before her beheading.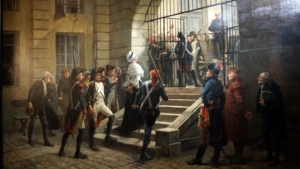 The history of her escape with the Royal Family, their capture, the tearful separation from her eight year old son, then eventually her beheading, is heart-rending. And yet, after visiting Versailles and seeing the disparity between the royalty/bourgeousie and the common people – how gluttonous the parties were, how severe the oppression of the poor – well, Les Miserablés comes into laser focus. You can hear the people singing the song of angry men. You can feel the disgust they had for Marie. "The Austrian" they called her. Once Louis XVI and Marie met the guillotine, the monarchy was abolished.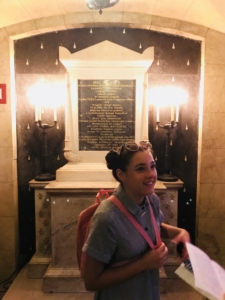 This is Eliza in the cell (now chapel) where Marie Antoinette was held. The walls drip with silver embroidered tears. The rest of the cells you see are barren.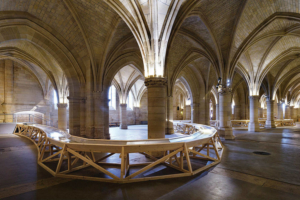 There was also a simple, but brilliantly engineered, water display, that was pumping water up and out of the Seine into the main room of the building. Like a mini aqueduct.
The history of the French Revolution is absolutely fascinating. Such a pivotal turn for their people and country.
Centre Pompidou
Before dinner we headed into the Pompidou. I loved this industrial 3D piece in the lobby. I can't remember if it was titled, but I thought it should just be titled, "Dad."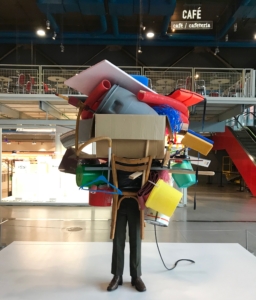 Right? All of us are juggling a million things, or so it feels. But we rarely talk about the pressure on Dads to be successful in their career, super present at home, coach for the little league team, fixer-upper of all house problems, lawn service, church leader,  and number one family-fun provider. More on that another time. For now, a nod to all the awesome Dads out there, giving it their all.
We went straight to the modern art floor. To see works by Picasso, Kandinsky, and Matisse!
Eliza did a few art projects inspired by Kandinsky in elementary school.
One of the best parts of the day though, maybe even the whole trip, was the meal we ate here at George's, on the rooftop of the Pompidou Center. The restaurant is named after Prime Minister Georges Pompidou. Our dear friend Bob encouraged us to make a reservation and I am so so glad we did. I had chicken with mango curry sauce. Doug had the veal. And Eliza had thai egg rolls. It was the most delicious meal we ate in Paris. Worth every euro. And the view. I mean really, look at this view! Notre Dame to the left of the frame.
Bon Appétit!
View from the restaurant was fabulous. But the view from the west side of the Center was also fantastic. Tour Eiffel to the left and to the right, a perfect view of Sacré-Coeur on the hilltop.
After dinner we walked through the Louvre plaza to view the sunset over the Tuelleries Garden. Then on to the Trocadéro to watch the Eiffel Tower light show.
This is the place to be at 11PM when the light show begins. Note: the sun doesn't set until about 10:00 PM during summer in Paris. You're just a little further north than we are here. So we would be walking along in the evening about 9PM, suddenly realizing we were exhausted, but sunlight was still coming down strong. It made for late nights, but Paris is called the City of Light for a reason. It's aglow after dark.
We found a créperie right across from the Tower, took our warm crépes with nutella and banana, up the steps of the Trocadéro and found a cozy spot to sit and take in the view.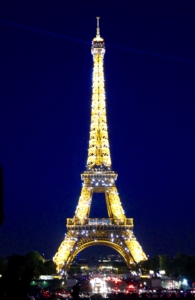 Here go the sparkles. A little video for you as I wrap up this post. Sound on s'il vous plaît!
More France pics and tips coming soon.
Oh Paris… we love you.