Another book review this week, and I can't say enough about the import of these courageous stories and the effort to bring attention to an often faceless and nameless group.
Friends, please consider purchasing this stunning book of refugee interviews. Each story is its own unique heartbreak. Each narrative a chance to better understand the world and those who are in search of the basic necessities we take for granted. All proceeds from books sales will help fund refugee awareness.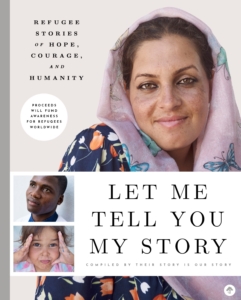 The book was compiled by TSOS (Their Story is Our Story) in an effort to bring readers face to face with refugees. To replace fear with consideration, misconception with understanding, and indifference with compassion. I've read every story, studied each face. The photographs and paintings are full of beauty and dignity. I've read a number of the stories to my children and we have been so moved by these stories of survival.
TSOS knows it is difficult to read story after story of upheaval, trauma, and violence, but in these person-to-person connections they have found a shimmering light, incredible resiliency, and hope that allows some of the world's most vulnerable people to keep holding on. The featured portrait I used as a cover image above was painted by Elizabeth Benson Thayer. Oil on linen. And she titled it Holding On.
A reverent salute to my friend Melissa Dalton Bradford and her TSOS family for their diligent, compassionate work. This is a treatise on true humanity that helps us see our own lives and histories through the powerful lens of refuge.
My full book review is at Segullah today. Book available on Amazon. And please consider sharing my Segullah review.
As immigration moves once again to the political forefront this week, stories like this have potential to remind us that we have an opportunity and a responsibility to see all of God's children as valuable and important.