So here's the question. Two mouths to feed. Do you use one spoon or two?
If you're a germophobe you might want to stop reading right about here. If not, does the thought of feeding two babies with the same spoon gross you out? Maybe just a little?
Well, here's the deal. With both sets of twins, initially I separated spoons and bowls. Two sovereign mini-meals of rice cereal with selected fruit and veggie. Stirred to perfection on the counter. Might have been a hold-over fear from those NICU days. Share germs? Oy! No way! We were sanitation nazis for the first six months!
But as our babies got older, hungrier, and more proficient with solid foods, I got lazy and went to one spoon. It's SO much faster. Less messy. Dirties less silverware and bowls. And truthfully, I had a heckuva time juggling spoons and remembering which spoon went with which mouth!
One spoon is simplified, streamlined feeding. Easy and effortless.
Now. Enter complication: Last week I noticed a suspect sheen of mucus on Gordon's upper lip. The beginnings of a cold, maybe?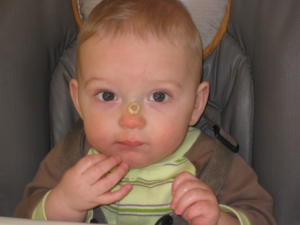 (How this cheerio landed itself smack dab in the middle of Gordon's face I don't know. But it made the girls giggle.)
I stood at the crossroads: Do I continue feeding Spencer with the same spoon?
(Very brief moment of deliberation…)
Yup!
Rationale: Not once have I been able to contain one twin's illness. No matter how much I wash, quarantine, or clorox. Twins share everything. Especially germs. Always.
It's a nightmare trying to keep pacifiers separate (unless you color-code). They chew on the same toys. Nuzzle up next to each other to play, swipe a balled fist under their drippy nose then pick up a toy and drool. Next thing I know, brother has that same toy in his mouth, drooling. And we've already talked about spoon juggling.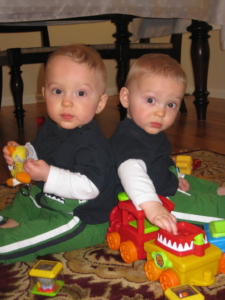 The latest science
I've read
encourages
germ exposure. Scientists say early germ exposure boosts immune function and decreases risk of allergy-related disesases.
So what would you do? Any microbiologists out there? One spoon or two?
If you're a twin parent, I want to hear from you. I promise to tally and post the results.
For fun. Here's one more angle. My experience shows that one twin usually eats more than the other. Sami always finished Ali's bottles. Spencer now finishes Gordon's. Anyone else?
Waste not, right? (Despite microbial sharing.)