I was combing Eliza's hair and knitting it into braids when I saw them. Two men in suits, walking into the house across the street from us. I herded my girls to the kitchen window to watch.
It was the morning after a death. Miss Georgia, at age 101, had passed away. I wanted my girls to understand. Death is nothing to fear. We come. But we must also go.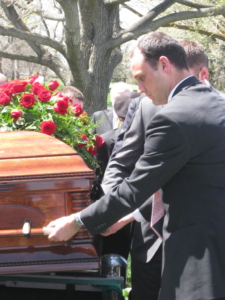 We talked about the body and spirit, the fluidity of life. I explained what was happening in terms their little minds and hearts could understand. So I thought. And then Eliza asked if Miss Georgia would be walking when she came out of the house. I had to explain some more.
I told them part of living is… dying.
My Mother-in-law pulled into the driveway as they were bringing Georgia's body out of the house. She spoke with the men in suits as they closed the door to the suburban hearse. And when she came inside she mentioned this poem by Emily Dickinson.
The Bustle of a House
The Morning after a Death
Is solemnest of Industries
Enacted upon Earth–
The Sweeping up the Heart
And putting Love away
We shall not want to use again
Until Eternity.
That was two weeks before Grandma passed away. Now the bustle in Georgia's house, as well as Grandma's is mostly over. Yet I keep mulling those words.
"The Sweeping up the Heart. And putting Love away."
What a process. Gathering the pieces of our hearts after they have broken at the loss of someone we love.
The funeral program is still on the counter. And the roses from her casket. I think of her moment after moment throughout the day. Wondering when she might visit. If she will peer over that wide invisible gap that separates us and look in.
Maybe it is not so wide?
Monday was the perfect day for a funeral. Blue sky with a warm breeze. The sun brilliant and burning. Doug wore his brightest tie. The girls and I wore colorful dresses. Because Grandma would have liked it that way.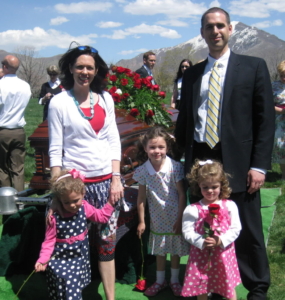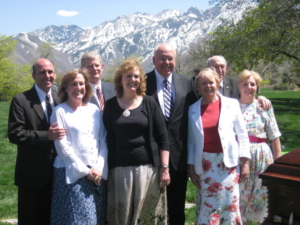 Grandma's children and their spouses.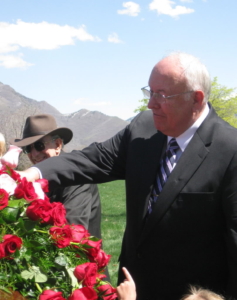 My Sweet Dad.
Sunday evening I heard her music. That perfect crystalline voice set to pictures of her on the stage, one arm slung through Grandpa's elbow, kneeling with her children, singing with her sisters. I wasn't prepared to hear her voice.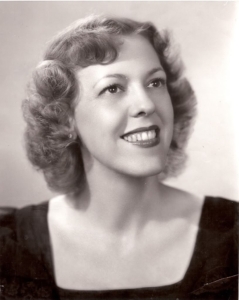 Or see her paintings displayed – all those water-color memories – wispy yet vibrant. Or to feel her hands. So cold and unlike the last time we touched when they were warm and damp.
That night we descended on her home. Squeezed into her living room. All of us. Family. Together. I loved the quilts scattered in her backyard, stitching a familiar pattern. The children at play. The birds in her birdbath.
Everything was in its place. Just how she would have wanted it.
The men practiced their musical number. One of her favorite hymns. It felt heavenly.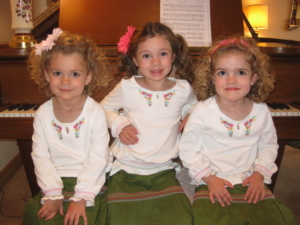 But I have to disagree with Miss Dickinson on one point. At least for now. I can't put this love away. Not yet. I'm not sure where to put it. Or what to do with it.
And I'm not past wanting to use it.
I held it in its proper place throughout the services, like the black purse I tuck neatly under my arm. Even during my talk, I held onto it tightly. Never letting the contents spill out onto the table, for everyone to inspect. I came close during the family prayer by Uncle Richard. But at the graveside ceremony I was too distracted by Ali's whimpering over her ripped pull-up to even concentrate.
I'll never forget this image. My daughter jogging through the cemetery to her Daddy, pull-up slinging around her ankle like a small hula-hoop, her dress hiked up to the waist with her little bare bottom glowing like the moon. Burned into my psyche. Forever. Good thing Grandma would have laughed.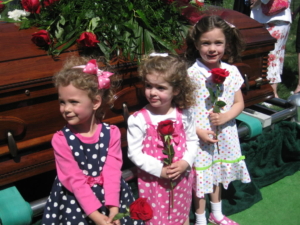 Tonight, however, this did me in. Caught me completely unaware. And the tears came without warning. Everything in my purse tumbled out.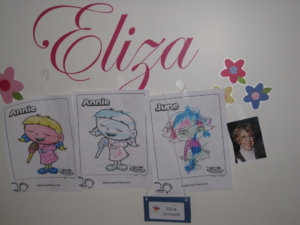 Grandma's picture. Carefully cut out of the funeral program with green blunted scissors. Tenderly taped to my daughter's wall, above her bed. Purposely placed next to all her other "treasures."
She found the program on my bed stand this morning and asked if she could have it. I said, "Of course."
During a trip down to her bedroom for pajamas, I saw her tiny memorial. And it stopped me in my tracks.
At bedtime I told Eliza how happy I was to see Great-Grandma's picture on her wall. She peeled it off slowly, folded the tape down and placed it next to her lamp. "Now I can hold it and look at it when I want to."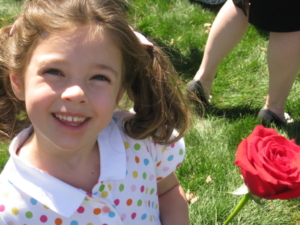 Grandma would be delighted. Maybe she's already noticed – bridged the gap and looked in.
I hope so. Because I'm having trouble sweeping up my heart and putting this love away.
Eternity seems a long ways off.
Learn more about Grandma here. Her love for life was unfettered.