It wasn't long. It wasn't much. But boy did it feel indulgent.
Doug's mother was watching the kids. I had three hours to run errands, do a little shopping, and look for a new dress to wear to a black tie event (I know – exciting! I rarely dress up, put on heels, or wear something shiny).
So I did some nosing into nice stores, learned that Ann Taylor left the mall two years ago (Wha? Where have I been? Oh yeah. Not at the mall.) I found some gorgeous things but the price tags equaled the gorgeousness and I just couldn't swipe the card, so I shuffled out of the mall empty-handed and started the car.
Then I saw it. One of our favorite
bakeries
from Virginia. It made its debut in the Beehive State last year so I grabbed my purse and walked in. I had one mission, and one mission only. To order a piece of Cinnamon Creme Cake. I'm in love with this perfectly moist cake – its golden center, with ribbons of swirled cinnamon and crumbled streusel on top.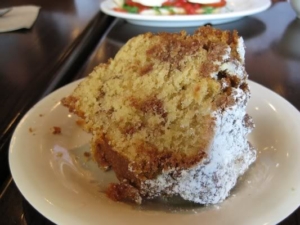 I scanned the stands of baby bundt cakes, cream cheese brownies, tangy lemon bars, and chocolate macadamia cookies. No creme cake.
"I came in for a piece of your Cinnamon Cream Cake. But it doesn't look like you have any" I said to the girl behind the counter, audibly crushed that the last slice was probably served up during lunch.
"Let me check" she answered as she swiveled on her heel and surveyed the counter behind her.
I eyed it first. One piece standing lonely on a platter of brown crumbs.
"Look at this!" she exclaimed. "One piece left! Just for you!" She grinned – genuinely happy to have made my day. Little did she know it had been months since I'd run errands alone. Little did she know that sitting by myself during daylight hours would feel like an absolute luxury. And little did she know that the availability of this particular piece of cake (sadly) was going to make or break my day.
Well… it, she, the serendipity of it all, made my day.
So I sat down in a quiet corner with my back to the rest of the tables, sank my fork into cinnamon divinity, and closed my eyes. After smashing every single crumb into the tines, I set my fork down and opened these.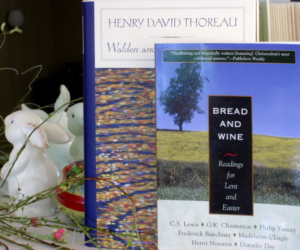 I've never read
Walden
. It's been on my shelf for a couple years now. 'Tis time.
"To be awake is to be alive." "Our lives are frittered away by detail. Simplify, simplify, simplify!" Good stuff. Annie Dillard did her thesis study on Thoreau and I'm no Annie but I'll let you know what I find.
I also began perusing
this collection
of Lent and Easter readings (which I stumbled upon while cruising Amazon last month). I'm liking it just as much as I did the
Advent
book compiled by the same editors.
Like I said, it wasn't much and it wasn't long. But boy, did it feel indulgent.
Oh! And the black tie event? I borrowed a dress from a friend who saved the day. Doug bought a new suit. This guy never buys anything for himself. I told him his fuzzy tie, slacks with threadbare knees, and suit coat with spit-up stains would have been fine (wink), but he didn't believe me. What we thought was going to be a non-event because we wouldn't know anyone, turned out to be an absolute delight. The Governor was there, President Uchtdorf of the LDS Church, and a number of other prominent peoples. We laughed, ate good food, and left totally inspired. It was a wonderful evening. I had to twist Doug's arm for this picture, but isn't he handsome in his new suit?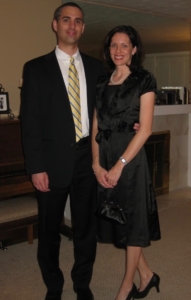 Sometimes indulgent is good.
So good.
Have you done something indulgent lately? What are you reading right now? I'd love to know.