It was all the chasing of kids in the front yard. The yelling for wanderers, the screeching, the dawdling, the back-arching, the wailing. By the time I snapped, wrangled, and cranked everyone into their car seats, I was wondering, is this worth it?
I flopped into the driver's seat and of course, it began to rain. The tin on the car roof – the drops splashing onto the windshield – were deflating. But everyone was strapped in and I wasn't about to reverse the process.
"Who's ready to be a good sport and do our Easter Walk in the rain?" I asked with energy.
"Me! Me! Me!" three voices squealed from the back.
"Alright then!" I said. And I ran inside, grabbed two umbrellas, and told the team we were forging ahead.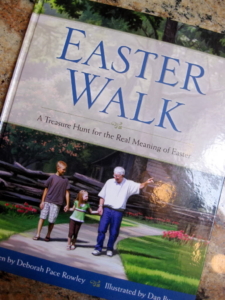 Our Easter Walk has become my favorite Easter tradition. Based on
this book
by Deborah Pace Rowley, it's a short "Treasure Hunt for the real meaning of Easter."
You can do it anywhere – a park, a wooded trail, your own backyard.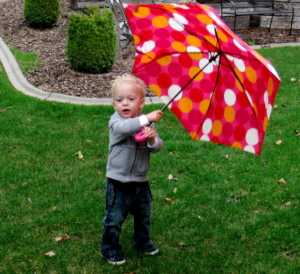 We chose my Mother's yard for its wide spaces, the variety of flowers, the fruit trees in bloom, and her garden lying fallow. It's a nature preserve of its own.
Rowley's book tells the tender story of a young family who recently lost their mother. Their Grandfather starts a thoughtful tradition that the children look forward to each year. He takes them on an Easter walk and they look for "treasures" that tell the story of the Savior's last week – a journey that reminds them they will see their mother again.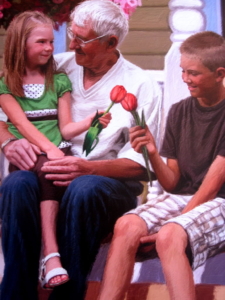 I showed the girls a few pictures from the book then sent them out to find their first treasure.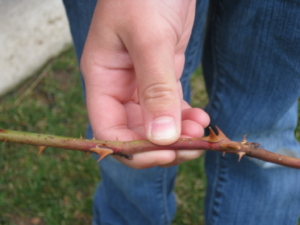 Something pointy and sharp that represented the crown of thorns. They found a clipping from one of my Mother's rose bushes.
"And they clothed him in purple, and platted a crown of thorns, and put it about his head" (Mark 15:17).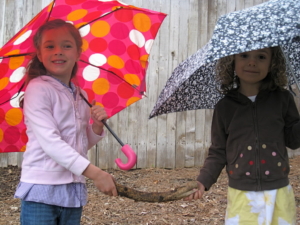 Next they found some wood (or something made of wood) to represent the cross.
The girls discovered a pile of kindling by the fire pit and to my surprise, tossed on top was an old branch with rusted nails.
"And [Jesus] bearing his cross went forth into a place called…Golgotha: Where they crucified Him" (John 19:17-18).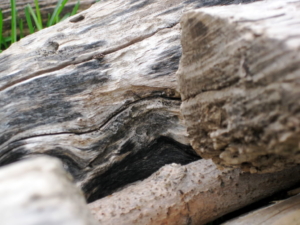 I didn't think to take a good picture, but it provided an excellent teaching moment. I explained that the soldiers nailed Jesus to the cross, that he could have called down a band of angels to defend him, but he didn't. He chose to die for us. "He must really love us to go through pain like that" I said.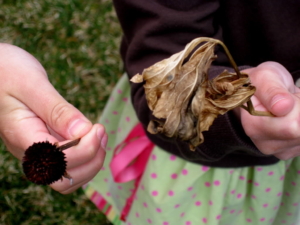 Sami and Eliza then found these dead leaves and flowers – reminders of the Savior's death.
"And when Jesus had cried with a loud voice, he said, Father, into they hands I commend my spirit: and having said thus, he gave up the ghost" (Luke 23:46).
I had to explain what "gave up the ghost" meant and what happens to our bodies when our spirits depart – but each clue was accompanied by such a gorgeous illustration by Dan Burr (from the book), it made the telling easier – the explanations more meaningful.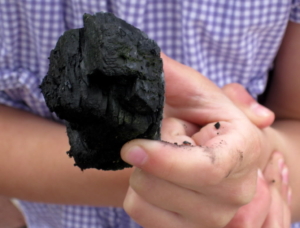 Next, Eliza found this piece of charred wood in the fire pit – something black to represent the darkness that fell over the earth after the crucifixion, as recorded in both The New Testament and
The Book of Mormon.
"And there was a darkness over all the earth until the ninth hour. And the sun was darkened, and the veil of the temple was rent in the midst" (Luke 23: 44-45).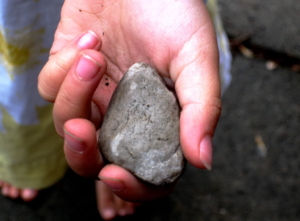 Ali found our rock – a smooth gray one to represent the stone placed in front of the tomb.
A friend of Jesus "wrapped him in the linen, and laid him in a sepulchre which was hewn out of a rock, and rolled a stone unto the door of the sepulchre" (Mark 15:46).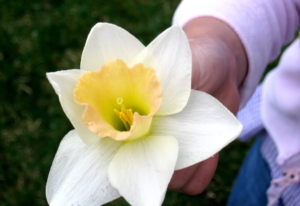 And the final clue was the girls' favorite – something alive and beautiful to represent Christ's resurrection.
Eliza picked a white daffodil.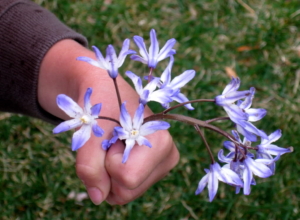 Ali found a handful of snow glory.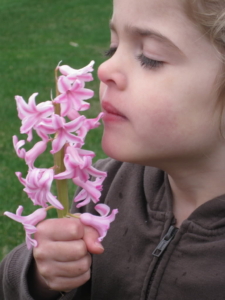 And Samantha picked a bright pink hyacinth. We crowded around her treasure to breathe its rich scent. The hyacinth is one of those smells from my childhood – a smell that conjures up all sorts of Easter memories and the fun of hunting for Easter baskets outside.
"And the angel answered and said unto the women, Fear not ye: for I know that ye seek Jesus, which was crucified. He is not here: for he is risen, as he said" (Matthew 28:5-6).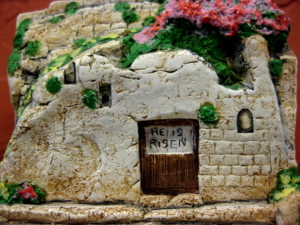 This small replica sits on my Mother's mantle. She bought it on Ben Yehuda street while visiting Jerusalem.
As I loaded everyone into the car to go home for lunch, I felt different. More patient, more grateful. These kind of moments don't just happen. We have to push past the inconvenience. Parenting is effort, intention, and choosing to do things on purpose.
"How did you like our Easter Walk?" I asked the girls.
They roared happy cheers and chattered over their favorite finds. The rain didn't bother them. It didn't bother me. In fact, the whole experience filled me in a very whole and satisfying way. Seeing my girls develop an understanding of why we celebrate Easter was worth every back-arch, every wail, every pre-car seat chase.
"We talk of Christ, we rejoice in Christ, we preach of Christ, we prophesy of Christ, and we write according to our prophecies, that our children may know to what source they may look for a remission of their sins" (2 Nephi 25:26).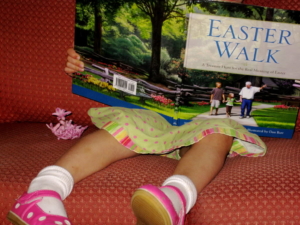 If you'd like to do your own Easter Walk, here are the six clues. You can make up your own clues if you'd like – you don't need
Rowley's book
– but I must say it's been a lovely addition to our library.
Clue 1: Mark 15:17 – Something pointed and sharp to represent the crown of thorns.
Clue 2: John 19:17-18 – Something made of wood to represent the cross.
Clue 3: Luke 23:46 – Something dead to represent the Savior's death.
Clue 4: Luke 23: 44-45, 3 Nephi 8:23 – Something dark to represent the darkness in Jerusalem and in America.
Clue 5: Mark 15:46 – Something hard and round to represent the stone placed in front of the tomb.
Clue 6: Matthew 28:5-6 – Something alive to represent that Jesus Christ is alive again.
Easter Blessings.