I stand like the donkey, waiting and tied –
only I can decide. Still I wonder,
will he clothe me?
I kick rocks, spy over the jagged glass
at the masses splitting branches,
leaving Bethany.
I imagine these two sisters and their house
doused with death, and miracles –
women who knew the price of spikenard.
I pull up my hair, slicked wet
with sweat. Mary let hers down
to wipe his feet, a token of her knowing.
Palms dance in the air above the dome –
roaming like feathers plucked and floating.
The people spread garments in the way.
Boy scouts with green neckerchiefs cheer –
clearing the road for nuns smocked in black.
Their beaded crosses swaying.
I am moved – thrust forward, caught in the throng.
But I belong. So I sing.
All is triumph.
All Hosannas.
All a descent into the city wall.
A descent into death – beneath us all.
Respect reigns and bells ring
the sound of his coming – my Deliverer, my King.
Remembering Palm Sunday in Jerusalem, 1995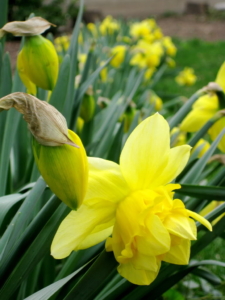 So begins the holiest week of all human history.
And our daffodils (nearly all of them) opened in celebration of it.
My thoughts are of Him today.