Last Monday I spoke with a good friend who is Catholic. She's dear as my own mother. She told me about Mass on Palm Sunday and how she knelt like she usually does during the service, but at some point felt so humbled by what Christ had done for her, she didn't want to get off her knees. Each day of the Holy Week is significant to her. She remembers each event.
While I love my Mormon roots, I long to celebrate the Holy Week with the greater Christian world. I would love an Easter vigil service, a special lesson on Palm Sunday, a way to remember the rest of the Holy Days. So I decided to make each day as significant as I could. In small ways, small remembrances, and by reading His words.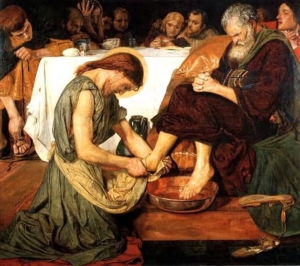 Holy Thursday
Thursday I read to the girls from John 13 about the Last Supper. How Jesus and his apostles shared a special meal for Passover – how they must have talked in hushed voices – cocked their ears and cracked their hearts when Jesus lay hold of the sop. I told them how he broke bread. The same way we eat bread and drink water on Sundays – in remembrance of Him.
I showed them this picture of Christ washing Peter's feet and explained that love means serving, helping, doing kind things. For Jesus taught, "If I, your Lord and Master have washed your feet, ye also ought to wash one another's feet."
Hands that created the earth filled a basin, wrung a cloth, and wiped dusty feet clean. Grown men must have wept as he bent and bowed over them.
Later that night, I read and wondered. Do I serve enough? Usually, I sit in church with a little one on my lap, and I pass the sign-up sheet on down the row. I want to help. But I know my limits. Christ said to Peter, "If I wash not thy feet, thou hast no part with me." I read this and thought of the washings I am doing. The washing of laundry, of dishes, of tabletops and tiny hands. These are holy works too, I hear Him say. And I am filled as I remember, God wants me first to take care of my own, and when I am able, my circle will widen.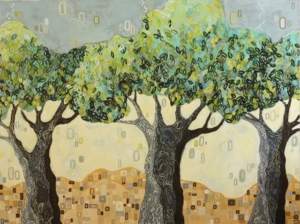 I told the girls about Gethsemane – how it looks there, on the western slopes of the Mount of Olives. I told them about the olive trees – knotted and twisted – how their branches flare and spiral upward into sprays of tiny green leaves. I tried to paint an image for them of those trees – how they caught blood and tears that Thursday night when the Son of God knelt below their boughs and changed the world.
I spoke simply to the girls. "He prayed to Heavenly Father. He felt every pain you have felt. He felt every pain every person in the world has felt." Like me, they do not understand, cannot understand, so we return to the phrase, "He did it because he loved us."
The English author Graham Greene wrote,
"You cannot conceive, my child, nor can I or anyone, the appalling strangeness of the mercy of God."
Appalling indeed. Everything he suffered from Gethsemane, to the cross, and the hours in between, was appalling. We cringe to think of it. And it is strange too. That somehow, his suffering makes it possible for us to forego suffering. If we will run to him, change, repent.
I love this piece of artwork (above). It was painted by my friend
Leslie
and is currently on display in Washington DC. It is called
Allegory
.)
Good Friday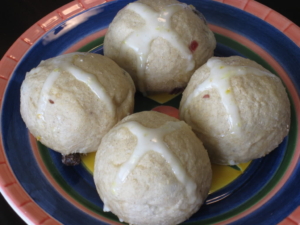 We ate hot cross buns. I ordered them from the local bakery. Eliza kept calling them "hot boss crumbs" and by the end of the day I was so tangled up and tongue-tied I quit saying the words all together.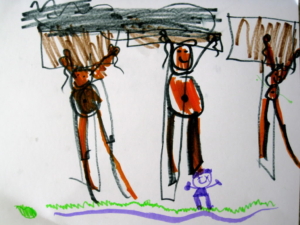 Later in the afternoon she drew this picture. It is Jesus on the cross with dark clouds above him and Mary at his feet. Even the smallest of hearts can feel the greatness of what Christ did for us.
While driving through a parking lot that evening on our way to dinner, I saw a fellow wearing a black t-shirt that read, "I Hate The World." The message was so affronting and so completely diametrical to John's words: "For God so loved the word… that he gave his only begotten son."
Saturday
After showing the girls this picture, Eliza described Saturday as "a day of wondering."
A day of wondering it was.
We cannot understand how hard it must have been for Jesus' weary band of disciples to believe that he would rise in three days. No one had been resurrected before. All they knew appeared to crumble as Christ was nailed to the cross. It seemed the world had been right and he had been wrong.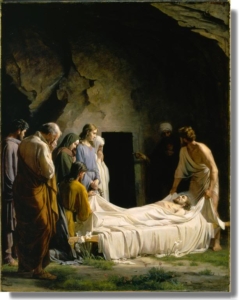 We painted eggs that evening. It was the girls' favorite activity. Doug and I enjoyed it too.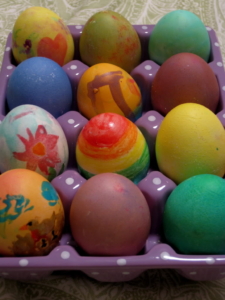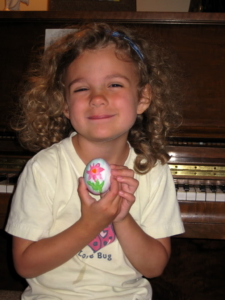 Easter Sunday
Easter morning was all about Easter baskets for the first hour. We hid the baskets in all sorts of nooks around the house.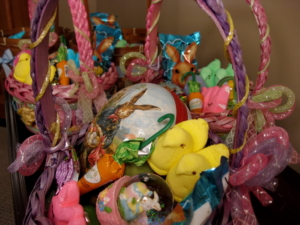 My favorite additions this year were the snow globes and the Lindt chocolate carrots. The carrots were a hit, and so were the globes. But after the first globe burst into smithereens on the bathroom tile I had second thoughts.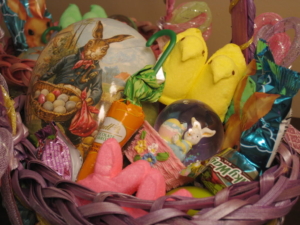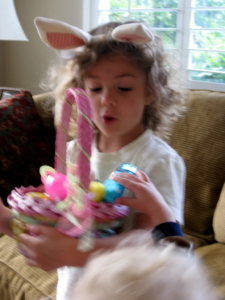 We had to help the boys find their baskets fast, before they emptied their sisters.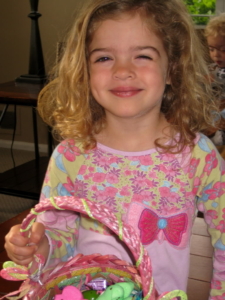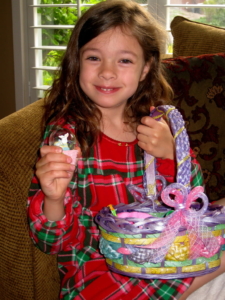 I love the sleepy eyes.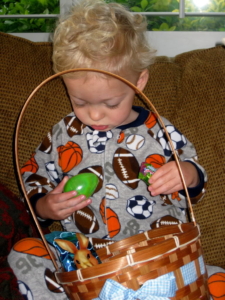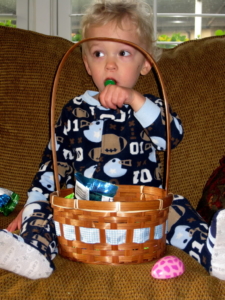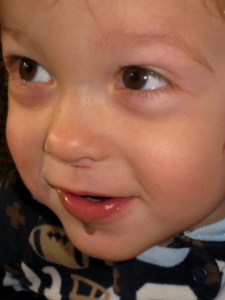 And the drip of chocolate on Spencer's chin.
Finally, when all the sugar was out of reach, breakfast was over and I finished getting the kids dressed, we sat for a few moments and talked about this holy place.
The Garden Tomb.
No statement is more glorious than the one carved into the tomb's wooden door. "He is not here. He is risen!"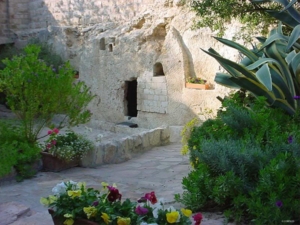 I had to speak in our Sacrament meeting Easter Sunday, so honestly, all morning I felt like I was going to throw up – trying to do baskets, feed the crew breakfast, get everyone ready, get myself ready, trim down my talk and make it to church early enough to sit in a pew. (Thank goodness Doug was home.) I didn't have time to take pictures of the girls in their dresses. I didn't even buy the boys something new. Poor things were still wearing their Christmas corduroy.
But when we finally settled onto the bench, with my children and husband spread around me, I felt calm and grateful. We sang the opening hymn and I sang loud. "Christ the Lord is Ris'n Today!"
It was a good week. Good to think deeply on all of these things – to give Easter the attention it deserves. All the goodies and bunnies were shuffled into the backseat most of the time. And I liked that.
Tonight, however, I surveyed the stash of leftover candy and thought, Wow. There is nothing holy about this.
And then I ate a chocolate marshmallow rabbit.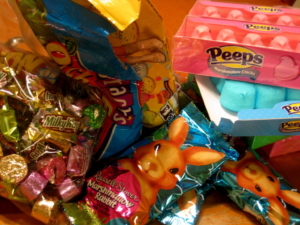 The rest is hiding in our bedroom so the kids won't eat it.
The problem is, I will.
How was your Easter? What did you do to make it meaningful?