It is morning. The dark sky is barely hinting blue when I see him. It's just after six and he is pushing a double stroller. I notice his blonde hair – wild and uncombed – caught in a florescent glow as he passes beneath a streetlight. In the stroller are two babies, swaddled tight. Maybe three, four months old. An unusual sight this time of morning.
But all I can think, as we go gliding past, is that somewhere in a warm bedroom under a quilt, a mother of newborn twins… is sleeping. I want to turn around and hug him right there. Yes, we're strangers. But not to the experience of having twins – of having two babies awake in the pre-dawn hours. Hours when more than anything your body craves, wants, begs for, feels as if it might die without… sleep.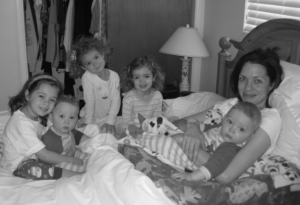 I actually love this picture and all the lazy mornings when our little ones climb into our bed as soon as they wake up.
But you remember the exhaustion, right? Those months when you're trying to figure out if you will nurse your babies, bottle-feed them, or both. You are up most of the night and barely drifting back to sleep when you hear…crying. Not sure which one it is, you fling off the covers, sit up and sigh. Is it the one I just rocked to sleep? Or the other? During those months all days seem to seep into one long droopy-eyed marathon. Simple pleasures like a shower, brushing teeth, and sitting down, feel desperately out of reach.
Bless that hubby's sleepy heart, I think.
And then I think of my own hubby-hero who did his fair share of night feeds – never shirking a single mommy/house-keeping duty. Doug jumps right in the second he walks through the door. Always has. He fixes dinner, plays with the kids, changes a diaper, starts baths. I couldn't do it without him.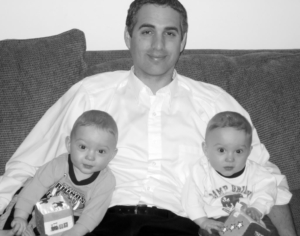 Bless his sleepy, domesticated heart.
There are different seasons of being overwhelmed.
The season of sleepless nights doesn't last forever. My boys have been sleeping through the night since they were six months old. But now, they're so active I'm pretty sure they could give Dash a run for his money.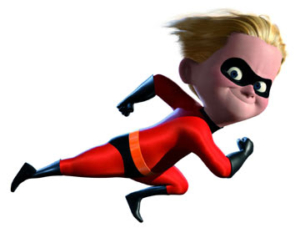 And they're tricky. They don't dash in the same direction – they split. One goes one way, one the other. But ironically, while fully embracing their independence, there are plenty of times when they only want Mom.
Like here.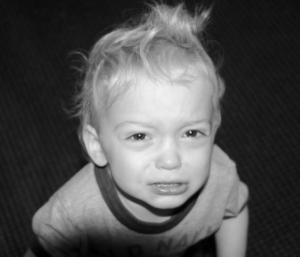 And two of these wrapped around my legs while trying to fix dinner is rough.
Or this.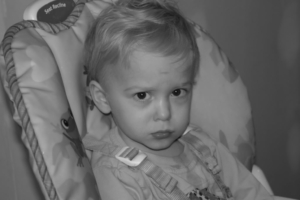 When they're mad at you. And everything you set on their tray gets lobbed across the kitchen.
Then there's this.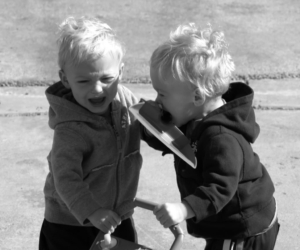 Yes, that is Spencer biting Gordon as they tug-a-war over the little lawnmower. These two get along quite well, but occasionally, it takes some vigilant refereeing and a bit of ingenuity to keep everyone happy.
I'm going gray already (I color every few weeks – there's a confession for you), but not having enough eyes is making me age at warp speed.
Here are the boys on the kitchen table – digging the dirt out of my plant. I blink and they're into something else.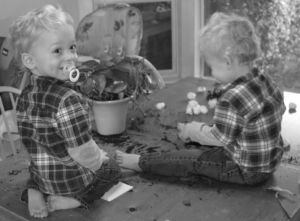 The other day I was trying to round-up all the kids and bring them inside for lunch. The girls scampered over to the neighbors' swing set. Gordon followed. I caught sight of him teetering down the hill and wielding a shovel. I ran to pick him up, leaving Spencer on the front lawn and just as I was topping the hill (Gordon and shovel in arms), I saw Spencer walking in the middle of the street with a white sedan rounding the corner and heading straight for him. I bolted, snatched him up with my free pinky finger (mommy-adrenaline in full throttle) and hauled two screaming, protesting boys into the house. With my chest still pounding, I went back outside and hollered to the girls (who refused to listen) that they needed to come home. In total frustration I thought, I can't even keep my kids safe in my own front yard! This is insane!
Maybe it's that my boys are now a constant spin of ambulating activity. Maybe it's that all five of my children are busy, it's still cold outside yet everyone has cabin fever, and I haven't recuperated from tax season. Maybe I need to accept that this is going to get harder before it gets easier, but I'm finding myself overwhelmed lately.
So I want some feedback.
What makes you feel overwhelmed? How do you cope? How do you keep cool under pressure, in the midst of babies crying? Or when being one mommy with only two hands feels like a handicap?
I don't think you have to be a twin parent to feel this way.
Thoughts?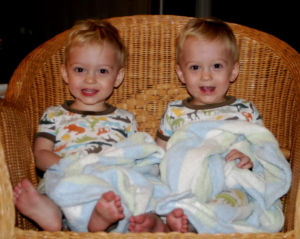 ps – I'll write about the "overwhelming" joy of twins next time. Promise.