Yesterday we dug out the Christmas decor, slid holiday books into our book nook, positioned the poinsettia on the table, hung our advent tree, then flopped onto the couch. All four twins sidled next to me, and we read our first Christmas book of the season. The old favorite by Clement C. Moore, 'Twas the Night Before Christmas.
As the kids scampered off to choose their next selection, I got to thinking. You're probably on the hunt for books to wrap rather than pile onto your nightstand right now. Yes? Maybe I will post our favorite children's books from 2011 before Christmas, rather than after. Thoughts?
For now, here's what I'm currently enjoying.
Cutting for Stone
by Abraham Verghese is a stunning novel about twin boys born in Ethiopia of a secret union to an Indian nun and a British surgeon. These twin brothers, bound by a strong connection to each other and a love for medicine, come of age as Ethiopia hovers on the brink of revolution. Verghese's writing is excellent, and I am loving the story. But I have to warn you, his sordid details and unbridled description of medical procedures are not for the squeamish. I was whisked right back to all those hours in the cadaver lab, dissecting tissue layers, memorizing tendons and following venous pathways. But I like that kind of stuff. So I'm thoroughly enjoying the book. I'm also intrigued by the attention Verghese gives to the twin relationship. It's a gripping story, even if a little hard to stomach.
Everneath by Brodi Ashton –
Brace yourself people,
Everneath
is going to be big. If you want to know what your teen daughters are going to be reading for the next few years, click the link and order your advance copy now. This new YA novel comes out the end of January, but since Brodi is my dear friend from childhood (we both still remember all the words and actions to an awesome rain dance we choreographed on her trampoline), she was kind enough to loan me an ARC version.
I don't start reading until 11PM most nights, but her book has kept me up until 2AM some mornings. It's hard to put down. I don't reach a lot of YA fiction, so it's a change of gears for me. But I am thoroughly loving Brodi's story.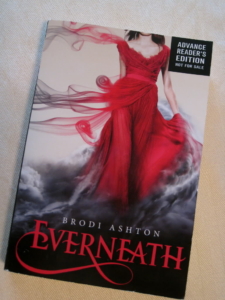 Brodi's heroine, Nikki Beckett, has vanished into the underworld, known as the Everneath. No one knows where she has gone, then suddenly, she returns – to her old life, her family, and her boyfriend Jack. She has only six months before she is sucked back into the Everneath, so she tries to mend the relationships that matter most to her, and escape the grasp of an Everliving (immortal from the underworld) named Cole, who first enticed her to the Everneath. Pulled between two worlds, Nikki has to make the hardest decision of her life. Cheat fate and stay with Jack? Or return to the underworld as Cole's queen. Brodi's book is based on the greek myth of Persephone, queen of the underworld.
The most interesting facet to Everneath is that Everlivings stay alive by feeding off the emotions of humans. They can draw out all the suffering a human feels, take it right from them, easing both physical and emotional pain. Tempting, right? But if you let an Everliving stay around too long, they will rob you of every emotion, even the good ones.
Brodi's book is being published by Balzer & Bray, an imprint of HarperCollins, and was picked up by Barnes and Noble for a stepladder display in January. No small deal if B&N wants your book in their front window for several weeks.
Everneath
will be the first of a triology you won't want to miss. More about Brodi and her journey to getting published
here
.
Segullah's Fall/Winter Issue
. This is our contest issue and I must say the winning essay is riveting, heart-rending, and worth a read. It's the true story of a young mother who loses her four-year-old daughter to a sleeper wave on one of California's northern beaches. In this piece, Brandy Tingey bares her soul about real loss. It is beautiful and hopeful, and it was a privilege to work on her piece.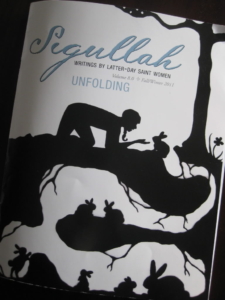 Also featured in this issue is artist, Cindy Ferguson, who does paper cutting. See the cover above as well as this piece below, called Squirrel Village? Pretty amazing. My girls keep stealing this issue off the kitchen counter. They love the underground worlds Ferguson has created. And I'm with them. Her work is captivating.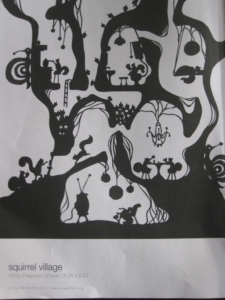 Just a teaser for the journal. I wrote an essay about this crawly friend Eliza happened upon last August, and it will appear in our Spring/Summer issue.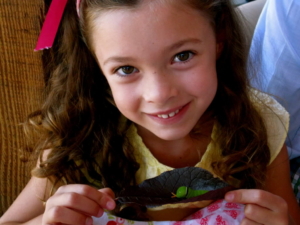 I Didn't Plan to Be a Witch by Linda Eyre
– This was the perfect year for me to read Linda's book. I didn't plan to be a witch, a maniac, a grouch, or the devil herself. But each of those demons showed up at one point or another over the last twelve months. I think I'm going to look back on this year and think,
Wow. That was the year I almost lost my mind
. With the age of my kids, Doug's work schedule, and menopause. Mmm. It's been tough. The copyright is 1988 (my
mother
read this book!), but the ups and downs of mommy-hood have not changed. Linda is still speaking the right language and I value her perspective, her honesty, and her ideas. Her book has been a real comfort to me on those ugly, witchy days. (Thanks Anne Marie).
Lastly, I just started
Tinkers
by Paul Harding. Harding is a graduate of the Iowa Writers' Workshop and won the Pulitzer in 2010. Since I'm not far enough in to give you my own explanation, I'll give you the one on back of the book.
"An old man lies dying. Propped up in his living room and surrounded by his children and grandchildren, George Washington Crosby drifts in and out of consciousness, back to the wonder and pain of his impoverished childhood in Maine. As the clock repairer's time winds down, his memories intertwine with those of his father, an epileptic, itinerant peddler and his grandfather, a Methodist preacher beset by madness. At once heartbreaking and life affirming, Tinkers is an elegiac meditation on love, illness, faith, and the fierce beauty of nature."
Sounds good, doesn't it?
Do you have time to read this month? If so, what's on your nightstand? And would you like our lists of "favorite" books before Christmas? If so, I'll try to oblige.