I still remember what it was like, trying to fall asleep beneath those colored bulbs that trimmed our house the whole month of December. They were so bright they cast rainbow shadows onto my bedspread, sent a cheery glow filtering in through cotton curtains.
It was the significance that had me giddy. Christmas was here.
Sharing a bedroom with my younger brother and sister made it even more exciting. Our little world was charged with energy – the kind that made us feel like our skin might split right open at the thought of Santa coming down the chimney, his reindeer stamping softly on our roof.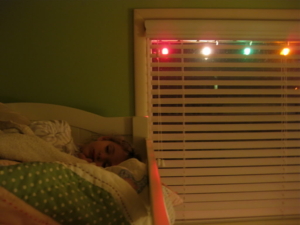 I remember one night in particular when we got to jumping on our beds and laughing so hard my sides hurt. Dizzy from bounding up and down, we collapsed onto our beds in fits of giggles. My brother got us started by simply repeating two lines from Moore's Christmas poem: "He had a broad face and a little round belly that shook when he laughed, like a bowl full of jelly."
Someone's belly could actually shake when they laughed? Like a bowl full of jelly?
The thought had us in stitches. We bared our bellies and tried to shake them. Like jelly. The sight must have been ridiculous. We thought we were hilarious. (Even if our parents didn't.)
I also loved stepping onto the front porch every Christmas Eve as we pranced around, waiting to go to
Grandma's house
. I would step beyond the eaves so I could look past the Christmas lights and carefully scan the sky, convinced I could hear jingle bells somewhere in the black night.
Both Doug and I grew up with the rainbow lights hung round our houses. And this year, something nostalgic stirred in us. We wanted those bulbs for our children. So Doug searched high and low, far and near, and he finally found them at a small hardware store downtown.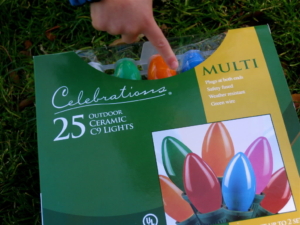 On Thanksgiving weekend, he hung lights, I raked leaves, and the kids dragged each other across the lawn in sleds because the weather was fairly warm (if you kept moving).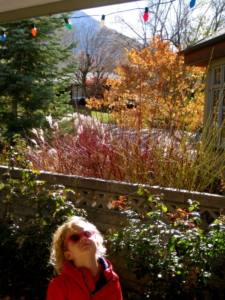 I wish I had a picture of Doug on the ladder, stringing lights. I took my camera outside with that intent, but amid diaper changes and zone defense on the boys, all I got was Ali wearing her shades as she watched the lights go up.
That night, we flung the front door open, raced to the edge of the street and all five kids huddled close to my legs while we waited for Doug to give the word. Together we counted as loud as we could, "One… Two… Three…"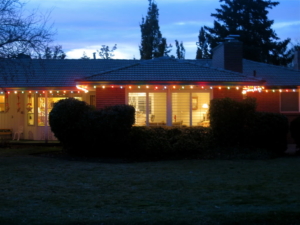 Shazam! As the lights buzzed on for the first time, we shouted in unison, "Merry Christmas!!" Loud enough the neighbors across the street heard us.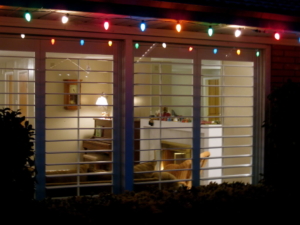 And there we were, all lit up. The house, the living room, and us.
The lights, the decorations, our Advent readings that began with John 8:12 reminding us of the
True Light
(our list of Advent Readings next post), and our "secret pal service." All of it has me glowing.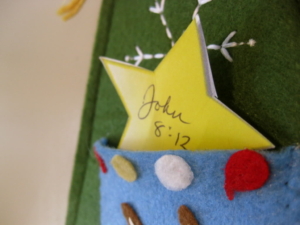 But no one else is excited around here…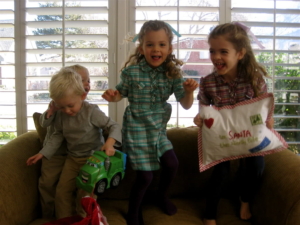 Nope.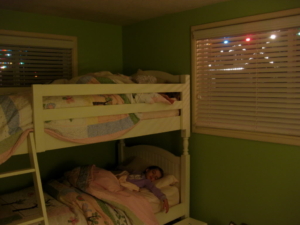 That night, I slowly pushed the girls' bedroom door open to see if they were finally asleep. A rainbow shadow reflected off the white trim of Ali's bed, I paused over Sami's dangling arm as I took in their faces, brushed my fingers across their warm cheeks.
Christmas makes me feel like a child again.
Past memories mingle with memories in the making. I reel back and forth. I am the parent. I am the child.
I remember a few of the gifts I was given, but more than anything I remember the magic, the hint of mystery in my mom's voice, the sparkle in my dad's eyes when he told us stories, our breath puffing visible clouds into the air as we crouched in the bushes, waiting for just the right moment to set our secret gift on a doorstep.
I want that for my children.
I want them to be filled with light.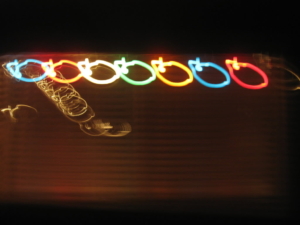 The lights on our house are no show-stopper. You won't find any cars lingering at our bend in the road. But that old-fashioned glow is making me happy, charging my little life.
Yes, it's Christmas, and I am all lit up.