This painting by Brian Kershisnik of the Nativity always makes me wish I was one of those angels, crowding shoulders and bending long, for a glimpse of that tiny babe in Mary's arms. To see Him in the flesh, to know what had just been set in motion, to hear Mary's voice as she whispered what she knew and wrapped her fingers around his. It's almost too sacred to imagine.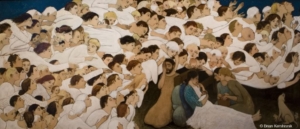 Kershisnik's painting reminds me of something Madeleine L'Engle wrote:
"Was there a moment, known only to God, when all the stars held their breath, when the galaxies paused in their dance for a fraction of a second, and the Word, who had called it all into being, went with all his love into the womb of a young girl, and the universe started to breathe again, and the ancient harmonies resumed their song, and the angels clapped their hands for joy?"
I like to think we were there. Clapping our hands for joy, singing that ancient harmony.
This season of Advent, as observed by many Western Christian Churches, is a time of expectant waiting and preparation for the Nativity of Jesus. It marks something momentous: Christ's coming into our midst. Not just in the past. But here and now.
In our own ways, we anticipate His coming. We light candles, count days by filling tiny doors with treats, peel paper chains. But this year I wanted to do things a little differently. I wanted us to read His words, and serve Him (by serving each other).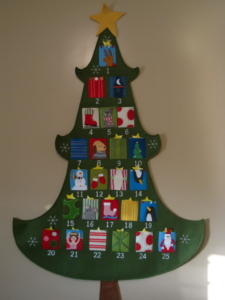 So into each pocket went a small prize and a yellow cut-out star.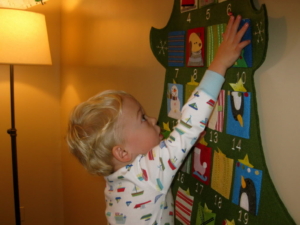 If it's your day to empty the pocket, you claim your small gift (like a pencil, stickers, lip gloss – which I can't put in until right before it's time or it will go missing!) and then you give a gift. A gift of kindness, by doing something for someone else in the family like making their bed, putting their clothes away, emptying the dishwasher. Then you leave your star at the place of service as a token of your doing.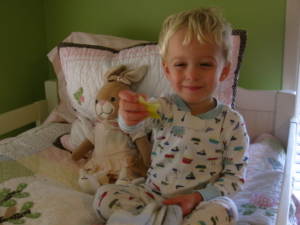 Spencer helping me make Ali's bed.
On each star I've written a scripture reference – mostly passages from the New Testament with some from The Book of Mormon.
I know many of you are not Mormon (or LDS), but I believe you can still appreciate this book for its remarkable spirit and history. It documents the civic and religious history of a people who came to the American continent hundreds of years before Christ's birth.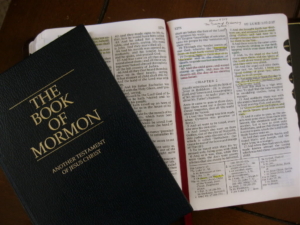 Prophets among these people (one of whom was a contemporary to Jeremiah in Jerusalem) prophesied of the Messiah, promised he would come. And although these people would not see him at his birth, they would see the signs:
A day and a night and a day with no darkness – so powerful in its symbolism.
And a new star in the sky.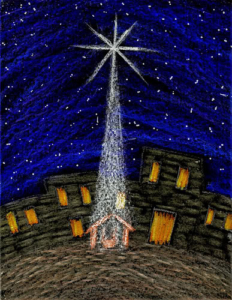 One of the readings I included from The Book of Mormon is about a people who were persecuted for their belief in Christ's coming. Many of them were about to be put to death. Yet, they continued to look with longing and faith for the signs.
At the last moment, when their hopes hung as desperate prayers, a Nephite prophet, bent in earnest pleading for them, heard a voice saying, "Lift up your head and be of good cheer… for on the morrow, come I in to the world" (3 Nephi 1:13).
And on the morrow, Christ came. The King of Kings arrived in a lowly manger, bringing with Him the signs that had been foretold – signs that testified of His birth.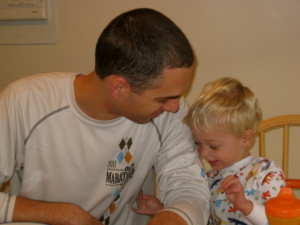 Each day we sit round the table and read our Advent reading. Sometimes it's over breakfast. Sometimes it's over dinner. Usually, it's loud and boisterous and I compete with the boys (and their car noises or banging of plates) to be heard. I interrupt myself to explain big words, set the scene, try to bring all those wandering eyes back to mine.
But we do it. And bits of truth float in the air, land softly in our hearts. One layer, one line at a time.
Here's the list of readings I put together.
Day 1 John 8:12 I am the Light of the World
Day 2 John 3: 16-17 God so loved the World
Day 3 Luke 1: 26-33 Annunciation to Mary
Day 4 Luke 1: 46-49 Mary's Response
Day 5 Matthew 1: 18-24 Annunciation to Joseph
Day 6 Luke 1: 39-45 Mary visits Elizabeth
Day 7 Helaman 14: 5-12 Samuel the Lamanite tells of the Signs
Day 8 Luke 2: 1-5 Joseph and Mary go to Bethlehem
Day 9 3 Nephi 1: 4, 8-15, 19-21 Signs Fulfilled in America
Day 10 Luke 2: 6-7 The Birth of Jesus
Day 11 1 Nephi 11: 8-23 Nephi's Vision of Mary (592 BC)
Day 12 Mosiah 3: 5-8 King Bejamin prophesies of Jesus' Birth (124 BC)
Day 13 Alma 7:10-12 Alma prophesies of Jesus' Birth (83 BC)
Day 14 Luke 2: 8-12 Annunciation to the Shepherds
Day 15 Luke 2: 13-18, 20 Angels and Shepherds Proclaim the News
Day 16 Luke 2:19 Mary ponders these things in her heart
Day 17 Luke 2: 25-35 Simeon sees the Christ-child
Day 18 Luke 2: 36-38 Anna the Prophetess sees the Christ-child
Day 19 Matthew 2:1-12 The Wise Men visit Jesus
Day 20 Isaiah 9:6 For Unto us a Child is Born
Day 21 John 10: 9-15 Christ is the Good Shepherd
Day 22 Matthew 11: 28-30 Christ says Come Unto Me
Day 23 Matthew 25: 31-40 When saw we thee a stranger?
Day 24 John 14: 2-3, 6, 15 I go to prepare a place for you
Day 25 Mark 12: 30-31 The Two Great Commandments
If you don't have a copy of The Book of Mormon and would like one, I will happily mail you one – my gift to you – even if you live far across the world. (Just send me an email:
[email protected]
).
It is Sunday morning and we just finished our reading. It was about the Virgin Mary and how the prophets saw her, holding a child in her arms. They described that image as a gift of love that would shed itself abroad in the hearts of men – one that would be most joyous to the soul.
And I clapped for joy.