Dozens of them. Golden yellow trumpets. Lifting chins to the morning sun.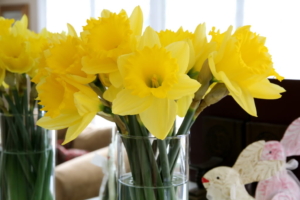 For a whole week daffodils have graced our mantle, tables, counters, and dressers. Doug buys them each year through the American Cancer Society fundraiser, Daffodil Days. A simple, beautiful way to honor those whose lives have been touched by cancer.
He came home early one evening (before the kids were in bed) bearing bundles of tightly bound petals. So many kinetic blooms of potential made for curious girls who huddled around their daddy, wanting to be a part of his plan.
They snipped stems and untied yellow ribbons. Each ribbon dangled words of hope. Hope for less cancer and more birthdays. Hope for heavenly reunions and lengthened lives. Hope wrapped up in one flower.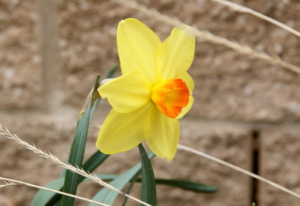 The daffodil is the first flower of spring. First to nod its head against the gray world. First to bare its bright color, beckon new blossoms, welcome green blades of grass.
As Doug scissored, filled and arranged, I heard him tell the girls why they will have daffodils by their beds. "To remember a miracle." he says. "The miracle that Grandma Ronda is still with us."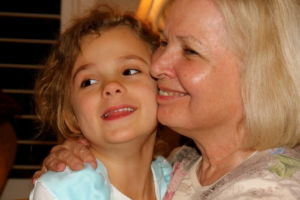 My Mom's second brain tumor is lying quiet, holding still. So we count each day, give thanks, and tell
her story
.
My Mother arrived that night to read with Eliza. Something she's been doing for almost a month now. Most weeknights I can't find enough quiet time to read with my oldest girl until she's so weepy-tired we have to abandon the books. I didn't ask my Mom to help, but she saw the need and offered.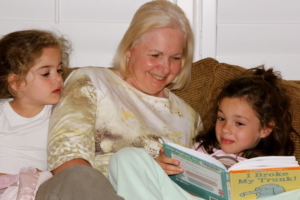 So she comes while I'm putting the twins to bed, cuddles onto the couch with Eliza and listens to her read. She's more than a pronunciation guide; she is love. The two of them sharing books, arranging words, turning pages together so I can focus on the boys… it touches me even now to type it out. She's a gift to me, and Eliza.
To her surprise (that daffodil night), Doug was home. Home for her. So he could hand her the daffodils and tell her how much we love her.
We woke the next morning to find yellow faces where we left green stalks. In less than twenty-four hours, those slender blooms had opened full.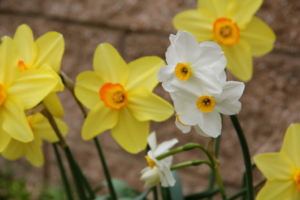 The rest of the bundles went to friends like
Brodi
, whose Dad is in his fourth year of fighting pancreatic cancer – a grandpa, a warrior, a man surrounded by faithful women. And Amy, who lost her sweet mother to cancer this Fall. Faye made everyone feel special. She left too soon, too young.
Could I beam myself back to Virginia, I would have shown up on my friend Kirsten's doorstep. An amazing mother of four gorgeous girls who was diagnosed last month with breast cancer. How is it that women our age can have their world turned upside down so quickly? It's not what you expect when you're busy driving carpools, grocery shopping, and volunteering at the school – to suddenly add chemotherapy and radiation to your to-do list.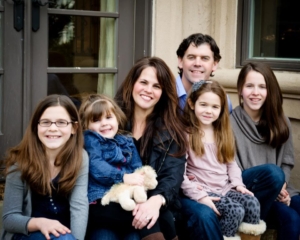 But Kirsten is strong and tells me she is grateful for how it is changing her family. Kir, I love you. We're praying for you.
And I must tell you about Liz.
Liz is a woman I've never met who reached out to me last month with a short but heartfelt email explaining her story. Two months ago her fourth child, Michael (6 months old), was diagnosed with a brain tumor. She and her husband have spent the last eight weeks in hospital rooms, hotel rooms, watching their son recover from treatments and surgeries. Here she is with Michael, skyping her other children at home.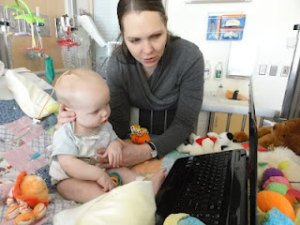 She told me Michael currently has a 50/50 chance of survival. They named him "Little Brave." And now is her time she wrote, "to be brave in my own world." I have seen her courage, read it between the lines. Her confident spirit, her unfailing love for her family, her willingness to do anything for Michael.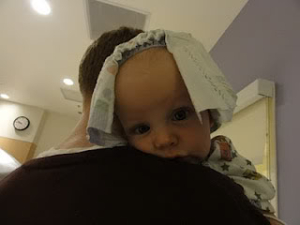 A recent MRI showed four additional portions of tumor in Michael's brain that will require surgery. And so this afternoon around 4 PM (Friday), Michael went in for another surgery. A procedure they expect will last 6-8 hours. Can you imagine the twisting worry of her mother heart? Of course there are risks, possible deficits, concerns. But Liz trusts. "He is in the Lord's hands" she said. And I believe she is right.
While taking Ali for an MRI at six months old, this verse of scripture came into my mind.
"I will go before you. I will be on your right hand and on your left and mine angels round about you to bear you up."
I am thinking of you today Liz, and how you will cradle your brave little fellow in your arms as he comes out of surgery. Praying the surgeon's hands will be an extension of God's hands. And if you lived around the corner, I would have brought you several dozen daffodils, to fill your home with color and hope.
Read more of Liz's journey
here
.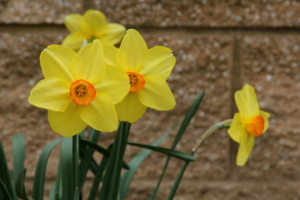 And then there's my mission president, who was just diagnosed with pancreatic cancer. President Sorensen and his wife made an early return from an LDS mission in the Philippines to treat his cancer, buy him a few more months. Their email, which conveyed only submissiveness and peace, made me cry. Nothing is fair about this disease. It respects no one.
So to all of you whose lives have been touched by cancer, I'm sending you virtual daffodils – golden petals spinning out of the cold, hard earth. A reminder that there will always be a Spring.
If you'd like to purchase daffodils for someone you love next year (and you live local), Doug has offered to bring them home for you. Just send me an email next February and you can pick them up at our house. Flowers are delivered every March on the first day of Spring.