It's quiet in the neighborhood today. No kids pedaling past the house, no scooter brigade en route to the elementary school. Most families have ventured off to warmer locales for spring break. But we are here. Holding down our end of the street while Doug cranks out tax returns. We are counting days, gifts, disasters, and more days – our sights set on April 15th.
The week, however, sits wide open. Lined with silver and trimmed with enormous margins, it's the perfect prescription for our new pace –
our new plan
to slow down. There's no reason to hurry Eliza out the door in the morning, no lessons or preschool to attend. Nothing but wonderful white space.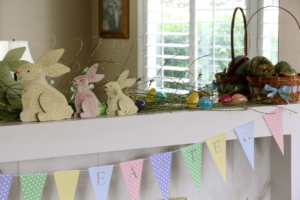 And the beauty of all this white space is that it happens to fall during my favorite week of the year.
Palm Sunday through Easter Sunday is known as the holiest week in human history. Not just because of the sacred events that happened, but because of their profound effect on every human being that has lived or will live upon the earth.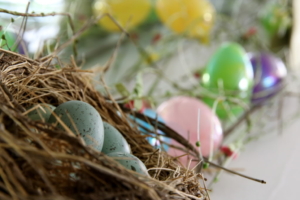 I love the way the larger Christian world celebrates. Every Easter, I pine a bit that, as Mormons, we don't collectively focus more on the events of Jesus' final week. But I figure, we can best remember these events in our own family. And I've found a whole lot of joy linking arms with Christians everywhere as we celebrate Christ's triumph over death.
Yesterday, the girls helped me decorate our Easter Tree. Snow was falling in big puffs outside the window and it felt appropriate to be decorating a tree of sorts.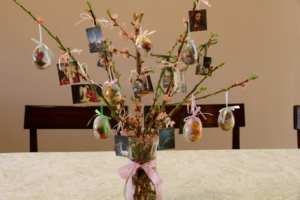 My mother, while doing her annual pruning, saved some peach tree branches for us.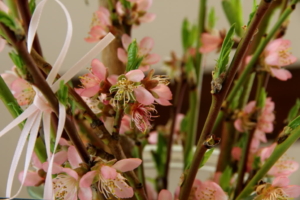 We took the pink-budded twigs home, arranged them in water, and hung eggs on the boughs. One for each member of our family.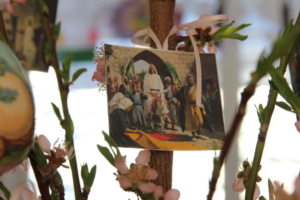 Around the eggs we tied artwork from the masters, mostly Carl Bloch. Depictions of the final events that occurred during the Savior's life, after his triumphal entry into Jerusalem.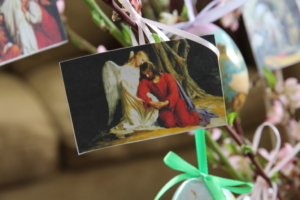 It kept on snowing, and we kept on tying.
I asked the girls what they knew about each of the pictures. They offered their own thoughts, I filled in the gaps, and together we told the story.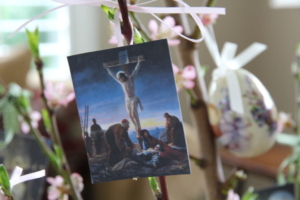 C.S. Lewis calls it, "the strangest story of all." The one where Christ comes down into his own created universe, down to humanity and manhood, then comes back up again – pulling it with him. Then he asks this question,
"What are we going to make of Christ? There is no question of what we can make of him, it is entirely a question of what he intends to make of us. You must accept or reject the story."
And so we accept the story. And with it, his mercy. An offering so grand we can hardly fathom the breadth of it.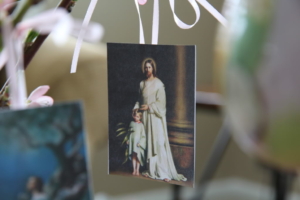 We told the story of the donkey waiting, the passover meal, the Lord's humble washing of feet, his pain in Gethsemane and the angel sent to strengthen him. We told the story of Judas and Peter, of betrayal and denial, and the awful crucifixion.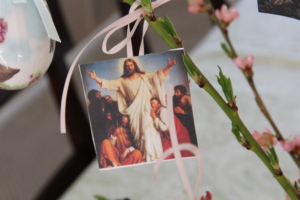 Then we told the story of the magnificent resurrection.
It felt good to speak truth and spell out light. To remember that new life always comes out of the darkest places.
Wednesday we will do our
Easter Walk
. Friday we will eat "hot cross buns" and dye easter eggs. Saturday we will hang lanterns. And in between, we'll talk daily of what happened to the Savior, make an
Easter pinata
, and read our Easter stories. I'm still making my way through
this book
. It gets me thinking out of the ordinary, requires mulling.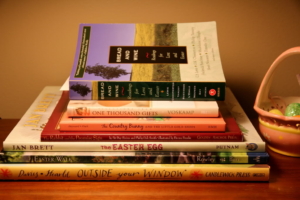 We might even brave the zoo (which has nothing to do with Easter but everything to do with rallying for an adventure with five monkeys, two of whom can escape from the stroller now).
I am looking forward to our simple festivities, happy to talk of sacred things more than we normally do.
On a lighter note, my girls decorated a different kind of tree on Saturday.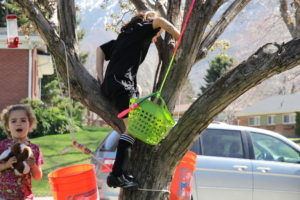 They hung buckets and baskets from the limbs of our crab apple tree. Tied them up with jump ropes, wrapped bunnies in blankets, and gave their stuffed animals the ride of a lifetime!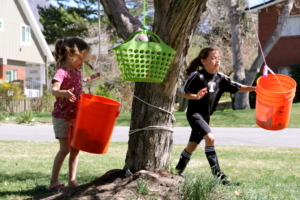 Eliza tried fitting "Carrot" (her bunny) into the bucket via stroller. Hmmm….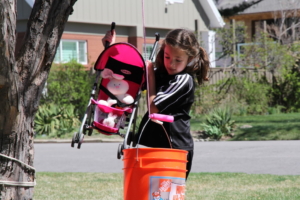 They even created a dumb-waiter system for hauling snacks, flashlights, and other necessaries to the upper parts of the tree. Clever.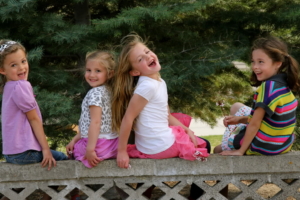 Buckets and ropes kept my girls entertained all… day… long.
I almost left everything up for the week, hoping the Easter Bunny would fill those buckets come Easter morning. But, considering Sunday's snow, and the loud, trashy look it gave our front yard, I'm glad we took the contraptions down. No doubt they'll be back up soon.
What are you doing to make this week meaningful?
Easter Blessings.