I whisper this phrase to myself as I feed wire over bark, twist gently, and swing a lantern from our tree. Do you know it? That instant in Annie's
Pilgrim at Tinker Creek, 
when she sees "the tree with the lights in it." A backyard cedar "charged and transfigured…every cell buzzing with flame."
I've swooned over Dillard for years now. Underlined her words, scribbled madly in the margins, transfixed by the way she spins language. Rolls it around, like a marble between her palms.
Annie stands on the "grass with the lights in it," the grass that is "wholly fire," and watches the tree. Watches until its colors die and the cells unflame.
Her tree, blazing at every nook, has stalked me. It's an image you don't forget. And as Doug lit our last lantern I thought, this will be our tree with the lights in it.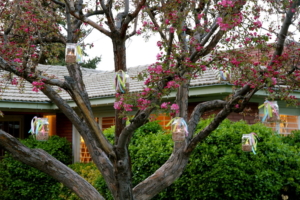 Dillard's tree is a symbol for God abreast in the world. A divine presence flaring right at her feet. And on Easter Eve, our lanterns meant just that. There were seven of them. One for each person in our family. A silent vigil, an offering to the unlit streets of our knowing that the Light of the World lives.
"I am the light of the world. He that followeth me shall not walk in darkness, but shall have the light of life" (John 8:12).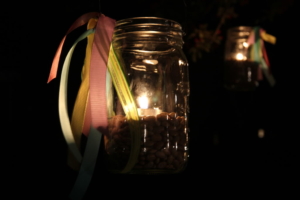 Before the sky pitched black, I brought the girls out to look at the lanterns. We talked about the resurrection, the stone rolled away, and our anticipation of Easter morning. They were enamored by the floating lights. Some of the symbolism was lost on them, but I hope as they mature, this tradition will mean something to them. That they will kindle a desire to hoist their own candle, let it confidently shine.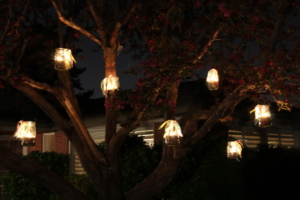 My friend Michelle and her son Gabe stopped by while we were making our lanterns. They watched us turn wire and fill jars. My girls got a little silly, dropped beans into the hood of Gabe's jacket, trickled them over his head. Darling Gabe was a true sport. We handed over supplies so the Lehnardts could make their own lanterns. They used smaller jelly jars, and you must see
their tree with the lights in it.
See what a real photographer can do, with light.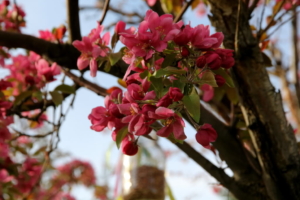 The lanterns were still burning when I went to bed after midnight. Easter morning, sunlight splintered over the mountain and the blossoms split open. We made it to our 9AM church service (almost) on time and after church we hid Easter baskets.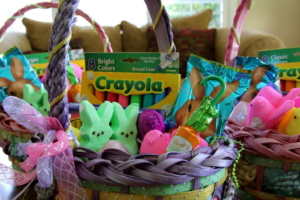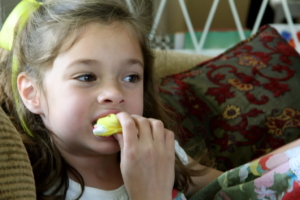 I'm a pushover for marshmallow chickies a few days old. Anyone else?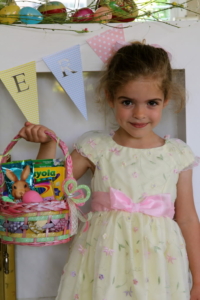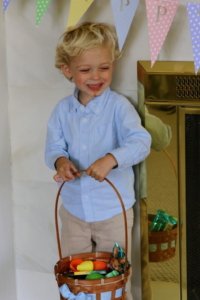 In every photo, a drip of chocolate is running down Gordon's chin. I think he ate more goodies than all the girls combined.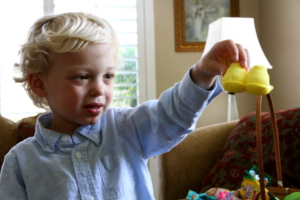 "Look Mom! Two parrots!"
Parrots?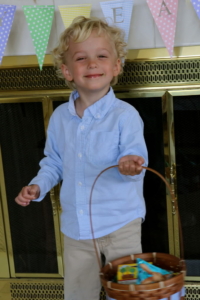 Spencer's happy smile, complete with green marshmallow bunny at the corners of his mouth.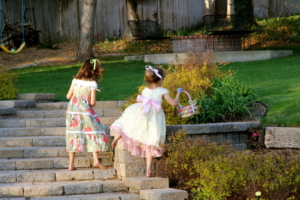 That evening we had dinner at my parents and our annual easter egg hunt.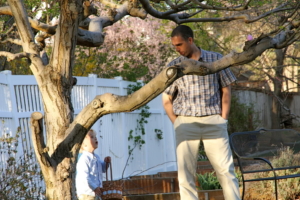 I love this photo. Look at Spencer's face, the pink egg perched high, and the man in the middle who can make it happen.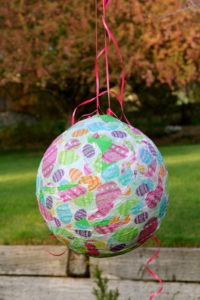 And here is our piñata. Our darling neighbor Laura left a short message on our phone one night while I was putting kids to bed. She said, "Hi. There's something on your doorstep… Bye." Inside a white sack we found all the supplies necessary for making her piñata, including candy, a craft for the kids, and a string of colored lights for the girls' bedroom. Laura, you are as selfless as the day is long. I love you.
Unfortunately, the battery on my camera died right after I snapped this photo and I didn't get any action shots. But I will say, the piñata was a huge hit with the cousins (and
super easy to make
).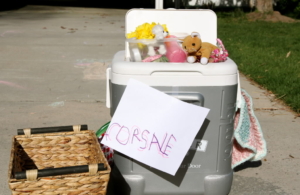 This morning, as I was "taking down" Easter, I glanced outside to find the four twinsies at the edge of the driveway setting up shop. The milk box had been emptied of its contents, jugs were scattered across the grass, and Sami was carefully markering a sign.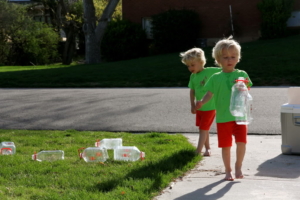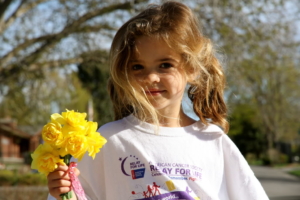 Freshly-picked daffodils were for sale, along with an assortment of treasures. All sales persons were still in their pajamas.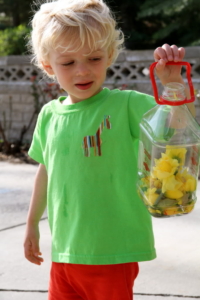 While talking with my friend Martha, the boys carted milk jugs into the backyard. Minutes later they returned, their bottles half-full of daffodils – buds of yellow that hadn't even opened yet. Dozens of them.
"For you Mom. We picked flowers for you!" they said.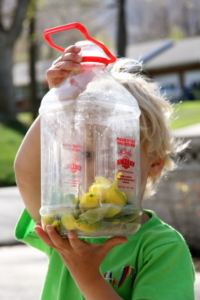 Don't get mad, I thought. Just get the camera. And as I walked into the house I could see that every daffodil along the perimeter of our yard was now swaying headless.
I clicked the camera and had to laugh.
Sometimes my children are the tree with the lights in it. I'm walking along, thinking of nothing at all, and suddenly, there they are. Right in front of me. Wielding an innocence so pure and fiery-white I have to stop. They are charged and glowing, every cell buzzing with flame.
I am still ringing from the beauty of our Easter week – from the candles in our tree, the smiles over baskets, and the light caught in my boys hair as they tip-toed across the grass, daffodil bottles swinging from their hands.