Yesterday marked the official end of tax season (since the 15th fell on a Sunday this year). We are one happy troop around here, knowing Daddy might be home for dinner the rest of the week. (I'm crossing my fingers as I type.) Unfortunately, things don't mellow for Doug until the end of April, but mentally I feel the big sprint is over and we've crossed the finish line.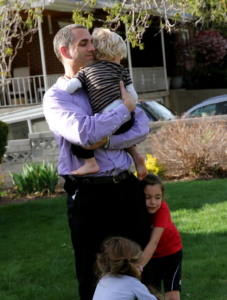 Leg hugs were the most common form of a welcome home.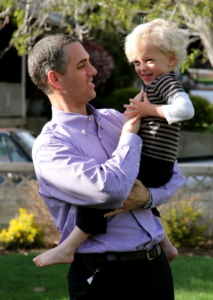 After a preponderance of busy evenings, late bedtimes, dishes after 9PM, failed tests of patience, one whopper of a good cry followed by a walk outside at 10PM (yes, I was the one crying), and Doug burning the candle at both ends, we're still standing.
To give you a sense for how my brain has been functioning (or not functioning) during the last leg of the marathon, here's what went down at church on Sunday.
We were late. (This whole
trying not to rush
things is hard.) I value people who are on time. I want to be on time. But I am determined to go easy with the boys, and not stress everyone out trying to hustle them into the car so we can arrive one or two minutes earlier. And that means some Sundays we are late. And
that
means we sit on the folding chairs in the gymnasium where there are no pew boundaries to reign in the kids, everything that hits the floor makes a sound, and the distractions in front of us are myriad.
So we settled into our metal chairs and immediately Sami and Eliza were fighting over a marker. The boys were talking LOUDLY about EVERYTHING. They still don't seem to understand the word "whisper." Gordon and Spencer were climbing all over Doug and the chairs, running the small space in between the rows. I kept trying to pull one of them onto my lap but they just squirmed away.
Finally Gordon sat on my lap with a book. A few minutes later I looked side to side and saw Spencer with Doug, but no Gordon. No Gordon on the floor, no Gordon behind me in the gym. No Gordon anywhere. I motioned to Doug and whispered, "Where's Gordon?"
Doug looked at me blankly. So I asked him again, "Doug! Where's Gordon???" He looked at me with one eyebrow raised and then said, "He's on your lap."
Ah! Well, of course he is.
We chortled over that one for a couple minutes.
Speaking of the boys, this is how they are wearing their pajamas these days.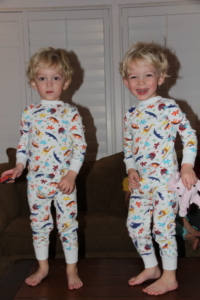 Yep, backwards.
And let's take a look from the rear.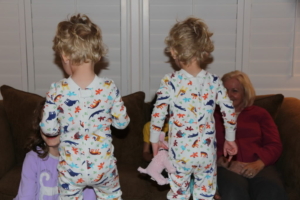 A quick zip up the back is faster than duct taping their diapers (would you believe they figured out the masking tape?) But we use both.
Here are some other happenings that fall into the definition of preponderance. Meaning, they happen frequently around here.
A few weeks ago I walked into the pantry and found this.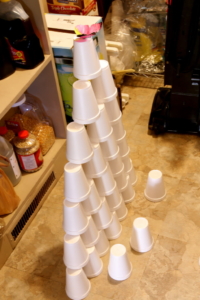 Eliza has taken to stacking styrofoam cups in the pantry, in all sorts of forms and layers. Love the butterfly on top.
She also spent a considerable amount of time in the bathroom one evening with the door locked. After she'd gone to bed, I walked in to find the toilet paper stretched from the dispenser to a cupboard handle. Perfectly balanced in the swing of toilet paper was a bottle of lotion. Quite the physics experiment.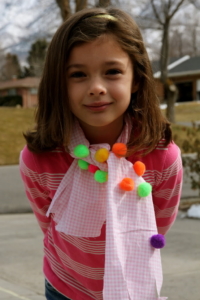 And I could devote an entire post to the many creations she's been working on, one of which was this scarf she designed and proudly wore to church.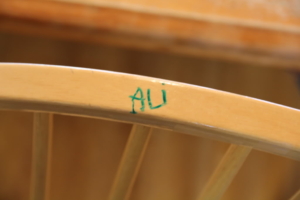 Ali seems to think her name belongs on every flat surface or piece of furniture in our house. The hilarious thing is that she denies it every time! Despite the incriminating evidence.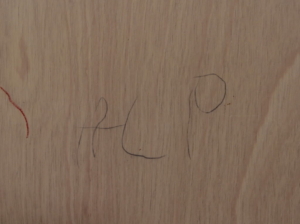 That girl has used up an entire magic eraser over the last six months trying to remove her signature from walls, moldings, and bed frames.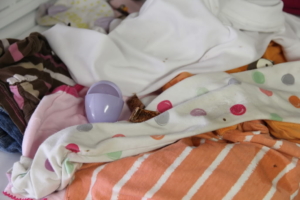 Yesterday, while folding laundry, I noticed small brown smudges on everything. Hmmmm…. I dug a little deeper into the dryer and… Aha! A plastic egg with chocolate candy had somehow made it into the cycle. Awesome. The jury is still out on whether I can salvage the girls' clothes. Is lipstick worse than chocolate? I'm not sure.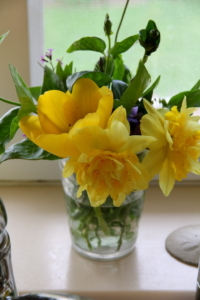 Last week it was the daffodils that were preponderantly lopped off and carried inside (or stuffed into milk jugs.)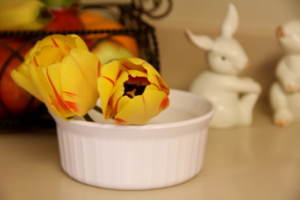 This week it's the tulips. Looks like we'll be enjoying them inside this year, rather than outside.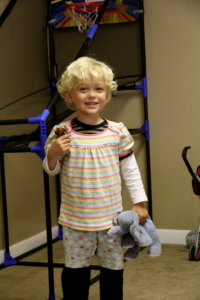 And poor Spencer. Sami got a hold of him yesterday. Must have hog-tied him and pinned him down to slide those polka-dot shorts over his pants. Doesn't he look cute? Stripes and Dots are the next big thing. I'm sure of it.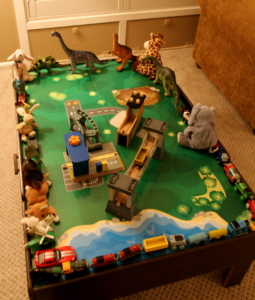 Sami has also been setting up the boys' toys for them before she goes to bed. Here's how she arranged the train table one night. A parade. Complete with dinos, poodles, and engines.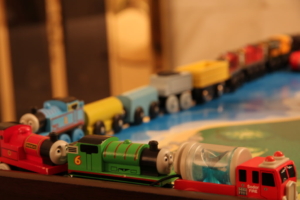 And some nights, Doug sets up the Dinosaurs when he gets home. Strategically placing T-Rex right in the middle.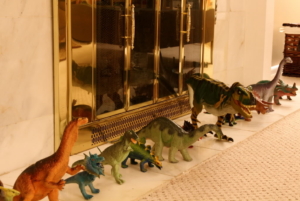 The boys love finding this line-up in the morning.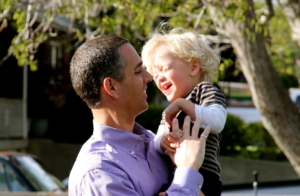 Me? I'm looking forward to a preponderance of this guy.
We all are.
What about you? What kind of preponderant happenings have been filling your days/weeks?