From the mountains… to the prairies…
to the oceans white with foam!
God. Bless. America.
Our Home Sweet Home.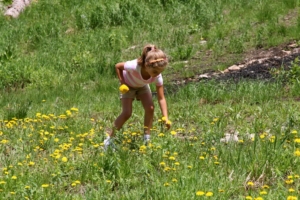 Independence day took us on a hike to Lake Mary. The first of three snowmelt lakes hidden at the top of Big Cottonwood Canyon.
Rain the night before had cooled the earth and air, bringing temps out of the hundreds and down into the eighties. The day was perfect for a hike.
The girls found a field of dandelions, in which they could have stopped for a while to twist chains, make crowns.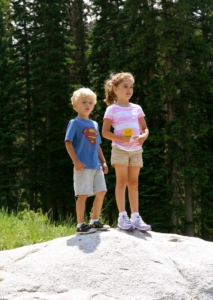 Sami opted for a bouquet instead, while Gordon climbed up next to her and yelled from this rock, "I can see the whole world!"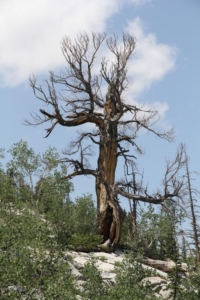 This gnarly, dead tree caught my eye. Such a contrast to the green pines and aspens around it.
Everywhere I looked – the peaks, the wildflowers, my children and Doug – I felt grateful. To live in this blessed country where freedom is upheld, revered, and defended. And at no small price. The cost of human life is mighty. It has taken many deaths to preserve the life my family knows. These two opposites (death and life) exist together, one for the other, like the brittle branches of this tree reaching out for the soft clatter of aspen leaves.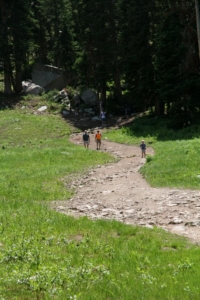 Superman (Gordy) blazed trail for us. There he is yards and yards in front of the gang. He liked running ahead.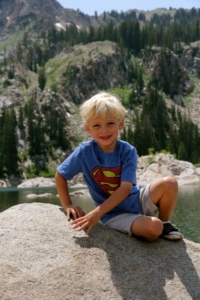 And climbing on the biggest rocks when we reached the lake.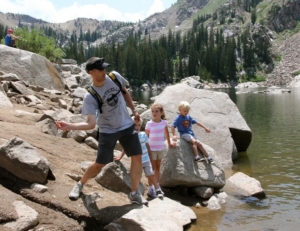 Doug gave the kids a lesson on skipping rocks.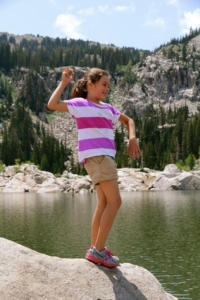 Everyone had to try. Mostly there was a lot of kerplunking and splashing and I felt sorry for the poor family next to us that was trying to fish. Doug said we were doing them a favor by scaring the fish their way. Hmmm… maybe.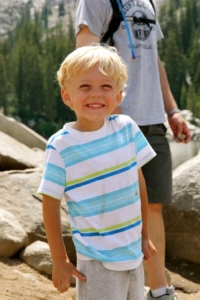 I love Spencer's squinty smile.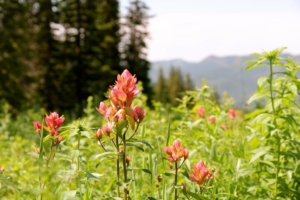 Wildflowers were just coming into bloom. Bluebells were nodding by the stream. And Eliza's favorite, the indian paintbrush, was starting to redden.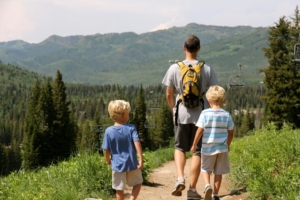 The hike was only a mile and a half up. But boy did it take us a while to get there and back. By the end Doug was telling bear and bison stories to keep the boys moving, Eliza had brazenly ignored our warnings and led Sami into some precarious places, I'd taken both boys into the trees to go potty and come back with my own pants wet (they're still learning how to aim). And after so many reminders to not run on steep parts of the trail, we threw up our hands and doled out the fifth band-aid. I stopped counting after that.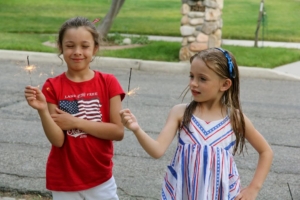 In the evening we went to my parents' home to hang with my family and watch fireworks. This is Eliza with her cousin Maya, who is visiting from Texas. So glad Dave and Shirlee are here!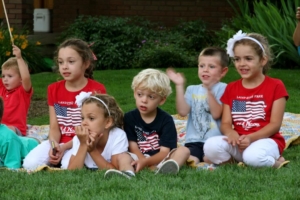 The kids lined up on the grass to watch my Dad's annual display of sparks and screamers.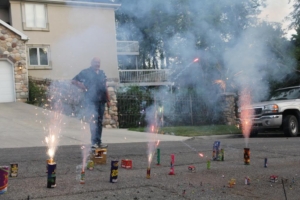 We kind of took over the road.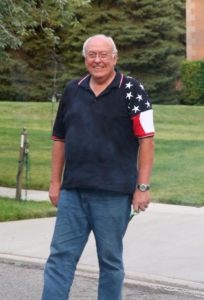 I heard one neighbor call my Dad, "The 4th of July himself!" I love his festive polo.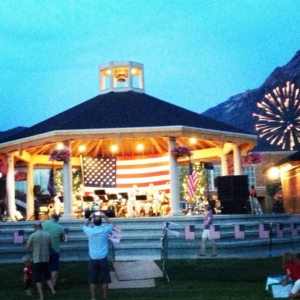 Then it was down to the local fireworks show. Our friend, Melissa, was singing as part of the entertainment, but we missed her by ten minutes! She's singing again here, on August 20th, if you live in Salt Lake and want to give a listen. Melissa, I wish you'd make a CD!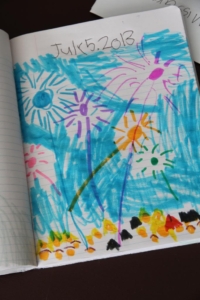 The next day, Sami drew this picture in her journal and wrote about her 4th. I love the heads with different colored hair at the base of her artwork, all watching the fireworks above.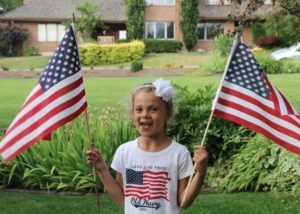 Doug and I talked with our children about patriotism, liberty, loyalty, and courage. We pointed out the war veterans that live on our street, retold their stories, discussed the meaning of the flag. I want the 4th to be so much more to them than a family barbecue, a sky full of fireworks, and a hike to the lake. I want a love of country to burn in their hearts as it does in mine.
I appreciated Saren's article here. She has some great ideas. We watched the video clips and I ordered the Janeen Brady book she recommended. I'll also share with you a list of children's books I have on hold at the library once we have read them. Some great ways to teach children about freedom, the constitution, and our nation's first 4th of July.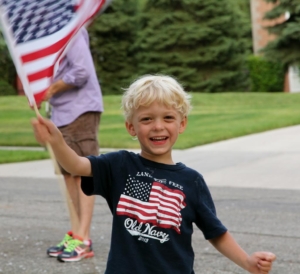 This is definitely the land that we love.
And while we enjoy so many blessings here, I am aware that in some parts of the globe, inalienable rights – rights that cannot be given away, rights that come to us as gifts from our Creator – are not enjoyed by individuals. When these rights are taken away by oppressive governments or groups, I know God sorrows.
Doug and I have some friends leaving for Kenya this week. Families in the small village of Mbele have freedom of a kind, but they do not have water. Scot, Maurine and Michaela Proctor have started a drilling project to bore a water hole in this village. Currently, the Mbele women walk two miles round trip each day for every ounce of drinking and washing water. Without a water source, they are unable to grow food in their village and most children go most of the day with nothing to eat. If you want to help, watch their video and donate to the Mbele Village Water Miracle. I know our friends would appreciate your help.
God has blessed America. And hopefully, we can share those blessings with others.