Almond Granola. It's our favorite, and the recipe comes from our friend, Rebecca.
I've tried a couple different granolas in my mommy-past and this one is the easiest and tastiest. All my children love it. They eat it for breakfast with milk, or mixed into yogurt, and sometimes plain. They gather round the table with me when it's time to make a new batch. They like to stir the oats, chop up the nuts, measure out the brown sugar.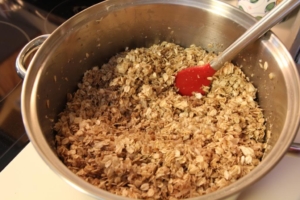 Eat it together…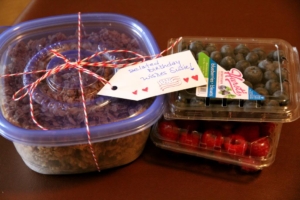 Or tie it with string to give away. (Eliza just filled a huge jar and gave it to our neighbor, Bette. It's fun to eat. But just as fun to share!)
Almond Granola (Rebecca Cooley)
12 C. oatmeal (old-fashioned)
2 C. brown sugar
2 C. coconut
1 tsp. salt
2 C. nuts chopped (we like almonds, pecans, and walnuts)
1 1/2 C. canola oil
2/3 C. water
3 tsp. almond flavoring
Mix oats and brown sugar in large bowl. In separate bowl mix coconut, salt, nuts, oil, water, and flavoring. Add coconut mixture to dry ingredients. Stir until oats no longer look dry. Spread on two rimmed baking sheets lined with parchment paper. Bake @ 250° for 1 1/2 hours, switching and stirring pans every 30 minutes.
And here are a few patriotic children's books I recommend.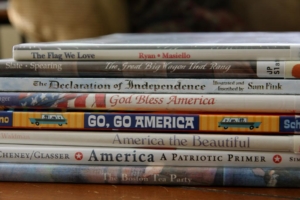 If you're interested in more, shoot me an email or leave a comment. Two sweet ladies in our neighborhood put together a patriotic book list for children that is four pages long! These are just a few of their suggestions.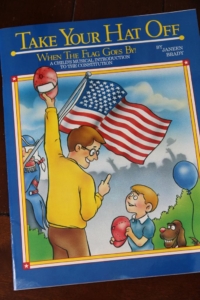 I mentioned in my last post that we bought this book and CD by Janeen Brady. My kids are loving the songs and dialogue. They're already singing some of it by memory. It's a good beginner discussion of our founding fathers, the constitution, and the important principles behind the establishment of America.
Anyone else feel like summer is whizzing by? I can hardly believe we're half way through July.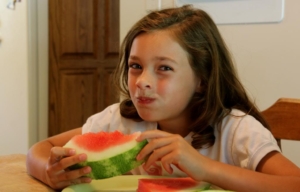 I can't find time to write anything thoughtful (sorry about that), chip away at my stack of books, or pull together the slide show for our 20 year reunion. (20 years since high school! How did that happen?)
The days seem to wash into each other. Our pace is slow, we are doing less, going fewer places, but the demands my children have (since they're all home) are greater. I am trying to help them find that balance between work and play, between nothing-time and productive-time. I feel strongly they need both.
The kids have swimming and their regular jobs, but other than that I purposely scheduled very little. And yet, this summer I fall into bed at night wondering if I've spent our time on the right things, if I nagged too much and should have let the list go. I'm trying to feel it out, pray it out. Hear what to do each day. More on my wonderings about our summer plan later.
But I do love having the kids home. I love that my girls just rushed past me in dress-ups (even though they haven't started their jobs yet), that my boys are out mowing the lawn with daddy, that they wear their masks and tromp around in boots with an arsenal of weapons tucked into their pants.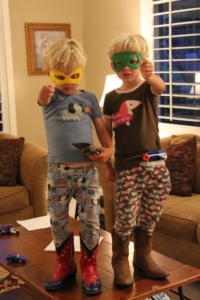 I love the band-aids taped onto knees, the cut-off jeans, the cluster of kids in the playhouse.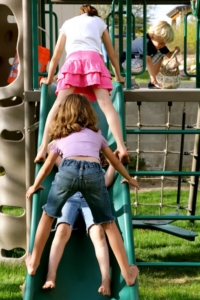 I love that we have purple iris bulbs to dig into the dirt today, and a bike ride to look forward to this evening.
It is good to step back and look at the fullness of all we have, to ask gently even if it's for the fifth time, and to love my little people purely, honestly. This was the life I wanted for so long.