Remember this book? The one Power of Moms put together about deliberate motherhood? Well, a national publisher picked it up last year, revamped the cover, and launched it Tuesday to booksellers all over the nation, including Barnes & Noble.The new cover looks like this.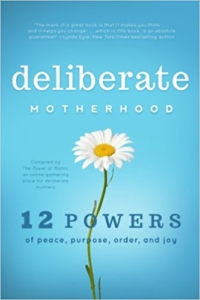 It's spruced up inside with some additional edits. And POMs is having an event next Wednesday night where Saren and April, co-founders of Power of Moms will speak, as well as Linda Eyre. I will also have a few minutes to try and say something intelligent. Key word there is try.
So in honor of Tuesday's launch, I'm giving away a copy of the new book. Just leave a comment at the end of this post and you're in for the draw.
We will also be doing a book-signing at the King's English bookshop November 7th, if you live local and would like to swing by.
And I am excited to announce Power of Moms has a second book that will be coming out this year. It includes three essays I wrote back when the boys were small. It's funny – I think I wrote better and more often when I was nursing babies. Once they became mobile non-nappers… whoosh! Life charged into a different kind of busy!
Here's the cover.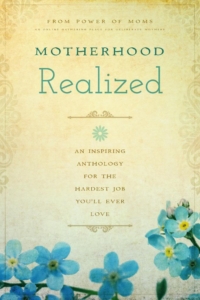 I think it's lovely. Inside and out.
This summer, Saren, Saydi (Eyre sisters) and I met up at Albion Basin to hike with our kids. We moved in a fairly large, but strung-out pack. As we made our way up the mountain, an older woman with curly hair in a pony tail, passed us. She was hiking with two younger women I assumed were her grown daughters.
I guided my children to the side so they could pass, expecting the typical commentary: "Boy! What a crew!" Or "You sure have your hands full!" Or "Hope you make it before sundown!" But what came out of her mouth made me stop, turn around, and look at her face.
She motioned to all of us and said, "You and your children. You're as beautiful as the mountain."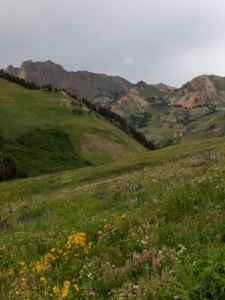 Her words caught me by surprise. The tone of her voice was so refreshing, without a twinge of sarcasm. Not what a mother of five usually hears.
We said, "Thank you!" and looked at our string of children, climbing rocks and traipsing through wildflowers.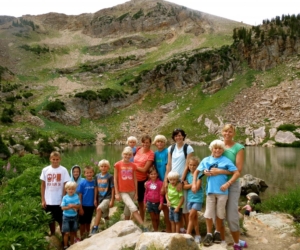 It's all how you see it. What you see. What you feel.
And upon inspection, it was beautiful.
Even if we did burn through an entire box of band-aids, Eliza fell in the lake and had to borrow the other Eliza's jacket, and Spencer peed his pants right before this photo. Look closely and you can tell. (He's in blue.)
Saren's older children buddied up with my little children. No one asked them. They just saw the need and stepped in. Saren's Eliza guided Gordon up the mountain. Isaac looked out for Spencer. And Saren's twin boys included mine, hiked around the lake with them, picked out walking sticks. All of her children made sure mine were safe, threw rocks with them, even made potty stops.
It was wonderful to have such helpers along the trail. I hope I can teach my children to be so selfless, insightful, and kind.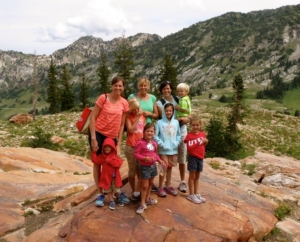 I love these two ladies. Saydi and Saren. They are tremendous mothers and mentors to me. They have changed my mothering.
They've helped me see what deliberate motherhood is about. That it really does matter what kind of mom you are. It matters if you are available. It matters how you see your children, and the world. It matters how you view yourself and this role of raising a family. It matters every day what you do and say to your children. And yet, perfection doesn't matter. It's the imperfection of what we're doing, the big gigantic mess of what we are building, and the way we embrace it, that does.
Every day we work to see it right, navigate it right, throw ourselves in with all we have. And when we mess up (like I did last night), well… we mend the fence, hug and kiss so they know we love them, pray for forgiveness, and start over tomorrow.
After a series of disobedient acts, I lost my cool with Sami. I put her in time-out, raised my voice. I was angry. And she had been out of line. After some distance from each other and time to calm down, I saw her in the kitchen coloring something.
A few minutes later I noticed her outside the living room window. She was standing across the street holding a star in her hands.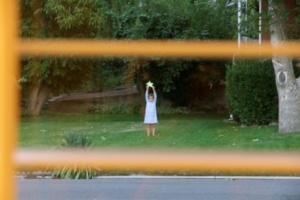 I said to the other girls, "What is Sami doing?"
"I dunno," they replied.
So I walked outside towards her. And when she saw me coming, she smiled. Her arms still reaching long. Her star still hanging in the sky.
"What are you doing, honey?" I asked.
"I made a star for you. And I'm putting it in the sky. So it will make you happy."
Who thinks of such things? The pure ones. They do.
I caught a photo of my little star. Shining across the street. Being the beacon I wasn't. Being the example of forgiveness, and light.
Light like a shaft through darkness when you see things as they really are. Light like a feather when you learn to let go.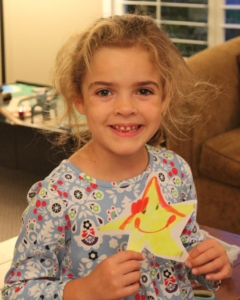 Hard to imagine being angry with this sweet face. Eyes still red from tears.Oh, motherhood is hard. So hard.But to have it identified and named – as beautiful as the mountain – on a dusty trail, with unkempt children and scraped up knees. To have a Sami to straighten me out, put my heart back in place, pull her small body close to mine. That is beauty. And I guess it's the crazy, push me to the farthest limit days, that make these beautiful moments so profound.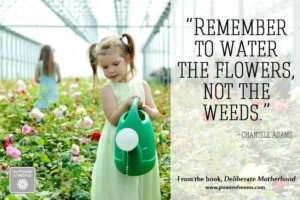 Perspective is everything.
It's a new day. And I am glad.
p.s. I forgot to mention: if you don't win a copy of the book in this giveaway, you can buy a printed or digital copy and send your receipt to POMs for complimentary access to their Deliberate Motherhood podcast series (valued at $20). More info here.