Hard to believe Summer 2013 is a thing of the past.
It zipped by faster than any summer we've known. And here's the irony: It wasn't epic. We didn't take a family trip, didn't travel past the Wasatch front. I purposely planned very few camps and lessons, but somehow it raced by. Maybe it was the constant mass of children underfoot, the endless movement. I didn't plan any birthday parties, didn't go to Costco once (the thought of all five draped over the cart was enough to deter me), and I didn't take on anything extraordinary.
Looking back, it was a good summer. But I think each child needed an experience they could call their own. Double twins and close ages makes for lots of buddies and creativity, but it also makes for competition and infighting. Taking one out of the mix for an outing every week would have been good therapy. For everyone. But I couldn't make it happen very often.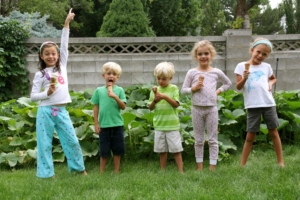 Ice cream cones on Back to School Eve
Every family's plan is unique – always changing. One summer you try hard not to over-program, another summer you feel your kids need a bit more to do. Or a little more time with you. I want my kids to have considerable space during summer to explore, to just be kids. But I think next summer we'll throw in a couple week long camps/lessons. So they can have something to look forward to.
That said, going through photos yesterday, I realized we had some great months.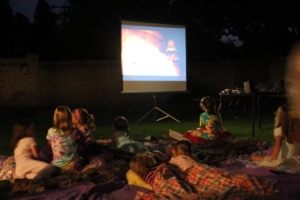 We ended summer with a movie night in our backyard, invited all the neighbor kids, and watched The Secret of Nimh. Remember that book? We popped popcorn and filled a table full of goodies. It was a warm, still night. Perfect for a movie.
Jump back a few months, and this is how summer started. We took a trip to St. George. The week before school let out.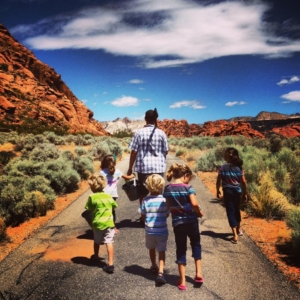 Here we are leaving the sand dunes in Snow Canyon. I like this perspective more and more lately – of bringing up the rear. I'd follow this crew anywhere. But that was all the traveling we did. We came home in time for the girls to finish the last week of school.
We
did
have swimming lessons, Eliza did a week of sewing lessons, and the boys attended Boys' Camp at the Lehnardts. For more pictures, check out
Michelle's post
. This was definitely Spencer and Gordon's summer highlight.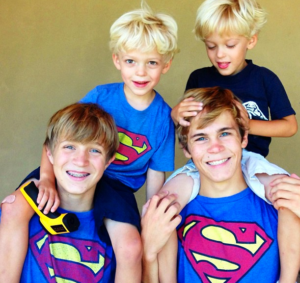 Aren't Hans and Xander darling? They are good, sweet, smart boys. And they know how to have fun. They've come to babysit on occasion and let me tell you, my boys are in awe. The more Lehnardt-ness that can rub off on my boys, the better.
Daily Schedule/Jobs:
This summer all three girls were expected to do their jobs. The list was fairly simple. Clean room, pick up clothes, and one extra job. Read 20 minutes, then write in their journal or do math drills.
I used to buy the Summer Bridge workbooks but realized it was more efficient to zero in on areas that needed improvement. Like writing, spelling and math. So on alternate days the girls would write in their journal, or do math drills with Khan Academy.
Have you discovered Kahn Academy yet? Oh my heavens. It is the greatest resource! For every subject K -12! Video tutorials, practice skills. Kids feel grown-up using the computer, and the teaching is excellent.
As for reading, I have some wonderful recommendations for you. We read and listened to a number of fabulous books this summer. But I'll save those for a separate post.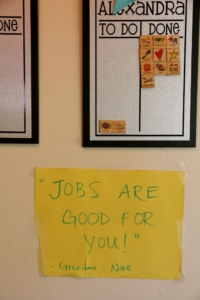 Now for reality… regarding jobs.
By July I wanted to throw in the towel. By summer's end? We had improved. But only slightly. It was taking until 2PM some days for certain children (who will remain unnamed) to finish their list. They missed out on play dates, treats, trips to 7-11, and I thought, Surely it will sink in soon! That we work first, then play!  But nope. By the end of the summer we were still learning that lesson.
One night we skyped with Doug's parents who are in New Zealand, and when Renae asked what the kids were doing this summer they responded with disgust, "Jobs." Her response? "Jobs are good for you!" And at that moment I knew I would tape her words to our wall right below their job charts. JOBS ARE GOOD FOR YOU! Wisdom memorialized for all of summer.
As you can tell, the kids didn't love the sign and it was repaired more than once.
But here's what I think. When else will kids learn to work? Summer is golden for teaching them principles and values you don't have time to reinforce during the school year. So we stuck with it. And I'm hoping consistency over the years will pay off.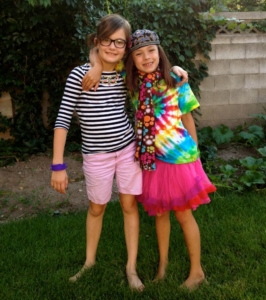 Eliza did manage to surprise me some days by knocking out her jobs quickly, which freed her up to play with one of her favorite friends, Delaney. I love these two.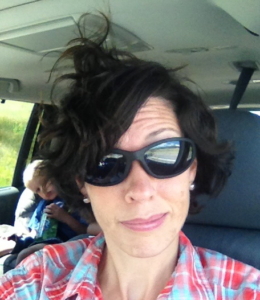 The job thing had me uptight a lot of days. I kept wondering if it was worth it. Making them finish their jobs day after day. I tried hard to listen and feel. Determine what was right in a given moment. Most days I stuck to my guns. But occasionally I decided it wasn't worth the fight and we bagged the jobs for a trip into the mountains or to the pool.
The above hair was actually a wind-do that took place on I-80 after abandoning the job list. I stopped at a ranch exit thinking Spencer was going to lose his cookies. He didn't. But when I closed the car door, something felt amiss. And the rear view mirror revealed… this! So lovely.
As an underlying weekly agenda, we stuck with our plan from last summer. The key to success here, however, is FLEXIBILITY.
Some weeks we turned Friday into Make-it Monday. Or swam on a Tuesday instead of Wednesday. And some weeks we forgot the plan entirely. But the beauty of having a plan is that you feel deliberate. You have purpose and fall-back ideas. And the kids LOVED helping me decide what we would do each week.
Make-it Monday
On quite a few Monday afternoons, the kitchen table looked like this.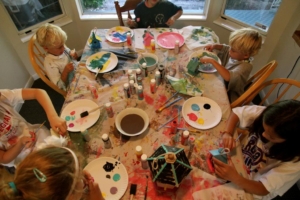 One week we painted new birdhouses.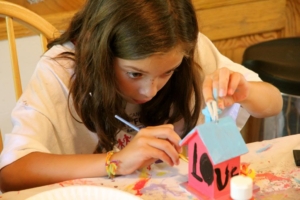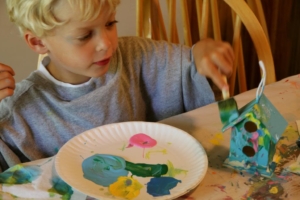 Other weeks we baked a new kind of cookie, made granola, glued popsicle stick frames together, or just colored. And it was fun to watch the boys join in this year.
Take a Trip Tuesday
Trip Tuesdays were always a favorite.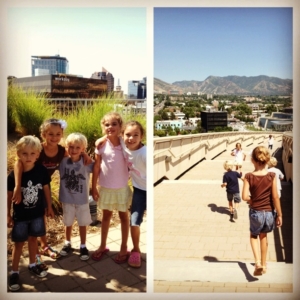 We checked out the new city library. Somewhere I'd never been before. Cool architecture and gardens on top.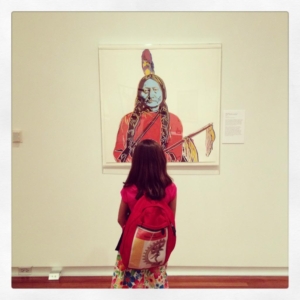 I took Eliza to the UMFA, where she got her first exposure to Andy Warhol and pop imagery. Note: they have awesome kids' backpacks with learning tools, hands-on items, and games!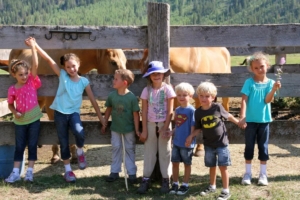 But our favorite trip was to Kara and Dave's cabin. The kids packed their own bags, bunked together in the flag room…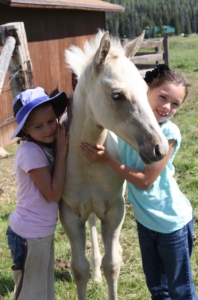 And welcomed the newest addition at the ranch: Blanco. Gentle and beautiful with her white, sparkly coat.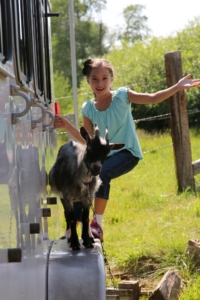 Goat Tricks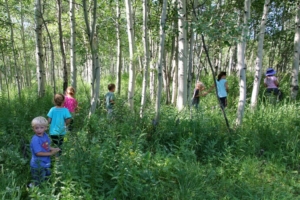 Katherine took us on a lovely hike through the aspens. She led us all over and did a fine job of not getting us lost!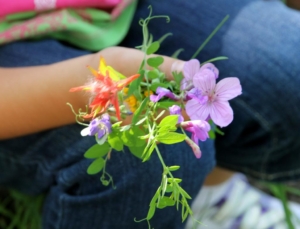 Sami's wildflower boquet.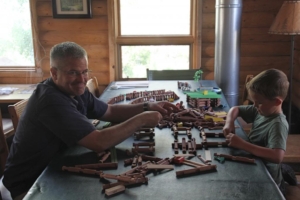 Dave and Parker building with Lincoln Logs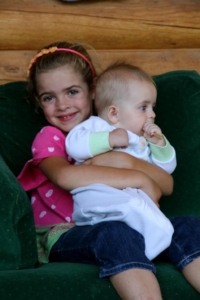 Sami holding Caleb.
Everyone wanted their turn to hold baby Caleb. Thanks to Kara and Dave, my children will grow up with wonderful cabin memories.
Wet Wednesday
Some Wednesdays we turned on sprinklers, or stayed after lessons to swim at the pool. And let me tell you, with the girls being able to swim this year, stress at the pool came down one big notch.
The boys started lessons with Tommy.
Tommy is kind of legend round these parts. He's tough. He doesn't tolerate any crying or messing around. Which is why I knew my boys needed him. I had to toss Spence and Gordy in the first day then run for the snack bar where they couldn't see me. I hid for several days until they got used to putting their face in the water. They were dunked. And there were tears.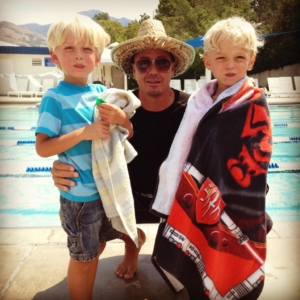 But on the last day of lessons, Tom pulled them close and said, "Guys! Remember at the beginning of the summer when we didn't like each other very much? Now we're like best friends!" True that.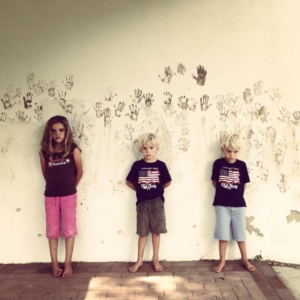 Some water days didn't go so well. Especially if they were impromptu and unsupervised. Like this one.
I didn't hear the kids turn the hose on in the backyard until it was too quiet for too long. When I checked on them, I found they had covered the back of our house with dozens of muddy handprints. Twenty feet of white wall carefully and methodically stamped.
This is the mugshot I took. Three of the five culprits. They look rather guilty, but it was actually quite funny. We left it up for a while and called it mud art. "Handprints on Stucco."
Thinking Thursday
We added to our list from last summer. More questions than we had time to answer. But it was fun to look things up online, talk about stars, shells, wind, and dinosaurs.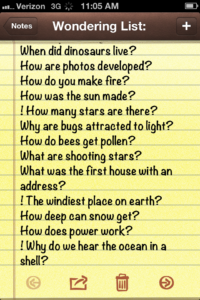 Fill a Need Friday

I'm embarrassed to tell you, Fill a Need Friday was kind of a bust. We gathered items to take to the Women's Shelter (they are still sitting in our garage), made banana bread for neighbors, and picked up sticks after windstorms. But other than that brotherly love was something we did spontaneously. I wasn't especially deliberate here. Lots of room for improvement!
Other summer highlights: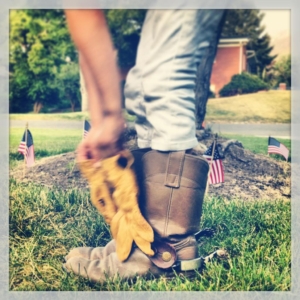 Rodeo Dreams
I pulled out my old ropers, spurs, and riding gloves. Sami tried them on, in anticipation of the rodeo.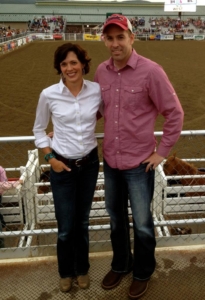 My brother Dave was in town with his family. From Texas. I wore my old ropers. He wore his new. He's a true Texan. More of a cowboy now than I am a cowgirl. And we don't see enough of each other. Miss him.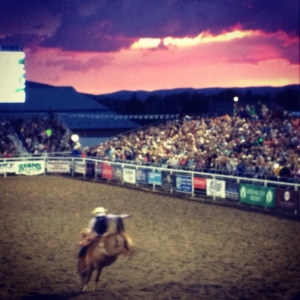 Bronc riders that night were on fire. And so was the sky!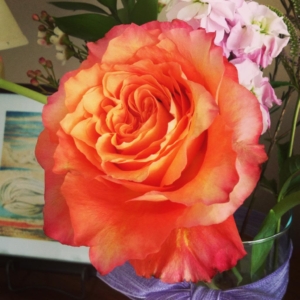 A friend brought me this bouquet. Don't think I've ever seen a prettier rose.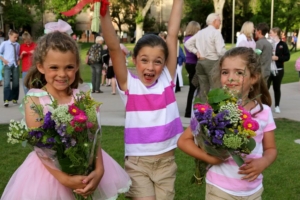 The girls enjoyed their end of year dance recital.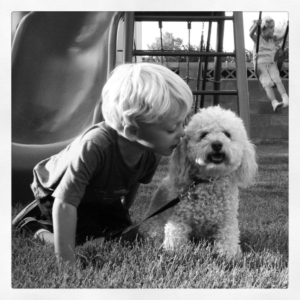 Gordon became known as the Dog Whisperer.
"What are you telling Taffy?" I asked.
"That she's the best dog in the world."
Everyone needs a Gordy in their life.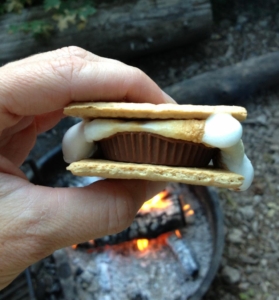 We made peanut butter cup s'mores.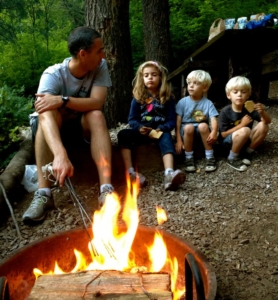 Doug told silly ghost stories around the campfire.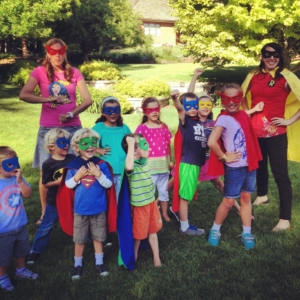 My sister Sarah made everyone in the family (adults included) super hero masks. We had a super hero party!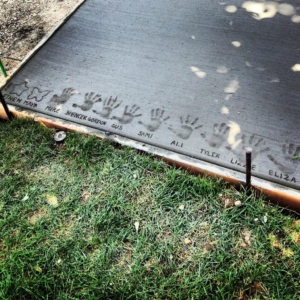 The kids left their mark on Grandma and Grandpa's new driveway.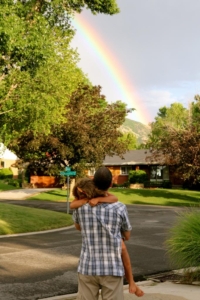 And one evening I looked out to find this rainbow rising up from our street. Doug holding Ali on his shoulder. It was one of those world-stop-turning moments. When everything felt golden and I didn't care about jobs or plans. I simply knew I loved my family. And that love was better than any list or lesson.
How was your summer? What would you do differently? What would you do again? I'd love to know.
Oh! And please leave a comment at the end of this post if you'd like to enter the Deliberate Motherhood book giveaway. I'll announce the winner on Friday!